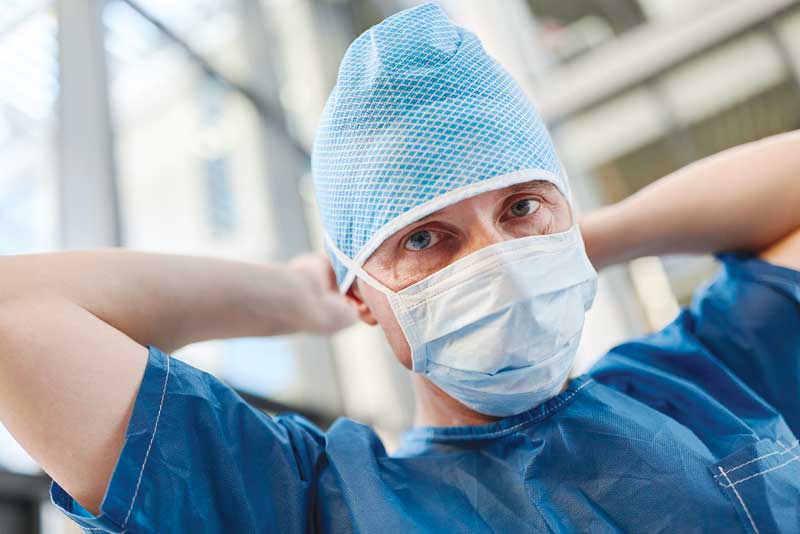 With dwindling supplies of personal protective equipment (PPE), it is becoming more and more difficult to do surgery by the book. After the initial shock wore off, general practitioners, surgeons, and veterinary professionals reacted by doing what they do best: They used their ingenuity and creativity to continue to do their job in the OR and in the practice.
Discussing PPE is a much more complex topic than it might seem. In addition to protecting our patients, we now have to worry about protecting our team, our clients, and ourselves. Yet, PPE requirements are not the same to meet all these goals.
Let's review how you can replace paper gowns, masks, caps, and gloves. The idea is to find a compromise between being conservative and maintaining acceptable standards of care. Being conservative includes limiting the number of people present in the OR and delaying elective procedures as much as ethically and medically acceptable.
Paper gowns
Most general practitioners use cloth gowns; however, if you use paper gowns, there are several options for when you run short of them:
1) Strive to keep them clean during surgery and re-autoclave them. Remember to place a towel on top of the gown and wrap them together, rather than wrapping a gown and a towel separately.
2) Use cloth gowns. This is what the U.S. Food and Drug Administration (FDA) is recommending in human medicine.1 There are, however, concerns cloth gowns do not maintain sterility as well as disposable, single-use gowns,
but you may not have a choice
at this point.2
3) The Centers for Disease Control and Prevention (CDC) has published suggestions for what to do in the face of a complete shortage of gowns.3 In that situation, anything goes. You can use sterile lab coats, isolation gowns, aprons, etc.
Caps
There does not seem to be a shortage of surgical caps as of this article's writing. If there were, the solution would be easy: Switch to cloth caps, and remember, they should cover 100 percent of your hair. In addition, cloth caps should be washed regularly, even daily if possible.
Masks
In our field, we mostly wear masks to protect our patients during surgery. In the post-COVID-19 world, there is much debate whether simple surgical masks provide protection against the virus, regardless of what they're made of. Arguably, there may be other good reasons to wear a mask outside the OR, such as psychological reasons.
1) If you provide curbside service, it sends a clear message to your clients that you take protection of your team and yourself seriously.
2) It is a physical reminder to stop touching your face, since this is likely the most common way to catch the disease.
For those reasons and others, it almost doesn't matter if you've worn the same mask for a month.
Even the CDC recommends extending the use of face masks. In other words, use them for a whole day if you are short on supply and even longer if you are out. The general concept is that a used mask is usually better than no mask. Of course, the face mask should be discarded if it's soiled or damaged. Per the CDC, you "must take care not to touch (your) face mask. If (you) touch or adjust (your) face mask, (you) must immediately perform hand hygiene."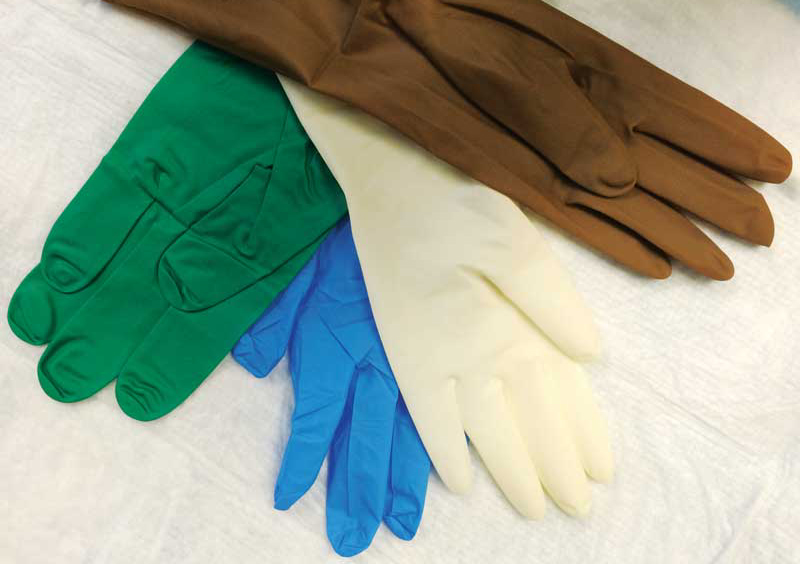 What if you run out of masks? There are commercially available cloth masks with disposable filters, but they are obviously hard to come by these days. CDC recommends using a face shield "that covers the entire front (that extends to the chin or below) and sides of the face with no face mask." As a last resort, CDC accepts homemade masks (e.g. bandana, scarf). Seamstresses nationwide have started to make cloth masks, and pattern examples can be found online.4
Many cloth masks do not provide adequate protection. "If you would like to sew a cloth mask, you should make sure there is a pocket to add a filter between the two layers," explains Lara Rasmussen, DVM, Dipl. ACVS, a board-certified surgeon in Lakeland, Minn. You should also ensure the mask fits you snugly.
Davies et al (2013) published a study on the efficacy of homemade masks.5 Interestingly, of all the materials studied (including pillowcases, silk, and cotton T-shirts), vacuum cleaner bags are the material most similar to surgical masks. So in a pinch, it stands to reason a piece of vacuum cleaner bag can be placed between the two layers of a handmade cloth mask.
Scott Weese, DVM, DVSc, Dip. ACVIM, a board-certified internist turned infectious disease specialist at the Ontario Veterinary College at Canada's University of Guelph, recently made the following points in his blog (bit.ly/342Nne2):
"In veterinary medicine, the risk to the surgeon (e.g. from being sprayed in the face with infectious material during the procedure) is very low (to nil)."
"In surgery, the risk is predominantly to the patient, as there may be increased risk of contamination of the surgical site."
And to paraphrase Dr. Weese: Autoclaving masks might be counterproductive. The main concern is mask integrity.
There is, however, some conflicting information indicating that re-sterilizing masks is an option.6 A 2009 study in the Annals of Occupational Hygiene looked at multiple sterilization techniques, including ultraviolet light and microwaving, as well as soaking them in alcohol, hydrogen peroxide, bleach, or soapy water.7 The only method that didn't damage the mask's filtration capacity was to heat it in a kitchen-type oven for 30 minutes at 158 F (70 C), or expose it to hot water vapor from boiling water for 10 minutes.
Here are few more quotes from Weese's blog I found noteworthy:
"Veterinary clinics should consider having personnel start saving masks they have used before the supply runs too low. I would not reuse them until needed, but better to have a stockpile of used masks than no masks at all."
"Personnel should save their own masks separately, rather than pooling them, since sharing masks is, 1) gross and 2) a potential way to transmit human pathogens between people. Before saving a mask, it should be carefully untied and inspected to see if there are any visible defects."
"Masks to be reused should be placed somewhere they can dry to reduce the likelihood of bacterial growth inside the mask."
A simple suggestion to your team is to save their masks in their locker.
Some human anesthesiologists have been experimenting with Halyard H600 drapes.8 "The two-ply polypropylene drape material cannot be penetrated by water, bacteria, or particles" explains Kathy Collins, DVM, CCRP, Dipl. ACVS, a board-certified surgeon in Rochester, N.Y. It blocks 99.9 percent of particulates, allegedly more than the N95 masks.
Surgical gloves
Gloves are undeniably the toughest PPE to replace. Decades ago, some colleagues used to autoclave surgical gloves, when needed. By necessity, the trend has come back in the surgery community. Gloves can be thoroughly washed (while you are still wearing them after surgery) and dried. Based on a study,10 exam gloves can also be repeatedly cleaned with alcohol-based hand sanitizer without affecting their integrity (up to 100 times with 83 percent ethanol). Latex or nitrile gloves can be wrapped in peel pouches and autoclaved at the "pouch" setting. This is typically 270 F (132 C) for five minutes, with a drying cycle of 30 minutes.9
There have been discussions regarding gas-sterilizing gloves with ethylene oxide. "Concerns include poor elution (a.k.a aeration), hypersensitivity reactions, and carcinogenic potential," warns Bill Linney, DVM, Dipl. ACVS, a board-certified surgeon in Phoenix, Ariz.10 On that note, these reservations are likely even more applicable to gas-sterilizing masks with ethylene oxide.
Preparing for a complete shortage of surgical gloves, colleagues are now experimenting with industrial-grade, chemical-resistant, and even regular exam gloves. Whatever the sterilization process, it is important to verify the integrity of re-sterilized gloves before using them.
As a profession, we have a moral responsibility to conserve PPE to help protect our human health-care colleagues. In spite of the stress of the COVID-19 situation, veterinary professionals' resourcefulness will undoubtedly generate viable solutions that protect both patients and humans.
Until then, be reasonable—reuse and reduce.
STATE GOVERNMENTS DEMANDING PPE NUMBERS
Some states are requiring information about which PPE veterinarians have. As of this writing, examples include:
New Jersey: On March 24, "Governor Phil Murphy signed Executive Order No. 109, which requires any business or non-hospital health-care facility, including… veterinary practices… in possession of PPE, ventilators, respirators, or anesthesia machines that are not required for the provision of critical health-care services to undertake an inventory of these supplies and send that information to the state by 5:00 p.m. on Friday, March 27."
• Minnesota: On March 23, Governor Walz issued Executive Order 20-16 that "requires all non-hospital entities, including veterinarians, to conduct an inventory of their PPE, ventilators, respirators, and anesthesia machines, report the result to the state, and either donate such equipment to a local coordinating entity or preserve it."
Phil Zeltzman, DVM, DACVS, CVJ, Fear Free Certified, is a board-certified veterinary surgeon and serial entrepreneur whose traveling surgery practice takes him all over Eastern Pennsylvania and Western New Jersey. You can visit his website at DrPhilZeltzman.com. He also is cofounder of Veterinary Financial Summit, an online community and conference dedicated to personal and practice finance (vetfinancialsummit.com).
References
1 Surgical mask and gown conservation strategies from the FDA, bit.ly/2R38iZv
2 Ward et al. "Glove and gown effects on intraoperative bacterial contamination." Ann Surg. 2014, N 259, Vol 3, p. 591-597. bit.ly/2UMQPGY
3 Strategies to optimize the supply of PPE and equipment from the CDC, bit.ly/2WZSD0L
4 View patterns to make homemade face masks at veterinarypracticenews.com/SI-PDF-june-2020 and bit.ly/3bGHkP6.
5 Davies et al. "Testing the Efficacy of Homemade Masks: Would They Protect in an Influenza Pandemic?" Disaster Medicine and Public Health Preparedness, Available on CJO 2013 doi:10.1017/dmp.2013.43. bit.ly/2USe7tR
6 Sterilization of disposable face masks by means of standardized
dry and steam sterilization processes bit.ly/2xJa8rj (Click on "PDF" at
the bottom to see a summary
of the article)
7 2009 study in the Annals of Occupational Hygiene on sterilization of masks, bit.ly/349xgf2
8 UF Health anesthesiology team devises respirator mask made
from existing hospital materials,
bit.ly/3bFWgwQ
9 "Intactness of Medical Nonsterile Gloves on Use of Alcohol Disinfectants" bit.ly/2WXsKyB
10 Dermatologic hazards from ethylene oxide, bit.ly/2QZaH7i