Suggested Veterinary Products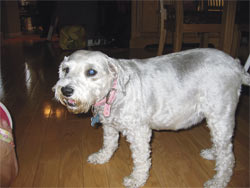 Nine-year-old Winnie used to spend her evenings like many children her age: lounging around on the couch, watching television and eating her favorite snack—chicken alfredo pizza.
The only problem: Winnie wasn't a 9-year-old child. She is a schnauzer-poodle mix. And at 27.3 pounds, she was also 8 pounds overweight, according to Anne Chauvet, DVM, Dipl. ACVIM and owner of Veterinary Neuro Services LLC in Sarasota, Fla.
Winnie's owners, Bonny Rauch and husband Larry, of Bradenton, Fla., decided to take action on Winnie's weight problem when another family pet, also an overweight schnauzer, died of kidney failure at age 7.
That's when Rauch found an advertisement in her local newspaper for the Big Dog, Big Loser contest, a weight-loss competition hosted by Veterinary Neuro Services to help dog owners get their pets back into shape.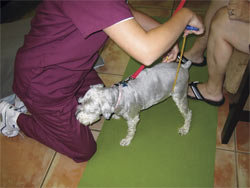 The 12-week competition started Jan. 17 and began with eight contestants, each of whom received a health check-up from their own veterinarian before the competition.
After Dr. Chauvet's staff got the go-ahead from participants' veterinarians, they loaded the dogs' physical information into Royal Canin's "Fit for Life" software program to determine their target weight and the diet needed to get them there. The software also calculated their percentage of total body weight loss each week that would be used to determine the winner at the competition's end.
With donations such as food from Royal Canin, lab work and supplies from Idexx Laboratories Inc., obedience classes from Jim Laclair's Dog-Friendly Dog Training and nutritional supplements from Platinum Performance, Veterinary Neuro Services was able to offer the contest at no charge to participants.
Contestants were fed Royal Canin's Calorie Control, High Protein diet and were weighed-in weekly to monitor their progress.
But Chauvet and Karissa Mayer, CVT, of Veterinary Neuro Services, knew that diet alone would not be enough.
"A lot of these patients have been obese for awhile and were already on diets, but they were following a strict, diet-only plan," Mayer says.
Owners were not only required to attend weekly obedience classes and lectures on animal health and nutrition, but also to bring their pets to exercise on underwater treadmills three times a week at Veterinary Neuro Services.
Although the program's schedule was time consuming for the pets' owners, Rauch realized its benefits early on when Winnie became more energetic.
"She [became] a brand new puppy again, wrestling with the other dogs," she says. "She used to just sit and lie around all day. You would not believe the difference in how she acts."
Even the staff was surprised by how quickly results began to show.
"We saw a dramatic change in energy levels just 10 days into the competition," says Mayer. "Dogs came out of their shell and were less shy."
As the competition progressed, so did the relationship between the dog owners and staff members. They hosted potlucks and went on dog walks together, encouraging each other throughout the process.
But it was still a competition, and eliminations had to be made during the fourth and eighth weeks.
"Some owners actually cried when one of the other participants became eliminated," Chauvet says.
That's why Mayer and Chauvet decided that even the contestants eliminated would still be allowed to finish the weight-loss program and the hydrotherapy sessions—which typically cost $25 a session for 30 minutes—free of charge until they reached their target weight.
"We made a promise to all the owners to help them reach their goals," Mayer says. "We showed them something tangible. When they get a paper each week with their progress, it's a validation of how they [as the owners] are doing, too."
At the contest's final elimination on April 13, Winnie and her owners received validation for their hard work; they took home first place, along with a $2,000 check donated by Veterinary Neuro Services and a year's supply of food from Royal Canin.
"When we received that big check, it was really something special," Rauch says. "We've bonded with the staff and they've been a great support system."
The best thing about the contest, Chauvet says, is that it can be modified to work in any veterinary clinic.
"It's just diet, exercise and teamwork," she says.
And since Royal Canin's "Fit for Life" software is free, she says any veterinary clinic can use it to monitor patients' weight loss.
"Every time an animal goes in, it gets weighed anyway," Mayer says. "The veterinary technician can enter the animal's information and do the bulk of the interaction. The vet can determine what diet they should be on. It increases efficiency for the vet [and] the whole staff gets involved."
Rauch says it's easy to follow a pet weight-loss program when a veterinarian explains not only why certain habits are bad, but how to correct them.
"It boils down to educating clients," Mayer says. "If you have three extra bites of chicken, it may not be a big deal, but that's a lot for a small dog.
"If we tell them, 'Don't do that,' but we don't tell them what to do instead, it's a recipe for disaster."
Now healthy and happy at 19.5 pounds, Winnie has traded in chicken alfredo pizza for a healthier snack recommended by Mayer—green beans.
She still exercises daily, going on mile-long walks with her owners—who have collectively lost 40 pounds as a result—and running around the house every time the doorbell rings.
"She's a completely different dog," Rauch says.