My February column — What to Do When Gums Overgrow Their Boundaries — discussed possible etiologies of gingival hyperplasia. Recall a 5-year-old male Rhodesian ridgeback who was presented for evaluation of proliferative gingival enlargement and focal areas of gingival recession over most of the lateral surfaces of the maxillary canine teeth (Figure 1-A). Nearly every tooth in the mouth was affected at least mildly by gingival enlargement, though the canines and incisors were most severely affected (Figure 2-A).
This month we will discuss the treatment of gingival enlargement.

JOHN LEWIS, VMD, FAVD, DIPL. AVDC
Figure 1-A: The right maxillary quadrant showing generalized gingival hyperplasia and gingival recession over the labial (vestibular) surface of the right maxillary canine tooth (tooth 104).
Terminology
Last month we discussed the terminology of gingival enlargement vs. gingival hyperplasia. Worth discussing here are terms related to the surgical treatment of gingival enlargement. The two terms often used are gingivectomy and gingivoplasty.
Human textbooks refer to gingivectomy as the excision of gingiva to eliminate periodontal pockets, including reshaping, or "-plasty," of the gingiva as part of the process. At least one veterinary text refers to excision of gingiva to remove periodontal pockets as gingivoplasty, stating that gingivectomy is an inappropriate term because gingiva is never removed in its entirety.1, 2
Also worth exploring is the difference between a sulcus, a pocket and a pseudopocket. Sulcus describes the normal anatomical furrow between the tooth and the free gingiva. The normal sulcus depth for a cat is 0 to 1 millimeters, and for a dog it is 1 to 3 millimeters. Pocket refers to a pathologic furrow between the tooth and the connective tissue structures of the teeth due to a loss of attachment seen with periodontal disease. Pseudopocket refers to a probing depth occurring not due to normal anatomy or periodontal disease but rather due to gingival enlargement.
Pseudopockets can result in real pockets due to periodontal attachment loss from food, hair and other debris collecting in the pseudopockets. The goal is to remove pseudopockets before they form real periodontal pockets.
Surgical Removal of Enlarged Gingiva
The removal of excess gingiva may be performed using a variety of techniques and instruments. The most common technique is a gingivectomy at the free gingival margin, though periodontal flap techniques can be considered if osseous contouring is necessary.
JOHN LEWIS, VMD, FAVD, DIPL. AVDC
Figure 1-B: Appearance of the right maxillary quadrant after gingivectomy/ gingivoplasty.
Gingivectomy removes excessive gingiva while maintaining at least a 2-millimeter collar of attached gingiva around each tooth (Figures 1-B and 2-B). Gingivectomy may be accomplished using blades, periodontal knives, diamond or 12-fluted burs, electrosurgery or surgical lasers. Commonly used blades include Nos. 11, 12 and 15. Kirkland knives are used to remove large amounts of fibrous tissue, while Orban knives can remove interproximal gingiva.
The goal of a gingivectomy is to completely remove the pocket while beveling the cut to maintain normal gingival contours. Creating bleeding points with a Goldman-Fox pocket marker is important to guide the surgeon's blade. Electrosurgery may be used in a fully rectified mode to excise excess gingiva with the added benefit of coagulation as the instrument cuts. Using either a loop, needle- or diamond-shaped electrode, excess gingiva is shaved off while contouring the remaining gingiva. Be sure to avoid electrode contact with the crown, root or alveolar bone because irreparable damage can occur (Figure 3).
JOHN LEWIS, VMD, FAVD, DIPL. AVDC
Figure 2-B. Appearance of the mandibular incisors and canines during the process of gingivectomy/gingivoplasty.
Electrosurgery is contraindicated in patients with non-compatible pacemakers. Carbon dioxide lasers have been described for the removal of excess gingiva in veterinary dental patients. Lasers provide a coagulation effect similar to that of electrosurgery. In my hands, a CO2 laser has been less efficient than a scalpel or cautery loop. When using the laser, care must be taken to avoid damage to the periodontium and tooth surface, so appropriate tips, wattage and angulation are important.1
Of all the available options, I prefer to utilize electrosurgery with a wire loop attachment in most areas. In areas of severe gingival proliferation, I usually use a 15 blade. Use of a diamond bur or 12-fluted finishing bur can help contour the gingiva further once bulk removal is done with an electrosurgical loop or blade.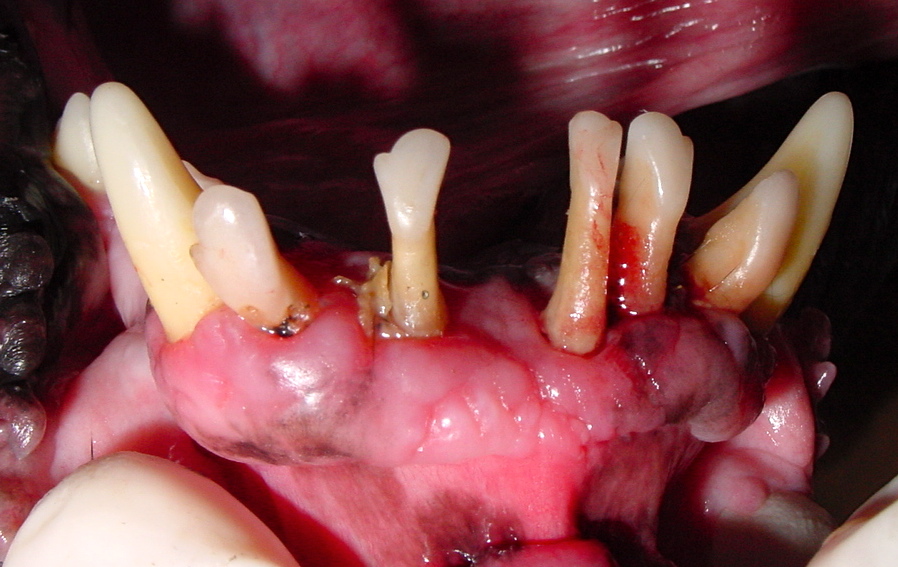 JOHN LEWIS, VMD, FAVD, DIPL. AVDC
Figure 3. The mandibular incisors of an 8-year-old boxer dog that presented with oral pain after having gingivectomy performed elsewhere two months earlier. Its appetite was excellent before the procedure and diminished after the gingivectomy. Anesthetized examination revealed devitalized sequestra of alveolar bone surrounding multiple mandibular incisor teeth, possibly due to thermal damage during gingivectomy. If this degree of attachment loss were identified in the process of reducing the pockets to zero via gingivectomy, extraction would be the preferred treatment.
Without adequate home oral hygiene—and sometimes even with excellent oral hygienegingival enlargement may recur over time. The exact role of bacterial plaque in promoting gingival enlargement is not well understood, but sufficient evidence exists in human medicine that good home oral hygiene and frequent professional teeth cleaning decrease the likelihood of recurrence.3 Using toothpaste containing azithromycin has been shown to decrease gingival sulcus depth at weeks 2, 4 and 8 after beginning treatment in dogs with cyclosporine-induced gingival overgrowth.4
References
Lewis JR, Reiter AM. Management of generalized gingival enlargement in a dog- case report and literature review. Journal of Veterinary Dentistry 2005; 22: 160-9.
Harvey CE, Emily PP. Periodontal disease. In: Small Animal Dentistry. St. Louis: Mosby-Year Book, 1993; 123.
Camargo PM, Carranza FA. Treatment of gingival enlargement. In: Newman MG, Takei HH, Carranza FA (eds). Carranza's Clinical Periodontology, 9th ed. Philadelphia: WB Saunders, 2002; 754-761.
Rosenberg A, Rosenkrantz W, Griffin C, Angus J, Keys D. Evaluation of azithromycin in systemic and toothpaste forms for the treatment of ciclosporin-associated gingival overgrowth in dogs. Vet Dermatol. 2013; 24(3): 337-45.
---
Dr. Lewis practices veterinary dentistry and oral surgery at NorthStar VETS in Robbinsville, N.J. Columnists' opinions do not necessarily reflect those of Veterinary Practice News.
Originally published in the March 2016 issue of Veterinary Practice News. Did you enjoy this article? Then subscribe today!