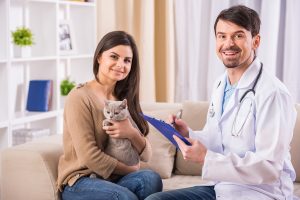 With pet ownership reaching record-highs in the U.S, there's plenty of opportunity for small veterinary practices to increase revenue. But many practice owners are finding it difficult to compete in an increasingly crowded marketplace.
Aside from traditional competitors, other businesses such as big box pet stores, internet pharmacies, and low-cost vaccination clinics are all competing for a share of the market.
In the face of this increased competition, marketing to attract new clients may seem like the best strategy for growth. Yet, client acquisition can be costly, and keeping up with the latest marketing methods can be challenging and time-consuming.
For most veterinary practices, client retention is a far more cost-effective marketing strategy for achieving sustainable profitability and growth. In fact, studies have shown it costs five times as much to attract a new client than to keep an existing one.
Not only that, the average business loses around 20 percent of its clients each year by failing to focus on existing client relationships. With these figures in mind, it's easy to see how veterinary practices that are not doing enough to retain clients can quickly stagnate and lose revenue.
So, how can you retain more clients and ensure the growth of your veterinary practice? By focusing on nurturing relationships with existing clients to win their trust, loyalty, and repeat business. Here are some simple strategies any veterinary practice can implement to improve client retention.
Customer service
Exceptional customer service plays an important role in client retention. It's the first thing pet owners notice when they enter your practice, and it's far easier for them to evaluate than the level of medical care you provide.
Make sure all staff is adequately trained to provide friendly and knowledgeable advice, and aim to make a client's visit to your practice as efficient, personalized, and convenient as possible.
Remember, clients who have a great experience will turn into loyal customers. But if customer service falls short, they are likely to look elsewhere and share their negative experience with others.
It's also important to ensure customer service doesn't end when clients leave your practice. Follow-up emails are a practical and easy way to reinforce the veterinarian's advice after a client visits your practice. They can also improve client compliance and increase the positive perception of your business.
Other ways to improve customer service include implementing a patient reminder system and revising your policies to be more client friendly. For example, you could consider extended hours on designated days of the week, or provide incentives for returning clients.
Client education
Educating your clients is one of the best strategies you can use to improve client retention. Many veterinary websites lack useful written content that educates and engages their clients. This means that building out content is an excellent way for you to stand out from your competitors.
Social media posts, a monthly newsletter, and regular blog posts are three of the most effective marketing methods you can use to reach your client base. Educational content allows you to demonstrate your expert status, build trust, and increase the likelihood your clients will continue to do business with you.
You could also consider recording instructional videos or webinars to educate clients about animal health issues. One of the benefits of educational content is that it's relatively simple and inexpensive to produce. Done well, it can deliver an excellent return on investment.
Additional products and services
Offering additional products and services can be a great way to retain clients and encourage them to visit your practice more regularly.
Could you being doing more to promote dental examinations or vaccinations? Maybe you could offer grooming services or sell pet products, such as dog leashes, travel crates, or specialist foods.
One of the keys to retaining clients is improving the customer experience. Modern pet owners have busy schedules, and many appreciate the convenience of one-stop shopping to meet all their pet's needs.
Unfortunately, offering additional products and services is often seen as an aggressive selling technique by many veterinarians. Yet, it can be an easy way to increase client satisfaction, generate revenue, and retain loyal customers over the long term.