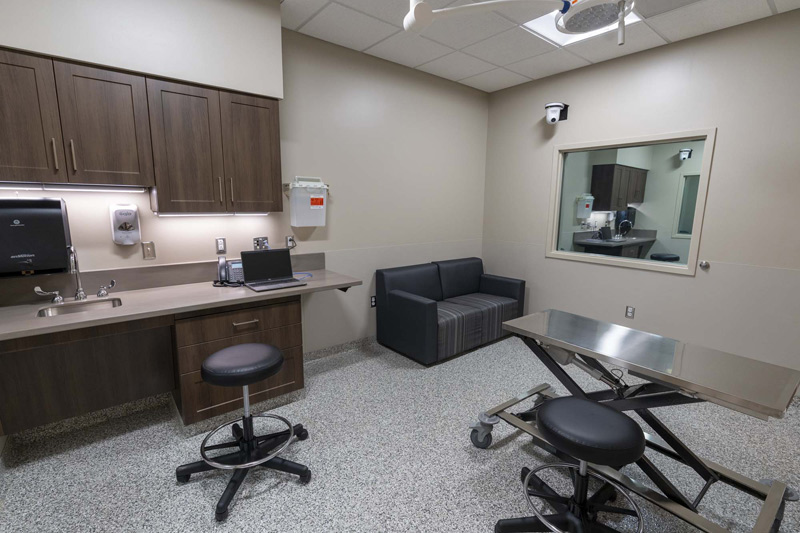 Ensuring pets have adequate access to care is the primary objective of a newly opened veterinary clinic in the Buckeye State.
The Ohio State University (OSU) College of Veterinary Medicine has unveiled a 35,000-sf facility to help enhance the hands-on, clinical skills of its students.
Notably, the hospital is among the first primary care clinics operated by a veterinary college to embrace a spectrum of care model, the university reports. The goal of the approach is to ensure graduates entering private practice are able to provide a variety of treatments for pets belonging to owners across a wide-ranging socioeconomic spectrum, OSU says.
Traditionally, OSU's veterinary students have received clinical training primarily through observation of medical and surgical cases evaluated and treated in OSU's Veterinary Medical Center. While this traditional education model is incredibly valuable, the addition of a spectrum of care philosophy allows for more hands-on clinical opportunities for students across a broad spectrum of cases, the university says. The change was driven by input from faculty, students, practitioners, and alumni.
"The spectrum of care concept aims to address the growing problem of affordability of veterinary care by providing a continuum of acceptable care that considers available evidence-based medicine while remaining responsive to client expectations and financial limitations, thereby successfully serving an economically diverse clientele," said Rustin Moore, DVM, PhD, DACVS, dean, College of Veterinary Medicine, and Ruth Stanton Chair in Veterinary Medicine.
The new Frank Stanton Veterinary Spectrum of Care Clinic is funded by a gift from the Stanton Foundation. Previous contributions from the foundation aided in the construction of a veterinary clinical and professional skills center, which allowed for the expansion of summer student externships and the hiring of additional faculty and staff.
"The Stanton Foundation has joined us along this path in almost every step, because visions and dreams aligned," says Roger B. Fingland, DVM, MS, MBA, DACVS, professor and executive associate dean, executive director, and chief medical officer of the Veterinary Health System and the Frank Stanton chair. "This would not have happened without that alignment."
For more, click here.