Suggested Veterinary Products
Banfield Pet Hospital and Animal Planet's resident pet trainer, Victoria Stilwell, are asking U.S. cat owners to upload videos of their real-life struggles to get their cat into a carrier before a visit to the veterinarian.
The "inFURvention" campaign began July 18, 2012, and runs through Aug. 17, 2012. The goal is to document pet owners' difficulties in getting cats into carriers and off to the vet and increase awareness of the importance of regular veterinary visits.
One winning inFURvention video will be chosen. The cat owner will receive a year's worth of free preventive veterinary care and an at-home visit and training consultation from Stilwell.
"Pet owners don't have to be a professional in order to train their cats to get into a carrier," Stillwell said. "All it takes is some practice and simple behavior, and catfights will soon be a thing of the past."
A 2011 Bayer Animal Health study noted that of the 86 million pet cats in the United States, one-third miss out on veterinarian visits because their owners want to avoid the travel hassle.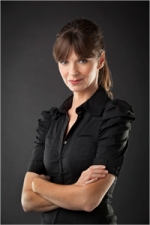 Victoria Stilwell, Animal Planet's resident pet trainer.
"One of the biggest barriers to cats receiving veterinary care is actually getting them to the hospital," said Dr. Jeffery Klausner, chief medical officer for Banfield. "Unfortunately, cats typically don't show signs of illness until it is too late; therefore, it is important for cats to receive twice-yearly veterinary visits in order to prevent, as well as diagnose and treat, illnesses before it's too late."
"Through 'inFURvention,'" he continued, "we hope to educate pet owners about the importance of routine veterinary visits and let them know it doesn't have to be a fight to get their cat to the vet."
InFURvention videos may be uploaded at www.inFURvention.com with the tag "#inFURvention."
Portland, Ore.-based Banfield bills itself as the world's largest veterinary practice.