Suggested Veterinary Products
There's nowhere else she would rather live and no environment she likes to help more, but Louisiana sure tests the affection of Renee Poirrier, DVM.
Since 2005, Dr. Poirrier has rescued animals affected by hurricanes Katrina, Rita, Gustav and Ike, by flooding in Shreveport and by a train derailment in Lafayette. Now she's among the dozens of veterinarians aiding birds and other wildlife imperiled by the massive British Petroleum Deepwater Horizon oil disaster off the U.S. Gulf Coast.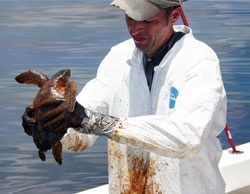 Photo by National Marine Fisheries Service.
Brian Stacy, DVM, Ph.D., Dipl. ACVP, with an oiled Kemp's Ridley sea turtle during a trip to the Gulf of Mexico as a contract veterinarian with the National Marine Fisheries Service's Office of Protected Resources. Dr. Stacy is a clinical assistant professor at the University of Florida College of Veterinary Medicine.
"We're getting pretty good at this [disaster response]," says Poirrier, owner-operator of Acadiana Veterinary Clinic in Lafayette and director of the volunteer Louisiana State Animal Response Team (LSART).
At the beginning of July, wildlife rescue and rehabilitation efforts in the gulf involved more than 200 paraprofessionals—those with wildlife-rehab or other animal-health experience and training, many of them veterinarians, vet techs or vet school students.
The most affected state is Louisiana, where barrier islands took the brunt of the first wave of oil washing ashore, though Alabama, Florida, Mississippi and Texas were seeing some of the effects and were bracing for more.
As of June 25, 770 oil-affected birds and 132 sea turtles had been caught, according to figures compiled by the U.S. Fish and Wildlife Service and other organizations authorized to operate in the affected area. The same report listed 1,074 dead birds and 417 dead turtles collected.
The good news in the report: 156 birds and three turtles had been released back into the wild, far from the spill site.
As LSART director, Poirrier is helping to provide specialized training and coordinate the scheduling of volunteers at the Oiled Bird Rehabilitation Center in Fort Jackson, La. The center is where birds, predominantly pelicans, are taken after getting initial treatment at one of four stabilization sites.
Not for Everyone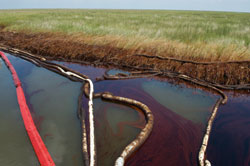 U.S. Coast Guard photo by Petty Officer 3rd Class Zac Crawford.
Bay Jimmy, near Grand Isle, La., was one of the more impacted zones when crude oil reached Louisiana's shoreline. Skimming and pumping vessels, many of them converted fishing or shrimping boats, comprised one of the methods used to combat the oil and help minimize marshland and shoreline impact.
Working days at the rehab center are long, hot and laborious, volunteers say, testing even those with emergency-response experience. In addition to the requirement that paraprofessionals complete a four-hour training course, LSART and other participating organizations are weeding out would-be volunteers who have respiratory problems or who are prone to heat stress.
"It takes a hardy person to handle this work," says Rebecca McConnico, DVM, Ph.D., Dipl. ACVIM, an associate professor of veterinary medicine at Lousiana State University.
"The most important thing for newcomers to know is that every job is important," says Dr. McConnico, a branch director for LSART. "You may see the hands-on bird area and the medic jobs as the cool places to be, but those who are cleaning out habitats are also helping these birds get closer to resuming their lives in the wild."
Adds volunteer Laura Riggs, DVM, Ph.D., Dipl. ACVS and an assistant professor of equine surgery at LSU: "If you want to act as a superstar veterinarian and be the boss, that's not going to happen. But if you're a veterinarian or a vet student and you want to help in any way, it's a wonderful situation to be in."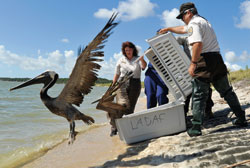 U.S. Coast Guard photo by Petty Officer 3rd Class Robert Brazzell.
U.S. Fish and Wildlife Service veterinarian Sharon K. Taylor releases a brown pelican, an oil survivor, into the wild in late June near Houma, La.
After being examined, fed and hydrated, photographed, banded and having blood drawn, birds are ready for the oil-removal process. Volunteers clad in barrier coveralls, long neoprene gloves and protective eyewear first marinate the birds in canola oil to emulsify the oil and make it easier to wash off.
It's a far cry from working with parrots, cockatoos and other domesticated birds that Gregory Rich, DVM, typically sees in his practice at West Esplanade Veterinary Clinic and Bird Hospital in Metairie, La.
"These birds are not used to having us around, and they want to peck and eat whoever is handling them," says Dr. Rich, who made multiple trips to the gulf to care for oiled birds.
A few volunteers have been marked with "bird hickeys," McConnico notes.
"But in my mind," Rich says, "it's a great thing that these birds have the strength and resolve to fight."
Dawn Gets It Done
Learn More
For updates on the gulf wildlife rescue and rehab efforts, and to learn what it takes to participate, visit:
After the vegetable oil treatment, birds receive as many as five washings with Dawn dishwashing liquid before they move to the drying room and then a holding area. Days or weeks may pass before the birds' feathers regain their waterproofing. When that happens, birds deemed healthy are released to coastal areas of Florida or Texas.
"It's important to keep in mind that Louisiana sweet crude is not particularly toxic," says Rebecca Dunne, senior coordinator of oil programs for Tri-State Bird Rescue and Research, a Delaware nonprofit group contracted by BP to oversee rehab efforts in the gulf because of the organization's extensive experience in aiding oiled birds.
"The oil is heavy, so these birds are able to be caught quickly because they can't fly," Dunne says. "For the most part, they're in better shape than with lighter, more toxic crude. Plus, these pelicans are pretty hardy animals."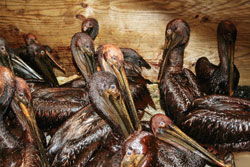 Photo courtesy of Louisiana State University.
Oil-soaked pelicans await cleaning in Fort Jackson, La., after their rescue.
Dunne is familiar with the contention by some wildlife experts that cleaning oiled birds merely extends their suffering—that many don't make it after being released.
"We are more on the response side than the research side, but we do band all animals, and we do see them again nine, 11, 13 years after a spill," she says. "I worked a spill in 2006 on the Christina River in Delaware, and a mallard was caught pretty much in same place he had been caught and cleaned nine years before. So we do see positive anecdotal evidence."
A Silver Lining
For Rich, the positives of working on such a rescue and rehab project make any hardships easy to endure.
"There's definitely a camaraderie and effective sense of teamwork in place," he says. "As a local person, it feels good to be involved in renaturalizing the environment."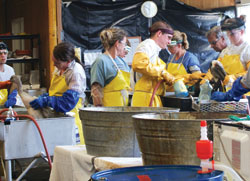 Photo courtesy of Louisiana State University
Cleaning oiled pelicans is a team effort.
Heather Nevill, DVM, is a stabilization site supervisor for International Bird Rescue Research Center, another organization aiding in the gulf response. She gets satisfaction in knowing that cleaning and rehab work is being performed by those with training and expertise.
"Otherwise we might be doing more harm than good," she says.
"With a spill like this, there's nothing I can do to stop the flow of oil, but I do have skill in caring for birds. That's where I can contribute value."
Adds Poirrier: "It's a very empowering feeling to be able to assist in your own community."
Plus, though she has 22 years of veterinary experience, she learns something new each time she's involved in an emergency-response project.
And this time?
"I learned," she says, chuckling, "that giving an IV to a pelican isn't as hard as I thought."
This article first appeared in the August 2010 issue of Veterinary Practice News. Click here to become a subscriber.