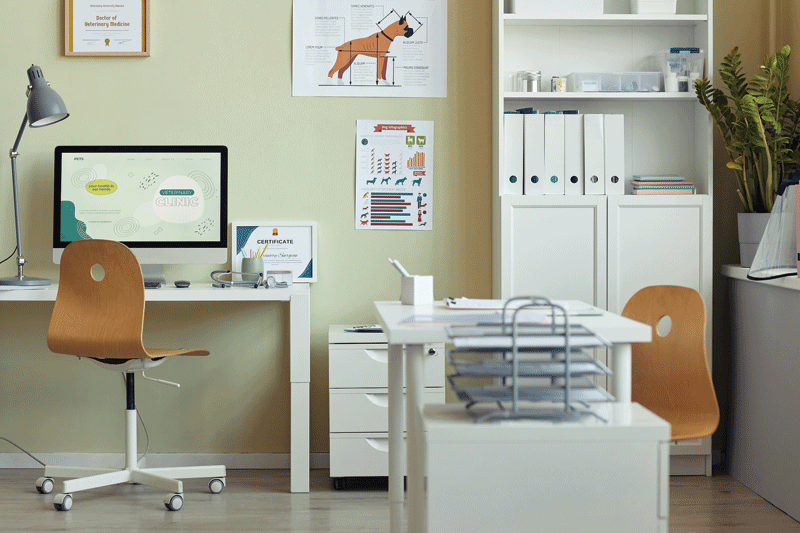 The ability to reach a business through chat or text is quickly becoming the standard for communication. Many veterinary hospitals have been offering text messaging options to their clients for years and find it to be extremely efficient. Texting with clients is, by definition, telehealth—but it is just the tip of the iceberg.
Just as telehealth is becoming a normal and expected option for care in the human world, many consumers expect the same is available from their veterinary medical teams.
As disruptive technologies and innovations develop, we will be forced to adjust our mindsets, clinical workflows, and businesses to meet the ever-evolving needs of our clients who want to use these technologies. We must find ways to help our teams and our clients manage the changes in a structured and supported manner to prevent falling into chaos and miscommunication.
Why implement?
The reasons for implementing a telehealth system vary wildly between practice types and regions. One practice may use it to triage large animal calls in the middle of the night; another for bringing in virtual technicians and DVMs to support the clinical team in a specialty practice. Still, others use it to improve efficiency in communication, medical education, or even to offer unlimited chat advice from a technician as part of a puppy wellness package. Whatever your reasons or goals, more success will be found with a little planning and consideration of those people it affects most—your team and clients.
Create a plan. Introducing a new telehealth or virtual communication platform can certainly cause stress without a plan for managing the changes. Be proactive about setting your team and clients up for success. When implemented properly, these systems can strengthen communication with clients, improve patient outcomes, allow practices to see more patients, create workplace flexibility, and much more.
Given we are affecting the communication method between our teams and clients, it is truly critical to take our time and implement this change correctly. Mistakes with communication can result in negative health outcomes, lost clients, and frustrated teams.
Filling out a business model canvas and a change management canvas can help you create a plan for your new telehealth system that encompasses the business needs, long-term goals, and practical implementation challenges. If you have not heard of these canvases, a quick online search will give many options that will help you think more holistically about how to begin introducing change and new services. Make these transparent to your team and discuss them at a team meeting so they can feel like they are a part of the change, not just affected by the change.
Consider efficiency. One major goal for introducing telehealth is to improve efficiency; make sure your proposed change methodology does not add more steps. In the most efficient scenarios for practices to provide full virtual communication, the CSRs intake every initial outreach from a client—just like with phone systems. Clients typically reach out through asynchronous methods, such as chat or text. This way, someone can handle multiple conversations simultaneously and there is full transparency to the transcript of every conversation.
The front desk handles all the basics and passes medical needs on to an assistant or technician that is a competent at triage. The technician can decide what a patient needs, such as to be seen in-clinic, a video visit, monitoring and follow-up, or a basic rechecks. In these super-efficient practices, doctors in clinics should be doing the least amount of telehealth, as they are dealing with patients needing in-person attention.
Establish achievable goals. Most practices' telehealth programs slowly ramp up over six to 12 months. Your team will become discouraged if you set a goal of "100 percent no phones by next week." Instead, set goals in a stepwise manner and make the first few goals easy wins to help get everyone's confidence up. Creating rewards for surpassing goals can provide even more initiative and can help prevent slipping back into old habits. If you don't make a goal, discuss why with the team and brainstorm ways to reach the next one.
Introducing to the team
Have a team meeting to discuss the "why" and listen to the people on the front lines with clients. They are often the ones who best understand the intricacies of communication and workflows with your clients, so be sure to include them when creating new workflows and looking for challenges. It is critical not only to understand why you want to implement telehealth, but also are brought into the greater vision of how this will help them and their patients. For them to want to make a change, they have to see the benefits.
It is important to ensure our teams maintain the feeling of having autonomy and a voice—a way to feel at least a little in control of the situation—when we are adding in a change to our team's normal and established flow. Be sure to discuss as a group how the service is going, how goals are being achieved (or not), what successes and failures have occurred, and how those were addressed. When problems occur, ask your team to make a note of the problem and the potential solution(s) they see. Keep your team in the loop and continue to ask them to be a part of bringing new ideas to the table.
Pick a workflow that is an easy win to help the team gain confidence. Start small with a type of appointment that you know will have low risk of medical complications or surprises. Spay and neuter surgery rechecks, dermatology, behavior, nutrition, palliative care, and quality of life assessments are a great place to start.
Make one person "in charge" to answer technical questions and handle communications with the telehealth software team. We usually call this person the "champion:" the person who steps up to take responsibility for handling telehealth issues within the practice, leads promoting the service, and helps with tracking the team's goals.
Communicating effectively
Role play! Practice being pet owners and medical team members to know both sides of the software. If you do not understand what the client's experience is like, you are missing a lot. Practice also with various situations: patients with and without a VCPR, emergencies, upset clients, drug-seeking behaviors, breaking bad news, and other difficult conversations. The more you can practice with people you trust in a safe space, the easier it will be when these conversations must be had in real time.
Create scripts to make conversations easier. Providing your team with approved "lines" makes their job lower stress and provides your clients with consistency in responses from your team. Help your front desk with a script on how to discuss the cost of a telehealth consult. Give your techs pre-made responses for commonly asked questions that they can copy and paste or discuss in person. Ask your front desk to make note of the most common questions, and have the team create scripts to answer them together that everyone is comfortable with.
Communicate the why to your clients just as you do your team. Your clients may be more inclined to try your telehealth program if they know it means their favorite technician, Sally, can work from home while recuperating from her broken leg, or that they can still chat with Dr. Smith two days a week even though he's retiring from in-clinic work. They will also appreciate knowing telehealth is intended to keep them from having to make as many trips to the clinic, to prevent stressful visits for their pets, and for them to have a record of conversations to look back on so they can better remember what was discussed. Find the "why" and include it in your marketing to provide intrinsic motivation for your clients to use your services.
Introducing to the clients
Pick a clinical workflow that is not overly stressful for pet owners. Introducing a new way to communicate when the client is already stressed or scared is not ideal. Appointment types like neuter rechecks, puppy training, or nutrition consults are low-stress to both the team and the client, since the pet is very unlikely to have urgent medical needs.
Market, market, market. Provide marketing materials and QR codes in exam rooms to make it easy to find information. Send emails, add info to your voicemail, and make "help download app" part of the check-out checklist. Your clients will only use your telehealth service if they know it exists!
Set clear expectations for your clients. You must be transparent about hours, prices for the service, how soon to expect a response, what types of problems can be handled via telehealth, etc. This is especially important if you don't plan to watch for questions 24 hours a day; you do not want a client with an emergency waiting for you to respond when you do not plan to check messages for the next 12 hours.
Be prepared to demonstrate how to use the service. Not all clients are digital natives. Most just need some gentle guidance, through in-person demonstration in an exam room or through a video on your website. Sometimes showing someone how to download the app, find the correct button, or start a message can make all the difference to a client who is a little unsure.
Telehealth systems can already help alleviate many of the stressors currently affecting veterinary clinics, and it is also an expected service by many clients. In the next 10 years, we have to expect many of our patients will have wearable devices, and access to the internet and smartphones will be even more prevalent. This means we will be able to provide better care virtually than we can now.
We also will experience increasing shortages of veterinary staff, resulting in significant lack of access to in-person care, in the face of a growing pet population. Use of virtual staff offering telehealth is already helping this issue in many practices. It is obvious telehealth is a necessity in your clinic; if not now, then in the near future. Are you ready for it?
Jess Trimble, DVM, is the chief veterinary officer of Anipanion, a veterinary telehealth platform. While working in general practice, urgent care, and house call settings across northern California, Dr. Trimble started working with veterinary startups in 2016. She now speaks, writes, and consults on virtual care and technology implementation in clinical practice.