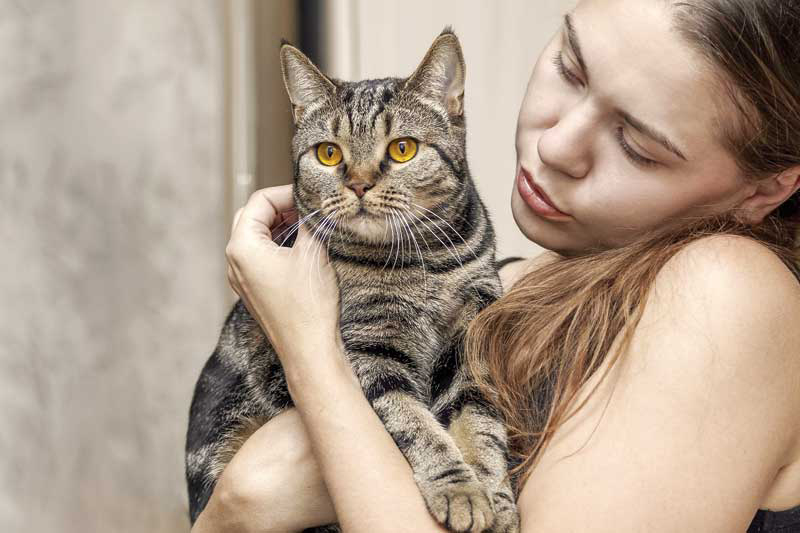 Considered fatal, feline infectious peritonitis (FIP) is now being called "treatable" by Niels Pedersen, DVM, PhD, who has studied the disease for nearly the entirety of his career.
In his 1991 book, Feline Husbandry: Diseases and Management in the Multiple-cat Environment, Pedersen offered no information regarding a treatment for FIP. "How could we? There was none. We didn't even yet fully understand the disease," he told me at the 2019 Winn Feline Foundation FIP Symposium: PURRsuing FIP and WINNing, held at the school's campus last November.
The first speaker to kick off the symposium, Pedersen—now distinguished professor emeritus at the University of California, Davis—participated throughout the day-and-a-half event, along with 12 investigators from around the globe who have studied the pathogenesis, diagnosis, transmission, and various potential treatments for FIP. The news from the symposium goes well beyond treatment, but undoubtedly that's the headline: FIP is now referred to as treatable, potentially even curable.
Pedersen told the story of how a few years back he approached pharmaceutical company, Gilead Sciences, with a hunch about using its antiviral drug—GS-441524—to combat FIP. In clinical trials, the drug proved effective for "wet" FIP, but wasn't readily able to cross the blood-brain barrier to treat the neurologic form of FIP. Nevertheless, GS-441524 appeared to be fairly safe in cats, and at higher doses, the drug can reach therapeutic concentrations in the nervous system. The story regarding GS-441524 ends there, however. When Gilead refused to pursue approval of the drug from the U.S. Food and Drug Administration (FDA) to treat FIP or to give up its patent, Pedersen said he was disappointed. Another option began to take shape.
Pedersen and collaborators at Kansas State University, including Yunjeong Kim, PhD, DACVIM, associate professor in the department of pathobiology and diagnostics in the school's College of Veterinary Medicine, demonstrated a similar antiviral compound they developed—known as GC376—also had a high degree of success in treating the wet form of FIP.
Anivive Lifesciences, an animal health pharma company, recognized its potential. Dave Bruyette, DVM, DACVM, its chief medical officer, announced at the symposium the company is in the process of getting GC376 FDA-approved for treating FIP, but seeing it come to market could be a long way off. "Realistically, it takes approximately 10 to 14 years to get a drug approved from the time some guy in the lab discovers a molecule until the time you can purchase an FDA-approved drug, and it costs more than $2 billion to go from a small molecule to get it through to FDA approval process and to market."
Bruyette added he's hoping for the FDA's Center for Veterinary Medicine to accept GC376 for minor use for major species (MUMS) approval, but even if that happens, the process will take years.
Relief in the black market?
Anivive isn't the only player working toward an FIP treatment. Several Chinese companies are now selling compounds to "treat" FIP via the black market. The most prominent of these sellers is called Mutian Biotechnology. Several company representatives attended the symposium, including its chief executive officer Lu Ziyu. Also, in attendance were cat owners whose cats have reportedly been cured using Mutian's compound to the tune of approximately $4,000 for a 3-kg cat. Cost varies depending on the patient's weight.
Other Chinese companies have popped up and have undercut Mutian's cost to consumers. "The difference between Mutian and the other brands is we are the only good manufacturing practices (GMP) standards manufacturer in China to produce these kinds of products," Ziyu said from the audience during a panel discussion. "[The other companies] are currently illegal in China and we are not comparing price with them because we are different. They only have the injection form and not capsules. And there's no guarantee of effectiveness."
So what is in the Mutian drug? Ziyu won't be specific, noting that information is proprietary.
"We don't know what this stuff really is," Pedersen said. "And this is black market. It's definitely the Wild West out there." He cautions veterinarians against ordering the black market product, but added there is nothing preventing a cat's owner from doing so. So, should you support that client?
"A client is desperate. 'Do I have some sort of a duty?' Veterinarians do also have the right to say, 'No, I don't want anything to do with this.' And I can understand because that ends the possibility for any legal problems," Pedersen said. "I would answer it this way. Is there anything you're doing in this situation that would be counter to it or is your participation supportive of what your oath is?"
Glenn Olah, DVM, PhD, DABVP, is the immediate past-president of the Winn Feline Foundation and a feline veterinarian in Albuquerque, N.M. "It's definitely an individual decision," he says. "But I've supported one client so far, and the cat is thriving (on the Mutian drug). I figured if the client is game, we all want these kittens to live."
Susan Gingrich, who raises money for FIP studies and supports the nonprofit Winn Foundation Bria Fund (named for her own kitty who succumbed to FIP), isn't a fan of the black market. "There are things out there that can help cats live longer and better with FIP—living with a chronic disease is possible. The best thing is to get that diagnosis as soon as you can. Start something, be it doxycycline and prednisolone, or polyprenyl immunostimulant (PPI). It may work, it might not. I don't believe we should make a scientific experiment of our own cats."
Al Legendre, DVM, DACVIM, professor emeritus from the College of Veterinary Medicine at the University of Tennessee–Knoxville, researched PPI and conceded only a very small subset of cats with dry FIP may benefit long term from the biologic if treatment begins early on in the disease process. And he added, "Cats that received PPI and prednisolone lived a significantly shorter period of time than the ones that received PPI alone. So it does seem like it has a significant suppressive effect on the immune system."
Katrin Hartmann, Dr. med. vet., Dr. habil., DECVIM-CA, professor of internal medicine and head of the clinic of small animal medicine at Ludwig Maximilian University Munich in Germany, added, "Yes, of course you give symptomatic treatments such as esophageal tubes to make sure they get enough nutrition, supporting nutrition in other ways (such as appetite stimulants), draining cats with effusive FIP, and so on. We have done a lot of things. But if prednisolone does something, it usually makes them feel better and gives them more appetite. And there's a chance they'll get better, but mostly, they eventually just go downhill."
Peter Cohen, who raises money for FIP studies via his nonprofit organization, Zen By Cat, said, "This is the first time we're able to talk about this openly. Everyone is afraid. Gilead and others who spent money—they want to protect their rights [to their drug.] No one is disputing that. But today, the only way you can cure an FIP cat is through these Chinese companies. Sometimes the drug is intercepted (by U.S. Customs), and there's a pretty expensive price tag. This isn't ideal. We'd rather have an approved drug. But cats with FIP can't wait for one."
Regarding the previous FIP vaccine, everyone I spoke with agreed it was a failure. Gary Whittaker, DVM, PhD, professor in the department of microbiology and immunology at Cornell University College of Veterinary Medicine and a section chief of infectious diseases and epidemiology in the Cornell Public Health program, said that based on current research and knowledge—as compared to a decade or two ago—a vaccine that works is a possibility. "It's simply better to prevent than the need to treat," he added.
To learn more, visit winnfelinefoundation.org.
Steve Dale is a certified animal behavior consultant who speaks at animal welfare and veterinary conferences. Visit his website at stevedale.tv. Columnists' opinions do not necessarily reflect those of Veterinary Practice News.