Suggested Veterinary Products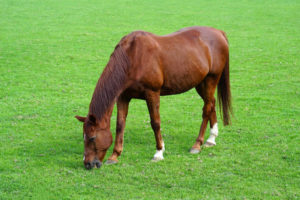 Lymphoma—cancer of the lymphatic system—is a rare medical condition of horses. However, it also is the most common malignant neoplastic condition of the horse system. Horses of any age can be affected, although it more commonly appears earlier in life (from four to 10 years of age).
Lymphoma has several manifestations: multicentric, in the gastrointestinal tract, in the skin, and even in discrete settings. Lymphoma can be difficult to recognize initially, and is typically diagnosed after the disease has progressed, with clinical signs relative to the affected organ or tissue. Routine hematological analysis is often not helpful, as complete blood counts and serum chemistry tests are usually normal. When hematological abnormalities do occur, they typically show as anemia, increased serum protein, and/or fibrinogen. Conversely, low serum protein levels may be seen, as well. A definitive diagnosis is made by identifying neoplastic lymphocytes, usually obtained by analysis of body fluid effusions (e.g. pleural or abdominal fluid, or by fine needle aspiration of affected tissue[s]).
The prognosis for horses is usually poor, depending on the form of lymphoma, as well as how late in the disease process the horse is presented. There are several treatment options, including surgical removal of isolated, infected areas; radiation; or chemotherapy. Large doses of corticosteroids have been used as palliative care, as well. In some cases, complete resolution of the disease has been reported. Follow up on the response to treatment of equine lymphoma cases is rarely reported, probably due to the relatively rare nature of the disease.
What about chemotherapy?
In human oncology, chemotherapy is a mainstay of treatment. In horses, however, its use is less common. There are a few isolated case reports; however, until 2019, there was no study that evaluated the response to chemotherapeutic protocols in a larger number of horses. Now, Daniela Luethy, DVM, Dipl. ACVIM, from the University of Pennsylvania School of Veterinary Medicine, in Kennett Square, Pa., has published a retrospective study of 15 horses with a variety of lymphoma presentations, using a variety of chemotherapeutic protocols. The results suggest some optimism may be warranted when treating equine lymphoma patients with chemotherapeutic agents, especially when the condition is recognized early.
The study
Published in the March-April 2019 issue of the Journal of Veterinary Internal Medicine (JVIM), the retrospective study identified 15 cases of equine lymphoma in which adequate data for analysis was identified. The median age of the horses was 11 years (range, four to 25 years). There were six warmbloods, three quarter horses, two standardbreds, one Arabian, one thoroughbred, one Tennessee walking horse, and one donkey. There were nine geldings, one stallion, and five mares, two of which were pregnant (both standardbreds; 120 days and 150 days pregnant at the time of diagnosis). The anatomic distribution of lymphoma was described as multicentric (n = 9), cutaneous (n = 3), and alimentary (n = 3).
The medications
It is not possible to determine which chemotherapeutic approach is best based on this study. A variety of chemotherapeutic agents were used to treat the horses, including:
cyclophosphamide (nine horses);
vincristine (nine horses);
lomustine (eight horses);
L-asparaginase (seven horses);
doxorubicin (six horses);
cytosine arabinoside (two horses);
chlorambucil (one horse); and
intralesional cisplatin (one horse).
In addition, 12 of the treated horses received corticosteroids (prednisolone and dexamethasone), while three received valacyclovir, an antiviral agent, due to having positive tests for equine herpesvirus-5 (EHV-5). While the study was unable to determine a "best" chemotherapeutic approach for the treatment of lymphoma, horses receiving five‐ and four‐drug protocols tended to live longer (longer median survival time). This is similar to the treatment response for dogs with lymphoma. Unfortunately, the study could not determine an "optimal" chemotherapeutic approach for horses with lymphoma. Cases were not randomized and the number of cases for statistical evaluation was insufficient to make such determinations.
Adverse reactions are commonly reported side effects of human cancer therapy, and horses treated for lymphoma were not immune to them. Of the 15 treated horses, nine experienced adverse effects that could be attributed to the medication. Side effects included alopecia, neutropenia, lymphopenia, lethargy, neurotoxicity, colic, and hypersensitivity. Doxorubicin administration was associated with the most adverse reactions (n = 4), including the horse that died 18 hours after therapy.
Conclusions
Of the 15 treated horses, five (33.3 percent) underwent complete remission of their disease. A partial response to therapy was identified in an additional nine cases (60 percent) and palliation—where the disease remained stable—was seen in one horse (six percent). One horse died 18 hours after administration of chemotherapy. As such, 14 out of 15 horses (93.3 percent) responded to treatment, at least partially.
As might be expected when dealing with cancer, the news was not all good. Four of the five horses that initially achieved complete remission experienced disease relapse at a median of 9.25 months (range, four to 41 months). Horses with cutaneous lymphoma had a much better prognosis for long-term survival than did horses affected with other forms of the disease (34 months for cutaneous lymphoma versus seven months for multicentric and alimentary lymphoma).
Long-term follow up was available for 13 of the 15 horses included in the study. The median survival time was eight months, with a range of one to 46 months. Of the 13 horses for which long-term follow up was available, 10 died. Of those, eight were euthanized and two died after having had partial remission of their cancer (one died 18 hours after treatment and the other died from complications from a mediastinal mass with associated pleural effusion).
Discussion
While the overall prognosis for horses with lymphoma is still not good, at least for long-term survival, there certainly appears to be reason to continue to investigate chemotherapy as a treatment option. Prospective studies with case controls that compare several chemotherapeutic approaches are indicated, as well as studies comparing treatment protocols using chemotherapeutic agents with those using chemotherapy in conjunction with corticosteroids.
Based on this retrospective study, it may be reasonable to suggest chemotherapy as a treatment for horses diagnosed with lymphoma. Owners should be advised side effects can occur, although, fortunately, they are usually mild. Further, they should be aware there is still no clear indication that any chemotherapeutic protocol will consistently result in a successful outcome. The full text of Dr. Leuthy's article can be accessed at https://www.ncbi.nlm.nih.gov/pmc/articles/PMC6430950/.
David W. Ramey, DVM, is a Southern California equine practitioner who limits his practice to the care of performance and pleasure horses. Visit his website at doctorramey.com. Columnists' opinions do not necessarily reflect those of Veterinary Practice News.