Suggested Veterinary Products
Follow Veterinary Practice News on Twitter at @vetpetnews.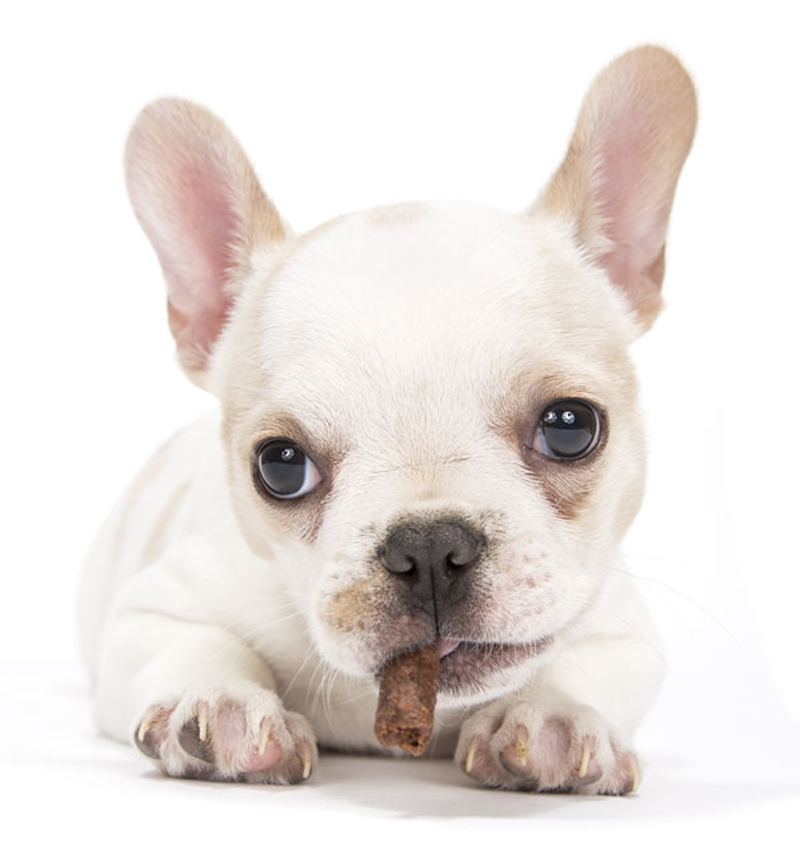 The FDA investigation of pet jerky involves treats made with chicken, duck or sweet potato. Ciolo/I-5 Studio
Advice to Pet Owners
The U.S. Food and Drug Administration released this advisory to pet owners:
"Jerky pet treats should not be substituted for a balanced diet and are intended to be fed only occasionally and in small quantities.
"FDA is advising consumers who choose to feed their dogs jerky pet treats to watch their dogs closely for any or all of the following signs that may occur within hours to days of feeding the products: decreased appetite, decreased activity, vomiting, diarrhea, increased water consumption or increased urination.
"If the dog shows any of these signs, consumers should immediately stop feeding the jerky pet treat. In addition, owners should consult their veterinarian if signs are severe or persist for more than 24 hours. Blood tests may indicate kidney failure (increased urea nitrogen and creatinine). Urine tests may indicate Fanconi-like syndrome (increased glucose in spite of normal blood glucose)."
They've looked for salmonella, pesticides, antibiotics, mold, rat poison and heavy metals. They've examined 26 dead dogs over the past six months. They've pleaded with veterinarians and pet owners to reveal all possible leads, no matter how small.
Seven years after dog owners began complaining that their pets had become sick or even died after eating jerky treats, investigators with the U.S. Food and Drug Administration have been unable to confirm a connection.
The agency on Friday reported 1,800 additional cases since late October, bringing the total number of suspected victims to 5,600 dogs and 24 cats. More than 1,000 canine deaths have been counted, but whether jerky killed them is unknown.
The update contained additional new information:
• A case control study involving the Centers for Disease Control and Prevention is underway. The diets of healthy dogs are being compared with those of sick canines to determine whether the ill animals consumed more jerky.
• Prodded by a "Dear Veterinarian" letter sent in October, practitioners responded with "many well-documented case reports" and helped secure 26 postmortem examinations. The results showed that jerky apparently played no role in half of the deaths while the other 13 cases were inconclusive.
• Amantadine, an antiviral drug used in people and sometimes given off-label to dogs for pain relief, was found in some chicken jerky produced in China.
Adulterated jerky has been suspected from the start, but FDA ruled out amantadine because the known side effects or related adverse events were not involved.
"However, amantadine should not be present at all in jerky pet treats, and the agency has notified the Chinese authorities," FDA noted.
"Chinese manufacturers have also assured us that they will perform additional screening and will follow up with jerky pet treat manufacturers," the agency added.
FDA will continue to test imported and domestic jerky—made of chicken, duck or sweet potato—for amantadine and other antiviral drugs.
The symptoms displayed by sick or dying dogs whose owners or veterinarians suspected a jerky link have not changed. Both before and after the October 2013 update, about 60 percent of the cases involved gastrointestinal or liver problems, 30 percent were for kidney or urinary disease, and 10 percent concerned neurologic, dermatologic or immunologic trouble.
One red flag was Fanconi syndrome, a rare kidney disease that showed up in 15 percent of the kidney or urinary cases.
Researchers are not giving up.
"This investigation continues to be a challenging one for FDA," the agency stated.
"We understand the love and devotion pets provide, and we are determined to find the answer to this mystery
Previous: Salmonella Threat Leads to Recall of Bailey's Choice Jerky
Want more Veterinary Practice news? Go here.