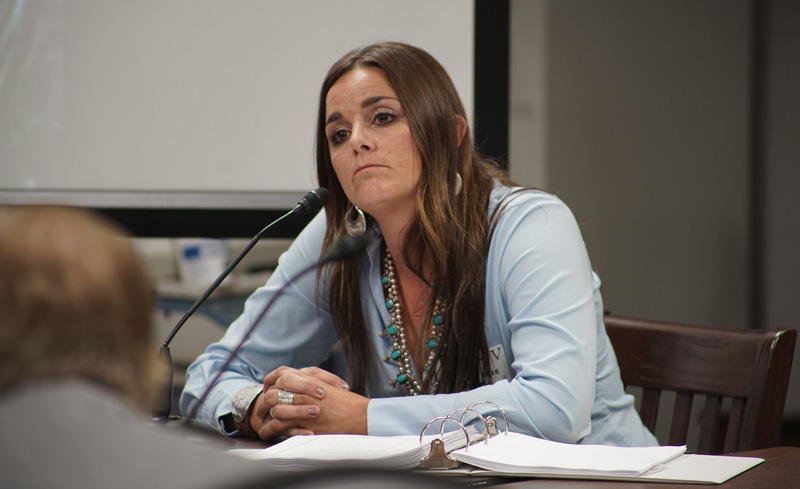 A two-judge panel has recommended that Texas veterinarian Kristen Lindsey, DVM, lose her license for a year and then serve four years of probation for using a bow and arrow to kill a cat she mistakenly thought was feral.
The proposal, issued Monday, fell short of the license revocation that the Texas State Board of Veterinary Medical Examiners approved a year ago. The board is not bound by the administrative law judges' decision but will consider it when members meet as early as Oct. 18 to issue a final disciplinary order.
Dr. Lindsey's attorney, Brian Bishop, said he will appeal if she is blocked from practicing veterinary medicine.
"We respectfully disagree with a number of the [judges'] findings," he said.
The case has drawn international attention since April 2015, when Lindsey killed the cat, posted a Facebook photo showing the animal hanging from the arrow and added the comment, "My first bow kill … lol. The only good feral tomcat is one with an arrow through it's [sic] head! Vet of the year award … gladly accepted."
Administrative Law Judges Catherine Egan and Pratibba Shenoy, who presided over a two-day hearing earlier this year, concluded that the cat was not feral, as Lindsey contended, and instead was a neighbor's outdoor pet, named Tiger.
Besides a five-year license suspension—the last four years probated—the judges recommended that Lindsey take continuing education classes on animal cruelty and veterinary law and that she serve 100 volunteer hours at a cat rescue organization or spay/neuter clinic.
Lindsey has not worked as a veterinarian since her employer, Washington Animal Clinic in Brenham, Texas, fired her within days of her viral social media post.
Lindsey was renting a house from hospital co-owner Bruce Buenger, DVM, when she killed the cat. She testified that she asked Dr. Buenger about an orange-and-white cat that had been roaming her property for a couple of weeks, fighting with her cat several times and defecating near horse-feed buckets.
Buenger, who lived nearby, did not know the cat and told Lindsey, "Take care of it," she testified.
Lindsey was practicing archery the evening of April 15, 2015, when she spotted the cat about 20 yards feet away, according to the judges' 60-page report. "Within 20 seconds," the judges wrote, "[Lindsey] fired an arrow at the cat, striking him through the head.
"Because she had made such a good shot, [Lindsey] asked her mother to take a cell phone photograph of her holding the shaft of the arrow with the cat hanging down."
Lindsey later deleted the photo from the phone, but after she had posted the image on Facebook.
The dead cat was placed in a dump pit, she testified, and she discovered the next day that the remains had been partially eaten by animals.
The testimony of Tigers' owners, a pet sitter and Houston veterinarian William Folger, DVM, MS, Dipl. ABVP, helped the judges conclude that the cat was Tiger.
The judges chose a license suspension over revocation partly because of Tiger's owners, Lindsey neighbors Bill and Clare Johnson.
"Despite the gravity of the incident," Egan and Shenoy wrote, "the Johnsons expressed the opinion that [Lindsey] had made a mistake and had suffered greatly for it by losing her job and enduring the flood of vitriolic public opinion."
Bill Johnson testified that he "felt some empathy" for Lindsey and that "everybody makes mistakes." Clare Johnson stated that Lindsey committed a "very immature and stupid act" that could become a "growing experience" for her.
Other mitigating factors, the judges explained, included the fact that Tiger died instantaneously and without suffering, that Lindsey had no prior disciplinary history and that "she is unlikely to engage in similar reckless behavior in the future."
Lindsey acknowledged that she is currently "unemployable" because of the effect her notoriety would have on another veterinary hospital, the judges pointed out.
The feline advocacy group Alley Cat Allies, which was represented at the hearing by staff attorney Misty Christo, disagreed with the judges' recommended discipline.
"Alley Cat Allies has stated from the beginning of this case that Kristen Lindsey's veterinary license should be revoked and she should never again care for cats or other animals," Christo said. "Animal owners who may not know about her history have a right to be protected from mistakenly entrusting their own animals into her care.
"The judges' recommended punishment is far from adequate for the torture that Kristen Lindsey inflicted on Tiger as she killed him," Christo added. "She blatantly violated the Veterinarian's Oath for the 'prevention and relief of animal suffering' and should lose her license forever."
A spokeswoman for the Texas Board of Veterinary Medical Examiners declined to comment. A statement on the agency website noted that both sides can file responses with the judges, who reserve the right to alter their recommendation before it is officially presented to the board.