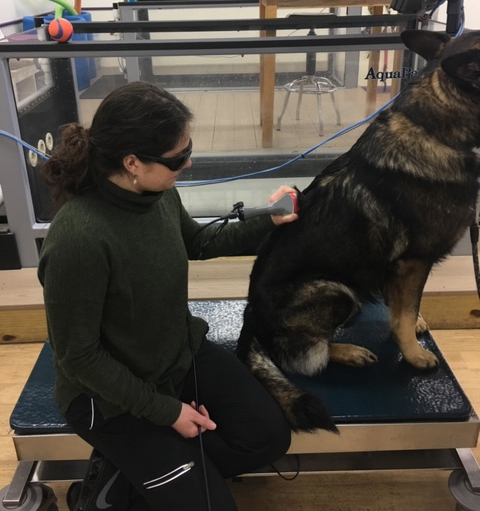 The addition of laser treatments to traditional rehabilitation therapy could help dogs suffering from canine degenerative myelopathy (DM) lead longer, healthier lives.
This is the focus of new research published in the peer-reviewed journal, Photobiomodulation, Photomedicine, and Laser Surgery.
The retrospective review study looked at data taken from the records of dogs who had received intensive rehabilitation therapy and one of two photobiomodulation (a.k.a. laser therapy) protocols over a nine-year period at a single referral facility.
Information on the disease's progression and survival was analyzed to determine differences in outcomes between the two treated groups and historical data expectations.
The findings demonstrated significantly slower disease progression and longer survival times for dogs treated with a combination of physical rehabilitation and laser therapy, as opposed to physical therapy on its own.
The study's authors, Lisa Miller, DVM, CCRT, and Deb Torraca, DPT, MSPT, Diplomat ABPTS, CCRP, say that while further testing is needed, the initial results suggest hope for the potential treatment for the disease.
"Given the lack of other effective treatments for dogs with degenerative myelopathy and the safety of the regimen outlined in this study, we are excited to share this published information with our colleagues as an option for treatment consideration for DM patients," Dr. Miller says.
"DM cases have always been a heart breaker, and I am so excited to share the prospect of improving [an animal's] quality of life for the longest time possible," Dr. Torraca adds. "Our protocol has extended the life and quality of life for dogs with DM."
To read the study, click here.