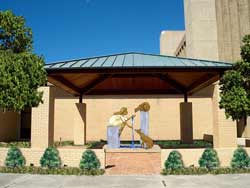 To honor those who support animals in the aftermath of hurricanes, the Louisiana State University School of Veterinary Medicine will dedicate a bronze statue titled Connections on Nov. 6 at 3 p.m. in the school's Serenity Garden near the entrance to the Small Animal Clinic.
Connections, designed by Kentucky sculptor Meg White, depicts a young girl offering water to a thirsty cat and dog representing both the relationship and responsibility people share with domestic animals, according to the school.
"This sculpture illustrates the importance of animals in our lives, which was seen time and time again after the hurricanes as people refused to evacuate without their pets," said Dean Peter Haynes. "This sculpture is dedicated to all of those people who braved high waters and dangerous situations to rescue animals and to the thousands of people who supported and cared for those animals after they were taken from harm's way. It stands as a memorial to their grace, perseverance and dedication."
The serenity garden was donated by the Womack family and dedicated in memory of the late Milton J. Womack, Sr.
Participating in the dedication ceremony will be Chancellor Mark Martin, President Emeritus William Jenkins, Haynes and Margaret Womack. All hurricane volunteers and the public are invited to attend.