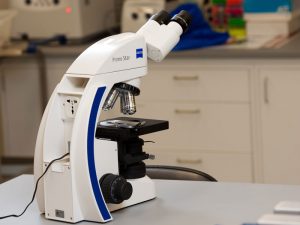 According to a new research paper from the Morris Animal Foundation (MAF), determining what type of research study to do, and when, are key decisions scientists must make when embarking on a new project.
In an editorial published Sept. 11, 2017, in the International Animal Health Journal, "Epidemiology and its Application to Animal Health," Missy Simpson, DVM, intramural research scientist and epidemiologist with MAF, provides guidance on study types for veterinary researchers and animal health scientists. The editorial is an overview of study types, and highlights MAF's Golden Retriever Lifetime Study as an example of a cohort study, and also discusses advances in store for observational studies.
"Health research is diverse and varied and covers a spectrum from basic research—which describes the early discovery and development phase—to applied research," said Dr. Simpson. "Each phase of research is essential to move scientific discovery forward and advance health."
In the paper, Simpson discusses interventional research consisting of clinical trials, and observational research, including descriptive studies, case-series studies, case-control studies, and ecologic, retrospective, and longitudinal studies.
"An advantage of performing clinical trials in animals is that health outcomes tend to be achieved on an abbreviated timescale relative to humans, which can serve to inform the intent and design of human trials, as well as advance veterinary medicine," said Simpson. "In observational studies, animal health researchers are now studying animal disease in the context of improving the health and well-being of animals as a primary goal. This change also opens the door to comparative medicine.
"As biomedical technology and computational capacity continue to improve, the nature and sophistication of observational studies will continue to evolve, and the time required to move discoveries from the bench into practice will decrease," she added. "As technologies such as –omic assays become more precise, applied research can use these tools to identify disease mechanisms (thus getting closer to identifying the etiology of disease), improve diagnostic testing, and optimize treatments for many different diseases. Veterinary research is poised to be in the vanguard as these technologies become more common."