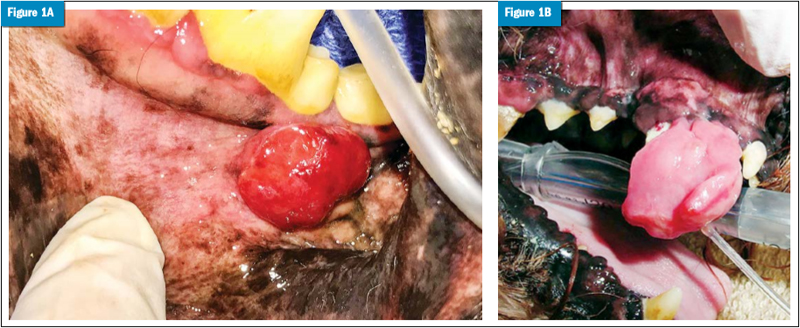 Oral tumors account for six percent of all neoplasia in dogs1 and 10 percent in cats.2 The general practitioner and support staff are key players in the early diagnosis of oral tumors, which is very important. Once an oral tumor is noticed, a specialist consult is often recommended by the primary care veterinarian to discuss next steps. This month's column provides a glimpse into the exam room conversation your referring specialist might have with a pet owner who has been told recently their pet has a possible oral cancer. 
Taking a closer look
When the conscientious pet owner hears the diagnosis of "oral mass," his/her inclination is to have you "take it out" as soon as possible. However, there is often benefit to embarking on a fact-finding mission before approaching a curative-intent surgery. This investigative endeavor includes an incisional biopsy.
Why consider an incisional biopsy prior to definitive treatment? Inflammatory conditions can mimic an oral tumor. I recently evaluated an 11-year-old German shepherd with a large red, broad-based mucosal mass arising ventral to tooth #310 (Figure 1A). The mass was angry-looking and I suspected a malignancy, such as amelanotic melanoma or other sarcoma. However, I mentioned to the dog's owner that aggressive inflammatory lesions, including Wegener's granulomatosis, might mimic aggressive cancer. Sure enough, that's what histopathology confirmed, as read by two pathologists. Something as innocuous as granulation tissue can mimic a more aggressive process (Figure 1B).
Another reason to consider an incisional biopsy prior to curative-intent surgery is that the latter may require a very invasive procedure, such as a mandibulectomy or maxillectomy. We don't want to unnecessarily remove a portion of a dog's or cat's mandible if the mass is an inflammatory condition that can be resolved with medical therapy. For example, corticosteroids are the treatment of choice for Wegener's granulomatosis in dogs, and results are often impressive within one to two weeks of therapy.
An incisional biopsy allows veterinarians to provide important information to pet parents so they can learn more about the tumor's biological behavior, including whether it is likely to metastasize to other areas of the body, and what treatments besides radical surgery might be possible, such as radiation therapy.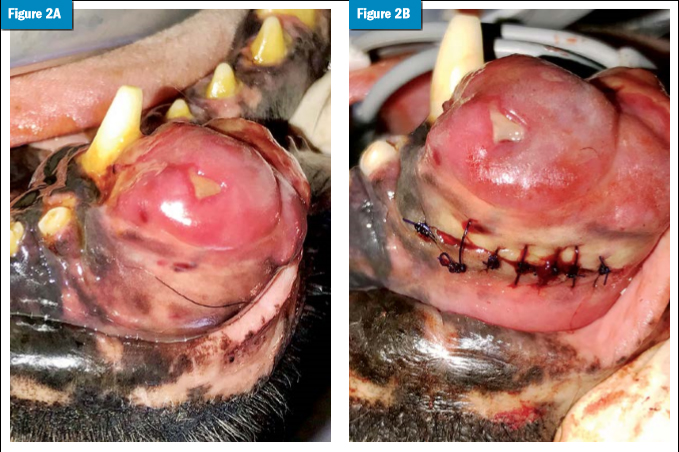 The anesthetic episode utilized to perform an incisional biopsy can also be used to gather staging information that might not be obtainable in the conscious patient. Lymph node aspirates, tumor dimensions, dental radiographs, CT scan, and thoracic radiographs may be obtained during this initial anesthesia. I also take the opportunity to palpate the affected area and its surrounding tissue to develop a plan for curative-intent surgery. Photographs of the tumor and surrounding area are extremely helpful to refer to when planning a radical surgery.
Exceptions to every rule
When would we forego the incisional biopsy? Some scenarios come to mind. When a tumor is showing undeniable evidence of being a benign peripheral odontogenic fibroma (for example, mineralization in the center of a pedunculated gingival mass in the absence of any osteolysis), I may decide to do a small en bloc removal of the gingiva and portion(s) of teeth the mass is arising from, and remove any roots resulting from this procedure. Another exception: When the owner mentions he/she would not have financial resources for the two anesthetic procedures that would be required to perform both the incisional and curative-intent procedures, we may do our best to perform only the curative-intent surgery, which requires guessing the ideal margins of surrounding normal tissue.
Obtaining the incisional biopsy
The first tenet in obtaining a diagnosis is to avoid seeding tumor cells into areas that won't be removed by the subsequent excisional surgery. The second tenet is to provide the pathologist with a helpful piece of tissue. This means avoiding inflamed, infected areas, if possible. If mucosa is intact over a large oral tumor, it may be beneficial to make a semilunar incision into the mucosa and slightly elevate it, obtain a sample with a 15 c blade or punch biopsy, and close the mucosa with a simple interrupted pattern. Alternatively, mucosa can be obtained together with a deeper sample by removing a narrow, but deep, wedge of tissue and closing the area of missing mucosa with adjacent mucosa (Figure 2A and 2B). This minimizes bleeding of the biopsy site while awaiting the test results prior to definitive treatment. Take enough tissue to ensure a diagnosis (which may involve removing both bone and soft tissue), and send the samples to a pathologist who is familiar with oral oncology. Pitfalls, such as the histologically low-grade, biologically high-grade fibrosarcoma, exist in the oral cavity.3 If the biopsy results and the clinical behavior of the tumor do not match, speak with your pathologist to consider if you may be dealing with a "high-low" fibrosarcoma. These tumors are easier to treat when they are small in size, so early detective work can save a life.
To debulk or not to debulk
When the diagnosis of an aggressive tumor is made, a common question from pet owners is whether it would be reasonable to take the tumor off at its base instead of a more radical mandibulectomy/maxillectomy. Larger and more vascular tumors are rarely amenable to debulking, since the cut surface of the debulked area will not typically regain epithelial coverage. Subsequent bleeding and secondary bacterial infections can adversely affect quality of life shortly after debulking. If a mass is pedunculated, debulking may be worth considering, but if it's a vascular, broad-based mass, debulking may decrease quality of life, rather than improve it.
Staying positive
I often close the initial consult with pet owners by stating that even if a malignancy is diagnosed and radical surgery is necessary, dogs are amazing in their ability to bounce back from these procedures. Dogs are usually eating within 24 to 48 hours after radical mandibulectomies or maxillectomies, and will adapt functionally to their new situation fairly rapidly. Cats can be slower to rebound—one manuscript found 12 percent of cats never regained the ability to eat after mandibulectomy.4 Temporary esophagostomy tube placement should be part of mandibulectomy or maxillectomy procedures in the cat. Clients can be shown pre- and postoperative photos of patients who have had similar surgeries. If aesthetics are an insurmountable concern for the client, or if margins are unlikely to be obtained by surgery, some oral tumors respond nicely to radiation therapy.
John Lewis, VMD, FAVD, DAVDC, practices dentistry and oral surgery atVeterinary Dentistry Specialists and is the founder of Silo Academy Education Center, both located in Chadds Ford, Pa.
References
1 Hoyt RF, Withrow SJ. Oral malignancy in the dog. JAAHA 1984;20:83.
2 Stebbins KE, Morse CC, Goldschmidt MH. Feline oral neoplasia: a ten-year survey. Vet Pathol 1989;26:121-8.
3 Ciekot PA, Powers BE, et al. Histologically low-grade, yet biologically high-grade, fibrosarcomas of the mandible and maxilla in dogs: 25 cases (1982-1991). JAVMA 1994 Feb 15;204:610-5.
4 Northrup NC, Selting KA, et al. Outcomes of cats with oral tumors treated with mandibulectomy: 42 cases. JAAHA 2006;42(5):350-60.