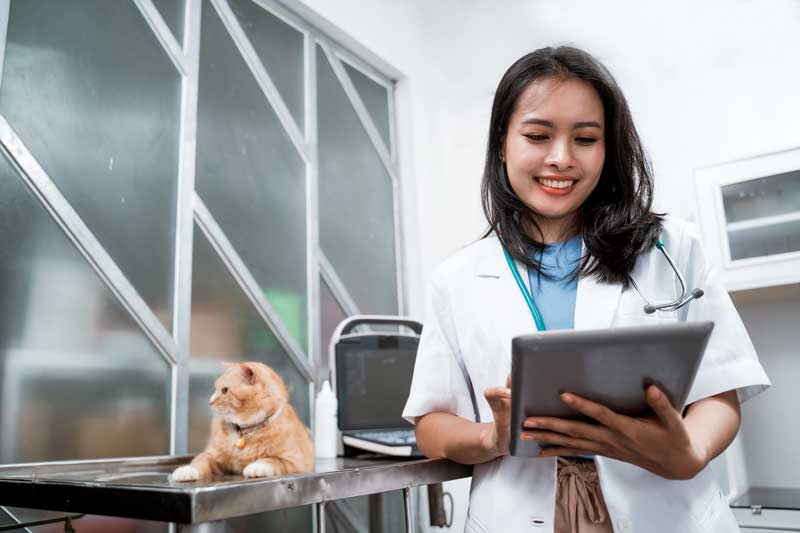 Most would agree that 2022 has been a year like no other. With persistent staffing shortages, rising inflation, and a global pandemic that just won't quit, the average veterinary professional has been pushed to their limit. Unfortunately, our industry—already rife with mental health issues, ownership challenges, and chronic under-staffing—is facing a future where we will be required to wrestle with these problems in the coming year as well.
If we can clarify and get ahead of these obstacles, the good news is we have a good shot at reigning in the challenges and succeeding at what we do best: providing stellar medical care for our patients. To help you get ahead of the challenges to come, here are five trends the new year will bring, along with strategies to make the most of them.
'Best medicine wins!'
The operational efficiency challenges of the recent pandemic meant we simply didn't have the time to give the appropriate emphasis to preventive care and wellness at every appointment. What unattended consequences are we facing as a result?  Now is the time to revisit our standards of medicine and prevention. What if our clients cannot afford "gold standard" care? Not everyone can. The bleak economic outlook faced by the average pet owner in 2023 will lead veterinary teams to offer more financially sustainable healthcare options along a spectrum of care. We are here to advocate for pets and their well-being; becoming an advocate for the client is part of that effort.
At the end of the day, it is important to get back to challenging ourselves to return to the basics of medicine and outstanding customer service for every pet and every client—every time. Let's review the optimal immunization protocols and guidelines. Let's have a team discussion on why we care about wellness lab work, blood pressures, intraocular pressures, baseline ECGs, and other screening tests, based on breed predilection for illnesses. We are the voice for the voiceless and have dedicated our lives to the mission of caring for pets! They deserve your best.
Technology
From artificial intelligence improving the efficiency of hospital workflows, to the breathtaking speed at which the world of genomics is advancing, to the new frontiers in healthcare delivery made possible with telemedicine, there is a lot to watch for in this space. (See "Tech trends to watch" for more.)
Before jumping straight into the discussion, it is worth noting the importance of being mindful of how any new technology or innovation affects the hospital team. Change is hard, and for it to be effective and sustainable, leaders can focus on removing as much fear from the change equation as possible. Emphasize how the new tech will make your team members' lives easier, better, or more complete.
While new tech will not "take your job" (at least not for some time), it will change parts of it and what it means to be a modern-day veterinary health care provider. In the 21st century, nothing is standing still. Everything, always, everywhere, is changing. Indeed, change is the only constant.
One of the most important things leaders can do is create a practice culture that is willing to adapt and experiment, then give the team ownership over the process and accountability for the outcome. Encourage more collaboration, less competition. Technology can help veterinary professionals make this possible.
Education
COVID's combo-punch of operational inefficiency in the face of surging consumer demand put increased attention, stress, and pressure on a veterinary educational system that's already showing the cracks in its foundation.
For years, ongoing declines in state funding have caused veterinary colleges to pass the financial hit on to their customer, the veterinary student. This solution is arguably unsustainable, as this sometimes-forgotten customer is facing a reality where the return on investment for a veterinary degree is has been identified as low and there are more veterinarians who discourage the pursuit of a veterinary career than those who recommend it. We believe this is a trend worth reversing. If your existing customers say they are realizing less value for your product, and an increasingly large majority of those customers discourage the purchase of your product to your future customers, then it is generally considered a risky move to continue raising prices. It is the sort of thing that can increase innovation pressure and accelerate disruptive innovation elsewhere in the market.
Changing consumer demands are forcing front-line veterinary teams to adapt. Located on the other end of the veterinary value chain, our educational system is adapting to build veterinarians who are capable of satisfying customers in a complex, rapidly changing business environment. Collaboration and team-centricity are important professional skills business leaders emphasize in their recruiting, onboarding, and training efforts. Our educators can recognize a similar priority by creatively weaving elements into the curriculum that promote peer-to-peer learning and develop veterinarians who know how to work well as part of a team.
For educators, this means adapting the veterinary school curriculum to build veterinarians who are equally adept at meeting the changing demands of the veterinary consumer as they are at answering multiple-choice questions. The Association of American Veterinary Medical Colleges (AAVMC) has taken the profession a big step forward through their development of their Competency-Based Veterinary Education (CBVE), a curricular framework that emphasizes competency over basic memorization skills.
To further develop more collaborative and team-centric veterinary team members, leaders in the veterinary education space could follow the lead of educators in human med and forego competitive grading models (e.g. the traditional tiered letter grading scale) in favor of more collaborative grading models (e.g. honors/pass/fail). It works well enough for the U.S. Medical Licensing Exam; we believe it has potent potential in vet med, as well. While these are compelling first steps, we must do more to prepare veterinary students for their futures and make them more attractive to pursue in the first place.
Harbor's peer-to-peer experiential learning programs are built around this philosophy, with the aim of creating a uniquely collaborative educational environment that's supported by a robust and growing community.
The mid-level practitioner role
Sometimes the answer is right in front of us. As practice owners struggle to fill openings for veterinarians, they are forced to take a hard look at how their teams can operate more effectively and efficiently with the resources they do have. Next year, there will be increased attention of how a mid-level practitioner might help the veterinary team meet the surge in consumer demand that it now faces. You can catch a glimpse of the future at Lincoln Memorial University College of Veterinary Medicine, where they are laying the groundwork for what a mid-level practitioner might look like with their new master of veterinary clinical care degree.
Somewhat like a nurse practitioner, this new and emerging role would be able to provide care at the mid-level, somewhere between a veterinarian and an RVT. These veterinary professionals would not just fill a gap—they would, in fact, bolster the entire hospital staff and its ability to care for increasing numbers of patients.
Collaborative care model
To meet rising veterinary demand and increasing client needs, veterinary care delivery is moving from "vet-centric" to "team-centric." This means it is no longer sufficient to simply have the necessary medical knowledge. Today, veterinary professionals increasingly need to possess the professional skills required to perform well on a team. Skills such as effective communication, coaching, conflict resolution, and even improve, are set to become increasingly more important and essential to a veterinarian's success in practice. Further, with the continued fragmentation of our industry, we need to be open and share information and data between providers to deliver better patient outcomes and client experiences.
While we have plenty of challenges, the future is also ripe with opportunity to improve the lives of patients, clients, and the veterinary team.
TECH TRENDS TO WATCH IN THE NEW YEAR
Here are just a few of the exciting innovations changing the face of modern veterinary practice.
Artificial Intelligence (AI), a tool of magnificent potential influence. Along with the enormous impact AI can bring to an industry are the equally enormous and complex questions that it asks us to wrestle with as a society, including the very nature of what it means to be human, to exercise free will, and to be productive in business.
Some clinic-facing companies are successfully advancing the field of veterinary radiology by helping practitioners identify potential areas of concern with greater speed and accuracy, driving diagnostic confidence. Others are helping veterinarians identify more efficient, cost-effective treatments by using AI to identify the most effective cancer medication, right off the bat. While AI will not replace the veterinarian (at least not for the foreseeable future), it will certainly augment their role in the pursuit of improved patient and practice outcomes.
"The Connected Pet:" Some startups are using technology to identify a pet's unique food preferences and feeding behavior, with the goal of helping veterinary teams identify symptoms (e.g. polyphagia, polydipsia) earlier in the disease process. With smart design, technology can create a more streamlined workflow for the veterinary team, as well as make it easier and more convenient for pet owners to act when their pet needs care.
Genomics: Thanks to the rapidly accelerating field of genomics, we are on the cusp of an era of increasingly personalized and proactive veterinary health care. Companies in this space are using vast genetic databases of health and biological information to provide genetic screening tools to help vets manage disease risk. This is more than just a novelty DNA test kit—this tech is saving lives.
Veterinary telehealth is another rapidly evolving space. Given veterinary clients will forever want more convenient, cost-effective, and complete care, the opportunity provided by telehealth means this technology is here to stay. People accustomed to accessing this service for their own healthcare will increasingly come to demand the same level of service for their pet. The consumer almost always wins, and today's consumers want it.
Right now, the veterinary profession has a chance to be proactive in defining how to provide telehealth in a way that is safe for the patient, secure for the practitioner, and profitable for the practice. Telehealth is a big topic. While it's important to understand the legal, cultural, technical, and operational needs for implementation of successful telehealth programs, the most important thing is to simply start. It doesn't have to be perfect to have a profound impact on both patients and the veterinary team.
Rob Trimble, DVM, vice president of Harbor.vet, is a future-focused veterinarian and entrepreneur with a passion for innovating at the intersection of medicine, technology, and organizational design. Dr. Trimble is a 2013 graduate from the University of Illinois College of Veterinary Medicine and worked as a general practitioner on the central coast of California after vet school. Later, he moved to the Bay Area, where he worked in the animal health technology space. In 2016, he co-founded Fuzzy, a subscription-based, veterinary house call company that was built upon a virtual care and telemedicine platform. Trimble most recently served as the executive director for the Veterinary Entrepreneurship Academy, a nonprofit organization that's on a mission to accelerate innovation and entrepreneurship from within the veterinary profession, starting with veterinary students.
Adam Foret, DVM, chief hospital officer of Suveto, graduated from Louisiana State University School of Veterinary Medicine in 2004 and has completed advanced training in a variety of orthopedic, soft tissue, and minimally invasive surgical techniques. As the owner of University Veterinary Hospital for the last 14 years, Dr. Foret has shaped a culture of innovation and pursuit of excellence. He is passionate about improving the lives of people through pets and developing all team members into the best versions of themselves.