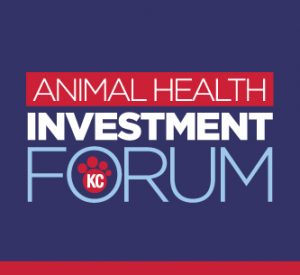 Twelve emerging animal health companies from three countries vied last week for investment opportunities in a "Shark Tank" format with more than 200 animal health companies and 40 financial funds at the 10th annual KC Animal Health Investment Forum.
"The Global Animal Health Investment Forum is the premier stage for emerging companies to showcase innovations and technologies that have the potential to revolutionize the animal health industry," said Kimberly Young, president of the Kansas City Animal Health Corridor.
Each company is given 10 minutes to present their ideas in front of seven judges, including executives from Nestlé Purina PetCare, Bayer Animal Health, Ceva U.S. Holdings, and Petsmart, followed by a five-minute Q&A session. Presenting companies are seeking anywhere from $500,000 to $20 million in funding and have revenue projections of $20 million within five to seven years.
"The Investment Forum is really unique," said Roy Stein, founder and CEO of BabelBark. "It gave us exposure to a mix of people with different backgrounds that were open minded and ready to listen to the newest technology. During Global Animal Health Week we connected with significant investors, potential partners and clients that provided us with enough traction to secure funding and grow our business."
Since 2010, companies presenting at the Forum have raised nearly $300 million, and many have signed licensing and distribution deals.
This year's finalists are: