Suggested Veterinary Products
Dr. Michael D Lairmore's first veterinary job after graduation was working as a mixed animal veterinarian in Pennsylvania. Although he enjoyed the work, he left the practice to enroll in a Ph.D. program to fulfill his desire of learning a specialty. This path led him to academia where he is now dean of the U.C. Davis School of Veterinary Medicine. Lairmore oversees all School of Veterinary Medicine activities, personnel, facilities and funding resources. He also presides over the William R. Pritchard Veterinary Medical Teaching Hospital, the California Animal Health and Food Safety Laboratory System, the Veterinary Medicine Teaching and Research Center in Tulare, Veterinary Medicine Extension and other centers of excellence.
Q. Why did you enter veterinary medicine?
A. Having spent a large portion of my childhood outside, I was curious about the natural world. I enjoyed the complex world of biology. How biological systems worked was fascinating to me.
Q. What was your first veterinary job after graduation?
A. A dairy predominant practice in Oxford, Pa., working as a mixed animal veterinarian in a four-person practice. I enjoyed practicing in the rolling hills of Southeastern Pennsylvania with small- to medium-sized herds mixed with small animal practice in the afternoons, evenings and on weekends.
Q. How and why did you move into academia?
A. I became interested in learning a specialty in internal medicine or pathology. My desire to learn more in-depth knowledge and a specific focus helped convince me to go back to a university to become board certified and obtain a Ph.D. degree.
Q. How do you keep up on the state of veterinary medicine?
A. As a dean, I am immersed on a daily basis with the educational, research and service missions of a large complex school that is at the leading edge of veterinary medicine and addressing societal needs.
Q. What does your school look for in choosing students?
A. The University of California, Davis School of Veterinary Medicine is home to more than 500 Doctor of Veterinary Medicine students, 180 graduate students, 20 Master of Preventive Veterinary Medicine students and more than 100 veterinarians as graduate clinical (resident) students studying for specialist qualifications. Students come from around the world to study at U.C. Davis School of Veterinary Medicine because it is consistently ranked as one of the top veterinary schools in the world. We seek students that want an education that includes a combination of dedicated, talented and world-renowned faculty, a school-wide commitment to learning in a technology-rich environment and modern, high-quality facilities built to support collaborative learning. All of these contribute to a rewarding and stimulating educational environment. Applicants are evaluated based on their academic performance, their understanding of the veterinary medical profession, their achievements and their professional potential. While admission to U.C. Davis is competitive, our admission committees support equal opportunity and seek to enroll a diverse class of highly motivated students. What they're looking for is intellectual potential to undertake a rigorous four years of study, values that are consistent with being a veterinarian and demonstrated knowledge of the veterinary profession. There are many more qualified applicants than spaces available so it's important to be prepared.
Q. Many veterinary students graduate today with about $160,000 in loan debt. Can anything be done to reduce that burden? Does your school offer any advice to students about loan debt?
A. Yes, we are very proactive and have an extensive communication, business and career planning program. The faculty at the School of Veterinary Medicine have increased communication and business instruction in order to support our veterinary graduates as they enter practice or pursue other career opportunities. These curriculum offerings are coordinated under our "Doctoring" course, which covers a broad range of veterinary practice and professional career building skills. The school's new DVM curriculum is built upon key learning outcomes—the Doctoring course particularly emphasizes: communication, business management, leadership and team building, professionalism and critical thinking mental well-being.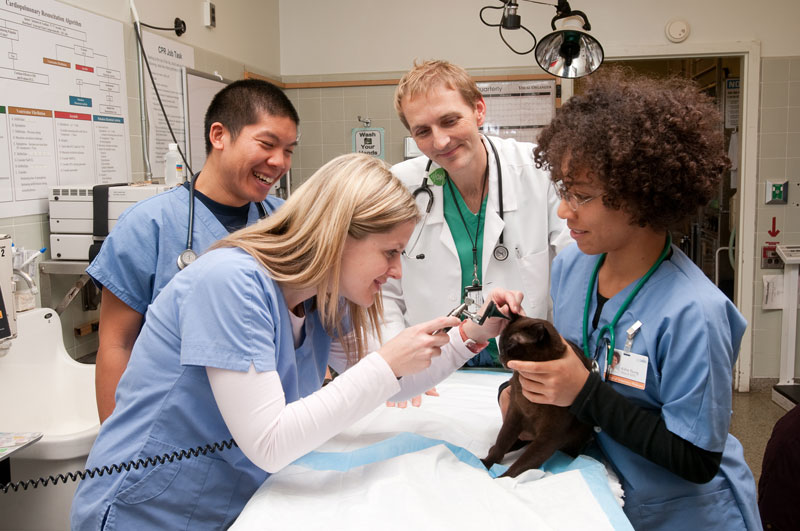 University of California School of Veterinary Medicine
Students (in blue) work with a patient in the Emergency Medicine Service under the guidance of Dr. Karl Jandrey. The Emergency Medicine Service is part of the William R. Pritchard Veterinary Medical Teaching Hospital at the University of California School of Veterinary Medicine in Davis, California.
We have hired professional career and financial counselors to guide our students from the first day they arrive through graduation in all aspects of financial and career management. We have invested in key tools to help them manage debt and understand how to build a business plan for their career and personal finance.
Furthermore, we provide more than $2.3 million in scholarships and an additional $4 million in grants to help reduce the debt load of our students. Our student's average debt is $10,000 to $20,000 less than the national average, in part due to our strong financial support. Our actual costs of attendance are ~$22,000 per year, making us a great investment.
Q. Does your school encourage students to go into underserved areas, such as large-animal medicine?
A. The New Curriculum, embodying adult learning methodologies, is a student-centered, inquiry-based curriculum with material constructed as blocks. The first and second year are core for all students and designed mostly around body systems integrating anatomy, physiology, pharmacology, pathology, clinical pathology, imaging so students learn normal and abnormal together. In year three, all students take a comparative stream whilst also choosing between small or large animal streams. After core large animal content, students will select a focus area of equine, livestock or zoologic. Having completed these streams, students will then move into the clinical portion of their training undertaken mostly in the VMTH but with opportunities for externships.
This commitment is embedded within our strategic goals in educating the next generation of veterinarians, who will serve as large animal veterinarians. For example, we have one of the largest doctor of veterinary medicine student programs in the Early Veterinary Student Bovine Experience Program (EVSBEP). The EVSBEP is a national program among veterinary schools that promotes on-site training in animal handling, health management, laboratory diagnostics and client communications as students learn about cattle from the ground up and explore the benefits and challenges of food animal practice. To help meet the need for veterinarians in food animal practice, the program gives students intensive training opportunities with commercial cattle operations and veterinarians working with cattle. This and many other opportunities provided through our education, research and outreach programs provide students a full exposure to the extensive careers in veterinary medicine.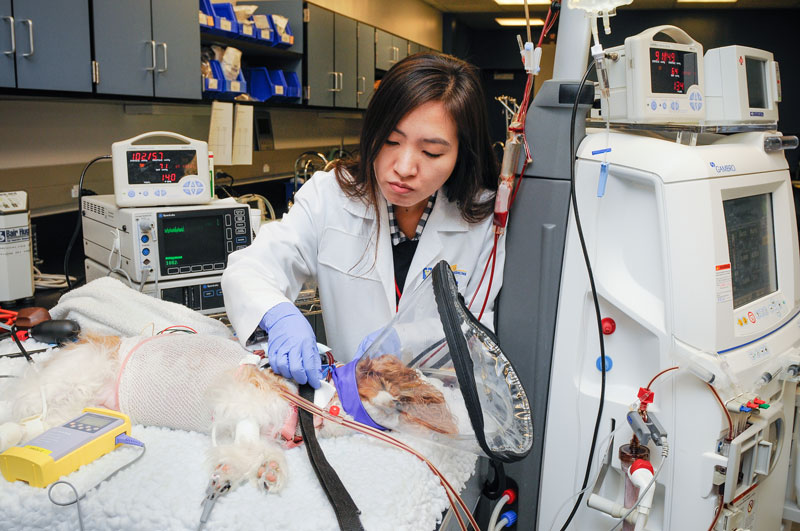 University of California School of Veterinary Medicine
A King Charles Spaniel undergoes kidney dialysis at the Hemodialysis and Renal Medicine facility while being monitored by Min Hee Kang at the William R. Pritchard School of Veterinary Medical Teaching Facility at the University of California School of Veterinary Medicine.
Q. In recent years, has your veterinary school switched its focus or added new programs?
A. The school has developed a comprehensive strategic plan, focused on the vision to lead veterinary medicine and address societal needs. We have collectively developed our new concise mission and vision statements to guide our future directions. Our mission is to: advance the health of animals, people and the environment. The final five-year plan identified seven major goals and the 19 related strategies for addressing those goals.
Our goals:
Educate world leaders in academic veterinary medicine
High-impact transdisciplinary research
Cutting-edge clinical programs
Animals and people well-being
School infrastructure and sustainable resources
Excellent faculty and staff
Academic, government, industry collaborations
Q. Discuss any patents, technologies or procedures your school has had a hand in recently.
A. The U.C. Davis School of Veterinary Medicine values not only individual research attainment, but strongly promotes collaborative programs that involve interdisciplinary and transdisciplinary teams that investigate and identify solutions to the world's most complex challenges. We lead all veterinary schools in North America in research funding, which provides many examples of innovations in research and education. Such collaborative teams have been established that bring together researchers from across the U.C. Davis campus, U.C. Davis Health Systems, Lawrence Livermore National Laboratories and Bodega Marine Laboratory. The school is home to 36 Centers of Excellence, Institutes and Program Projects that represent sponsored and organized multidisciplinary research activities led by our faculty, and highlight the broad impact our faculty are having in One Health, oncology, biodefense, equine health, wildlife health, companion animal health, aquatic health, children's health, to highlight a few. Here you will find links to the Centers, Institutes and Programs led by SVM faculty. An example would be here.
Q. What are you most proud of about your school?
A. There are many reasons to be proud of our school. We have shaped the field of veterinary medicine, from developing dynamic education programs to uncovering solutions for emerging diseases of animals and humans to sharing knowledge with communities worldwide. The school trains tomorrow's small and large animal veterinarians as it develops leaders in veterinary medical practice, higher education, public health, research, disease control, food safety, environmental protection and biotechnology.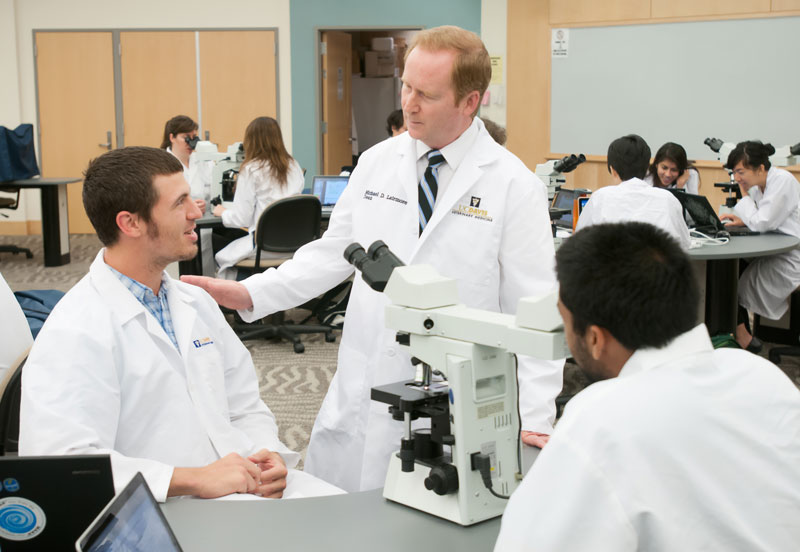 University of California School of Veterinary Medicine
Dean Michael Lairmore talks with first-year students in a microscopy lab in the Multi-Teaching Facility at the University of California School of Veterinary Medicine.
Biography
Michael D. Lairmore, DVM, PhD, dean of the U.C. Davis School of Veterinary Medicine, oversees all School of Veterinary Medicine activities, personnel, facilities and funding resources. He presides over the William R. Pritchard Veterinary Medical Teaching Hospital, the California Animal Health and Food Safety Laboratory System, the Veterinary Medicine Teaching and Research Center in Tulare, Veterinary Medicine Extension and other centers of excellence.
Lairmore came to the school from The Ohio State University. He served as a professor and associate dean for research and graduate studies at the College of Veterinary Medicine, where he led a successful sponsored research and commercialization program. He also served as associate director of the university's Comprehensive Cancer Center. While Chair for the Department of Veterinary Biosciences, he received unanimous praise for leading his department to new heights in research funding and scholarly achievement. He is committed to finding new ways for the school and its faculty to contribute to the health of animals and people while being good stewards of the environment and the economy of California. His goals include building mission-focused programs that will continue to provide outstanding education for society-ready veterinarians and that will produce innovative research findings to address important problems ranging from clinical veterinary medicine to public health.
Lairmore earned his Doctor of Veterinary Medicine degree from the University of Missouri at Columbia before working as a dairy and small animal veterinarian. Following practice, he completed a residency and Ph.D. program in experimental pathology at Colorado State University at Fort Collins. He is board certified in veterinary anatomic pathology as well as veterinary virology and immunology. He is one of the few veterinarians elected as a member of the Institute of Medicine, the health arm of the National Academy of Sciences. He is also a fellow in the American Academy of Microbiology and the American Association for the Advancement of Sciences. Lairmore is a scientist who bridges multiple disciplines to address basic questions related to viral causes of cancer. His research has provided significant breakthroughs in the biology of human retroviruses and the understanding of viral-associated carcinogenesis. Lairmore has authored or co-authored more than 180 scientific publications.