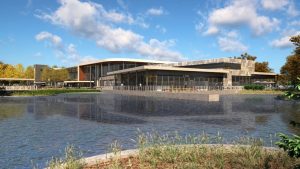 A research and development hub open to customers, industry leaders, and partners from around the world is Midmark Corp.'s newest step toward its evolution as a clinical environmental design company.
"Given the rapid changes occurring within health care, it is an exciting time to be a part of Midmark, as we take our place at the forefront of that change," said John Baumann, president and CEO of Midmark.
"This new technology center will allow us to continue to bring our customers new solutions and ideas, as they strive to enhance the patient and caregiver experience and improve the quality of care."
Located on the company's Versailles, Ohio, campus, the technology center is part of a 9940-m2 (107,000-sf) expansion.
The hub will be supported by a new experience center designed to allow customers to help the company make informed design and workflow decisions to improve clinical outcomes. In addition, it will offer customers an interactive opportunity to learn best practices.
The technology and experience centers are expected to open in the spring of 2020.