Suggested Veterinary Products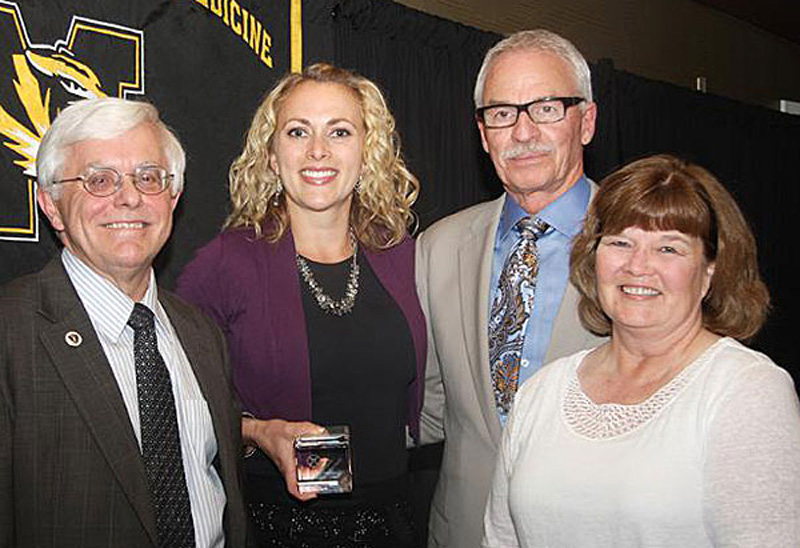 Katherine Nadolny, second from left, won the Bayer Excellence in Communication Award. With her are, from left, University of Missouri veterinary dean Neil C. Olson; Ronald Cott, Missouri's associate dean for student and alumni affairs; and Adrienne Willette of Bayer Animal Health's Veterinary Technical Services.
Follow Veterinary Practice News on Twitter at @vetpetnews.
A fourth-year student at the University of Missouri College of Veterinary Medicine is the top winner of Bayer Animal Health's second annual Bayer Excellence in Communication Award.
The contest challenges veterinary students to display effective communication skills in a clinical setting involving a client.
Missouri's Katherine Nadolny received a $2,500 scholarship for being a school-level winner and an additional $2,500 for winning the national competition. Twenty-six other regional winners were awarded $2,500 each.
The college's dean, Neil C. Olson, DVM, Ph.D., said the communication competition "is helping veterinary schools shape future veterinarians."
"We are ecstatic that one of our own Mizzou Tigers, Katherine Nadolny, has received this coveted award and scholarship," he added.
A panel of faculty judges evaluated their students' filmed interviews and selected the local winner. Sixteen schools submitted videos to enter a finalist in the national round.
"In her submission, Nadolny … outscored the competition with strong core communication skills, including effective use of open-ended questions, empathy and reflective listening in a clinical setting," Shawnee, Kan.-based Bayer reported.
Nadolny's victory provided the University of Missouri with complimentary tuition for one faculty member at the Bayer Communication Project's "Train the Trainer" course.
The other regional winners, announced today, were:
• Magdalene Stewart (Auburn University)
• Ayshea M. Quintana (University of California, Davis)
• Jenny Ross (Colorado State University)
• Elizabeth Ann Glucksman (Cornell University)
• Andrew Torchia (University of Florida)
• Kristin Scarlett Timmons (University of Georgia)
• Erica Morton (University of Illinois)
• Stephanie Turner (Iowa State University)
• Arthur Charles (Kansas State University)
• Jacque Stahl (Louisiana State University)
• Allison Peterson (Michigan State University)
• Jessica Carmack (University of Minnesota)
• Hillary May (Mississippi State University)
• Cassandra Horvath (Ohio State University)
• Jill Weber (Oklahoma State University)
• Jamie Senthirajah (Oregon State University)
• Tiffany Premo (Purdue University)
• Elliot Williams (Ross University)
• Kelsey Quinn (University of Tennessee)
• Odeliah Bouganim (Texas A&M University)
• Kim-Khanh Tran (Tufts University)
• Emily Coates (Tuskegee University)
• John Gil (Virginia Tech)
• Kyle Heaton (Washington State University)
• Megan Williams (Western University)
• Seth Oberschlake (University of Wisconsin)
Previous: Bayer Creates New Scholarship to Promote Vet-Client Communication
Want more Veterinary Practice news? Go here.