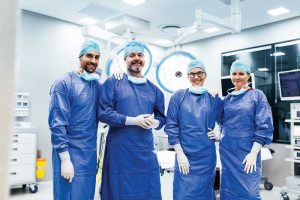 While some dread attending yet another meeting, others enjoy daily get-togethers. Daily, you might wonder? Yes. Daily, brief morning huddles can save time and improve practice communication and culture.
What do we mean by morning huddle?
Huddles, considered ideal according to most management gurus, are standup gatherings designed to get everyone on the same page, to check in with the team, and to plan the day. They should last only five to 15 minutes (10 minutes is likely a good average). These morning gatherings should be structured to encourage staying on topic; a leader should ensure focus and efficiency.
Check out this nonexhaustive list of discussion topics:
Review the day's schedule
New client appointments
Planned euthanasia appointments
Warning about a difficult client or patient
Relevant news (discuss briefly)
Things of which the team should be aware
Quick reminders for logging controlled substances, upcoming staff meetings, and planning clinic events, etc.
Team members off that day due to vacation or sickness
Clients who need extra help
Space for emergency patients
Cancellations
Tight spots in the schedule
(e.g. double-booked appointments)
If using open-book management, comment on the previous day's production and announce the current day's production goal.
Anything to celebrate? Birthday? Good news? Great review? Outstanding team member?
Does anybody need help?
Who is working with whom (doctor/technician pairs)?
The overall goal is to share information, optimize the day, and ignite your team.
How about a surgery team huddle?
Depending on the type and size of your practice, additional huddles may be beneficial to specific teams. Call me biased (I'm a surgeon after all), but I find surgery team huddles to be invaluable. A meeting of the surgery team allows everybody to be on the same page—and save lives.

Here is a partial checklist of topics to cover:
Special patient needs
Preanesthetic lab work (performed and reviewed by the doctor)
Special recovery needs (e.g. brachycephalics, diabetics)
The order of procedures
Details of each procedure
The correct surgical side (i.e. left versus right)
Unusual IV fluid rates
Clipping instructions
Patient positioning
Timing of special medications
(e.g. metronidazole, insulin)
Does anybody need help? Does an associate need assistance in surgery?
Special surgical risks
ASA classification
Pain management
Outpatient versus inpatient procedures
Special orientation for the surgery table
Preanesthetic X-rays
Staffing: Who will do anesthesia, who will scrub in, who will work on the next patient?
Morning huddles are not:
Problem-solving opportunities
Complaining sessions
Medical rounds
Staff meetings
Breakfast time
When to schedule morning huddles
Ideally, morning huddles should take place before the madness starts, meaning before the first client is seen and the phone starts ringing. Depending on the size of your team, you could have another quick huddle before the afternoon starts, at the end of the day, or when shifts change.
Keep them consistent: same time, same location, and same people. You may have to experiment with the best time, location, and participants until you achieve a productive huddle.
Why morning huddles are important
Impactful huddles improve communication, efficiency, and staff culture. They properly prepare everyone for the day, help identify potential issues, and allow the team to adequately prepare for nonroutine events.
The leader should review the day's appointments and planned procedures. For example, can the practice make a particular client's experience better this time around? Does the team need to thank a client for a basket of goodies she sent last Christmas? Should the team congratulate a long-standing client for bringing in her new puppy? A great morning huddle sets the mood for the day.
Who should attend morning huddles
Only people you feel are important to your practice should be present. In other words, the entire staff—doctors, receptionists, and technicians.
Receptionists should be present because they are the first touch point with clients—live or over the phone. They need to direct the medical team when specific clients and patients have special needs. They must be aware of what is going on "in the back." They need to know the name and procedure of every hospitalized or admitted patient so they can talk confidently with clients and connect calls quickly. Remember, clients always assume their pet is the only one having surgery on a particular day.
If an anxious pet owner calls and asks, "I'm calling to see how Bella is doing," and the receptionist replies, "Who is Bella, and what is she here for today?" you have just created a negative experience that could harm the client relationship and potentially lead to a bad online review. If receptionists cannot participate in the morning huddle or if they start their shifts later in the day, they should at least review the patient census at the start of their workday.
It may be a good idea to rotate leaders of the morning huddle so all staff members become more invested in the care you provide.
How to lead practical morning huddles
A checklist can help keep the huddle on track. Simply list the start and end time, the leader's name, and topics to discuss. When the time is up, the huddle is over. Remember to stay on track. Do not allow digressions, personal agendas, and rabbit holes. And lastly, always end on a positive note. Thank everyone for their participation, and offer an encouraging statement about the day ahead.
Morning huddles may seem like they are time wasters; in fact, when done correctly, they are huge time savers. They help avoid mistakes and improve the chances of successful outcomes.
Bottom line: Morning huddles set the tone and the energy for the entire day, so they should be positive and uplifting.
Every practice can benefit from a morning huddle. The effort is minimal and the results are immeasurable. Happy huddling.
Phil Zeltzman, DVM, DACVS, CVJ, Fear Free Certified is a board-certified veterinary surgeon and serial entrepreneur. His traveling surgery practice takes him all over Eastern Pennsylvania and Western New Jersey. Visit his websites at DrPhilZeltzman.com and VeterinariansInParadise.com. AJ Debiasse, a technician in Stroudsburg, Pa., contributed to this article.