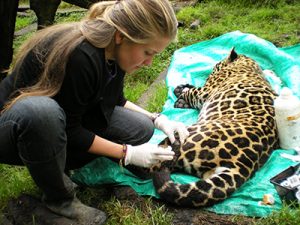 To help cultivate the finest wildlife veterinarians of tomorrow, Morris Animal Foundation (MAF) and the Smithsonian Global Health Program (SGHP) have collaborated to establish the Morris Animal Foundation and Dennis and Connie Keller Director of Training at SGHP. The position is responsible for national and international training programs in wildlife veterinary medicine. Morris Animal Foundation will dedicate $700,000 over seven years to fund the position.
"This is a truly exciting opportunity and one we are proud to see come to fruition," said Tiffany Grunert, acting president and CEO of MAF. "This wildlife health training program will leverage our funding and the Smithsonian's expertise to multiply our collective impact to save animal lives around the world."
Lindsey Shields, DVM, DACVPM, has been named as the first MAF and Dennis and Connie Keller Director of Training. She is an epidemiologist and board-certified preventive medicine veterinarian with substantial experience in international public health and capacity building.
In her new role, Dr. Shields will supervise four to eight trainees every year, including veterinary students and veterinarians, from countries around the world as well as in the U.S. Trainees will conduct research focused on a wildlife health issue based on the program's priorities and the trainee's background. Trainees will work on projects in both Africa and Asia. Trainees also will participate as teachers in workshops and in the individual training of other wildlife researchers during their program.
"I believe that building capacity in current and future wildlife veterinarians and conservationists is the best way to safeguard biodiversity," said Shields. "This opportunity will bring global impact to our training programs."
Shields' international veterinary medicine and public health background includes working with the Food and Agriculture Organization of the United Nation's wildlife team. The team monitored and responded to outbreaks of wildlife-originating diseases, such as the saiga antelope die-off in Kazakhstan and global outbreaks of avian influenza. Most recently, she served as an Epidemic Intelligence Service Officer at the Centers for Disease Control and Prevention, leading international responses for infectious disease outbreaks such as Ebola, cholera, typhoid fever, and botulism.
MAF is the largest nonprofit foundation in the world dedicated to funding studies to improve and protect the health of companion animals and wildlife. During the last 70 years, the Foundation has invested $118 million toward more than 2,600 studies that have led to significant breakthroughs in diagnostics, treatments and preventions to benefit animals worldwide.
The Smithsonian Global Health Program works to combat threats to wildlife, human and ecosystem health through disease investigation, research, and both national and international capacity building. They share their knowledge with future generations as well to ensure their work is sustainable through the training of local international partners.