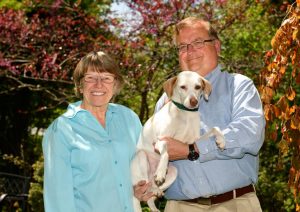 Michigan State University (MSU) alumna Jane Wall Lacher, DVM, and her husband Ronald Lacher have donated $2-million estate gift to MSU to fund an endowed faculty position in nursing research and scholarships for veterinary students.
"Professorships and scholarships help accelerate the positive impact of MSU," said John Engler, MSU interim president.
"Endowed positions enable us to build a base of exemplary faculty leaders, while scholarships help provide the opportunity for bright students to study and learn with them."
Half of the Lacher's gift will create the Helen Jane Shortt Wall Endowed Professorship for Nursing Research, in honor of Jane's mother who studied nursing at MSU.
The other half of the Lacher's donation was used to create the Britt to Belle Endowed Scholarship in honor of two of their rescue dogs. The scholarship will support students in the College of Veterinary Medicine. The couple prefunded the scholarship with a $57,000 cash gift so scholarship awards could begin immediately.
"I went to MSU because it was the very best in veterinary medicine and I couldn't imagine going anywhere else," Lacher said. "But the debt load for students today can be very daunting and we wanted to help students of the future pursue their same passion with less of a financial burden."