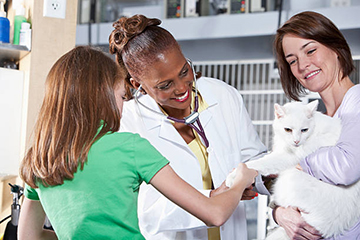 Veterinary-centric finance company Calico is backing a new organization, Practice Ownership for Women (POW), to join veterinary students, practicing veterinarians, and practice owners to share knowledge, experience, and support, according to founders Courtney Post and MacKenzie Martin.
Post, managing director of Calico, and Martin, financial advisor at Medical Professionals Financial Group, launched POW early this year to address the specific issues faced by women in the veterinary industry.
"Women practice owners report experiences that are often extremely different than those of men," said Martin. "Even common issues like work-life balance take on a unique character for women."
The pair acknowledged a lack of resources out there specifically tailored to women practice owners.
"We aren't veterinarians, but we work with veterinarians every single day," said Post. "We saw a chance to help, so we took it."
According to POW literature, the group offers "past, present, and future women practice owners could meet and support one another, and current and aspiring practice owners could seek the insight of their peers, while former practice owners could serve as mentors, lending the type of insight gained only through decades of experience."
The organization is led by a national office to provide structure for its network of local chapters, according to Martin.
"We want women to be able to talk about what matters to them with peers who really understand what they're going through," she said.
POW members can access exclusive resources and events, including a national conference on practice ownership for women, the first such event of its kind.
The organization still is in the early stages, but Post and Martin hope it will spread quickly nationwide.
"We know there's a need out there for women practice owners to support each other," said Post. "We're here to help them do it."
For more information, visit practiceownershipforwomen.com.