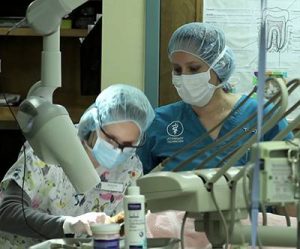 Midmark Corp. has announced its support for the effort to make registered veterinary nurse the standard credential in the U.S. veterinary technician profession.
To unite the profession under a single set of credentialing requirements and scope of practice, the National Association of Veterinary Technicians in America (NAVTA) initiative aims to establish the credential of registered veterinary nurse as a substitute for the current titles of registered veterinary technician, licensed veterinary technician, certified veterinary technician, and licensed veterinary medical technician. The result, NAVTA believes, is allowing practice at a higher standard of care.
Additionally, the alignment of current veterinary technician titles under a single credential will open avenues for better reciprocity across the nation, allowing technicians to work outside of the state where they were originally credentialed.
A key outcome is to establish a nationwide standard for obtaining and maintaining credentialing requirements that are appropriate for veterinary nurses in every state.
NAVTA is actively seeking insights and feedback to ensure this standard meets private credential levels. Interested parties are encouraged to email vetnurse@navta.net and contact their state associations to provide feedback regarding this proposed standard.
"… we believe that creating a single, unified title that elevates and reflects the important work [veterinary nurses] do is a worthy cause," said Andrew Schultz, Jr., director of business development and clinical services for Midmark Animal Health.
Visit navta.net for more information.