September is National Disaster Preparedness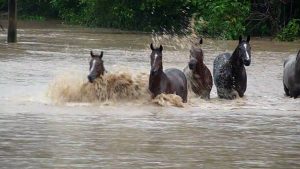 Month, and the importance of animal disaster planning has been made clear by recent hurricanes and wildfires. Livestock evacuations have been all too common, both on large and small scales.
A new American Veterinary Medical Association website resource provides critical information that veterinarians can share with owners of horses, poultry, cattle, and other livestock to help them plan in advance to safeguard animals in the event of emergency.
The new page, Large Animals and Livestock in Disasters, includes:
Steps to prepare for quick action in emergencies
Evacuation supply lists for horses, poultry and other livestock
Information on proper identification of animals
Suggestions to pre-arrange possible evacuation sites
The AVMA also offers a range of other emergency planning resources for veterinarians and their clients: