Suggested Veterinary Products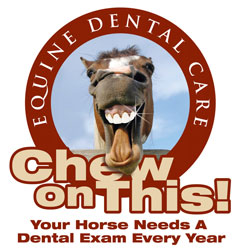 The American Assn. of Equine Practitioners has launched  its "Chew on This" campaign to educate horse owners about the importance of annual dental examinations.
To help veterinarians incorporate the campaign in their practice, AAEP has developed several campaign materials, which can be downloaded at www.aaep.org/dentistry_campaign.htm.
Materials include a complimentary package of the Bayer client education brochure on dental care and a countertop brochure display for the practice; a client education article—"Learn to Recognize Your Horse's Dental Problems"—for reprint in a newsletter or website; a campaign logo; a campaign advertisement; and a dental care PowerPoint presentation, which provides an overview of the horse's mouth, preventative dental care and how to address dental problems.
During April, the AAEP's "Ask the Vet" feature on www.aaep.org will focus on equine dentistry. Lynn Caldwell, DVM, and Elizabeth Schilling, DVM, of the Equine Dentistry Committee will answer questions from horse owners about dental health.
The campaign will run through  this year.