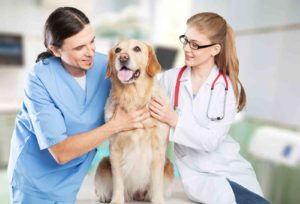 The American College of Veterinary Internal Medicine (ACVIM) and CareCredit are working together to help veterinarians develop advanced communication skills to improve the quality of care for pets and their families.
Launching in 2020, the Advanced Clinician-Client Dynamics training initiative comprises workshops and courses to help veterinarians identify and address medical topics and concerns between clinicians, other veterinary team members, and clients early by recognizing pet owners' perspectives and goals.
The goal of the three-year strategic partnership is to help participants use their knowledge to build greater trust with the pet owner, with the intended result of acceptance and follow through on medical recommendations, follow-up visits, and pursuit of advanced medical care for improved outcomes for the pet and family. By effectively connecting with team members and pet owners, veterinarians can work toward decreasing job-related stress and avoid burnout.
"Traditionally, residency programs have focused on training for technical skills," says current ACVIM president-elect and incoming chief executive officer, Linda Fineman, DVM, DACVIM (oncology). "Along with a shifting demographic in our college, with many more ACVIM specialists working in private practice, there is greater recognition of the importance of professional skills in achieving better medical and business outcomes."
The training initiative will provide case-based learning scenarios that are relevant to ACVIM residents and specialists. Participants will be able to attend live workshops and enroll in interactive online modules.
"CareCredit is committed not only to helping veterinarians become the best in their field, but also providing guidance on how to overcome perceived barriers about cost in client conversations in the pursuit of better medical and business outcomes," says CareCredit's Boo Larsen, vice president and general manager.
"This collaboration does more than just provide instruction—it opens the door to meaningful conversations about enhancing veterinarians' business and communication skills in hopes to shape the next generation of leaders."