Suggested Veterinary Products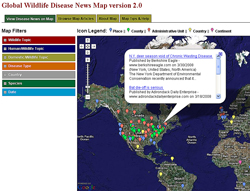 The University of Wisconsin-Madison and the U.S. Geological Survey have developed the Global Wildlife Disease News Map.
The online map tracks news of wildlife disease outbreaks around the world, such as West Nile virus, avian influenza, chronic wasting disease and monkeypox.
Other health conditions, such as pesticide and lead poisoning, are also marked by geographic location.
The project is part of the Wildlife Disease Information Node (WDIN), a collaboration between UW-Madison, the National Wildlife Health Center and the National Biological Information Infrastructure.
WDIN aims to provide a comprehensive online wildlife disease information warehouse, said project leader Josh Dein, VMD, of the Madison-based U.S. Geological Survey wildlife health center.
"People who collect data about wildlife diseases don't currently have an established communication network, which is something we're working to improve," Dr. Dein said. "But just seeing what's attracting attention in the news gives us a much better picture of what's out there than we've ever had before."