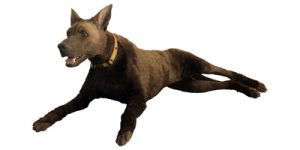 A global provider of canine medical simulators has been honored for its development of a lifelike artificial dog featuring interchangeable limbs and realistic, adjustable breathing.
TraumaFX, a division of Kforce Government Solutions (KGS), received the National Training and Simulation Association's (NTSA's) Modeling and Simulation Acquisition Team Award for helping create K9 Diesel.
K9 Diesel is an advanced simulation tool made to improve the ability of first responders and veterinary professionals to save working dogs' lives. The man-made patient includes 28 different features and medical intervention sites, complete with full anatomical skeletal motion, audio queues, such as barking and growling, and CPR chest compression with resistance.
The company and extended team were recognized for outstanding achievements in government-industry collaborative development and fielding of a new medical simulation capability to better meet the unique training needs of special operations.
"Since TraumaFX began, we have worked in close partnership with government customers to improve medical simulation capabilities and to develop new products to meet the needs of their missions," said Carolyn Hollander, vice president at KGS TraumaFX.
"To be recognized for those efforts, along with the rest of our team for K9 Diesel, is truly an honor."