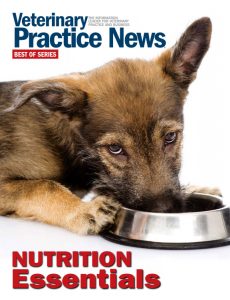 "Nutrition Essentials" is a four-part e-book exploring the role of nutrition in keeping dogs and cats healthy in the areas of chronic kidney disease, dermatology, obesity, and oncology. Featuring some of the veterinary community's leading nutrition experts, this curated collection of articles delves into:
how dietary management can slow down chronic  kidney disease and improve quality of life;
the complicated issue of tackling dermatologic disease through food;
art-and-science strategies to help clients' pets shed pounds; and
how to ensure optimal calorie intake and nourishing sustenance during cancer treatment and healing.
To download the "Nutrition Essentials" e-book in two different formats—PDF or digital edition—click here.