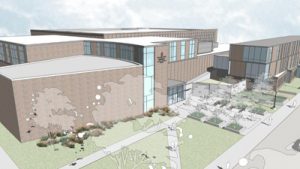 A surgical simulation laboratory is scheduled to open at The Ohio State University College of Veterinary Medicine next month. The $9.3-million facility will feature operating systems to simulate surgery or exams and other technology-facing amenities designed to better prepare veterinary students to practice medicine beyond university through hands-on experience.
"The systems we are installing are very similar to models used in hospitals or medical schools for human health care," said Toni Hare, college spokesperson.
In addition to simulation, the laboratory will include a 3D printing office, as well as animal-specific models used by clinicians and students as they practice surgeries. The new facility will also provide students with an opportunity for self-directed learning at their own pace, in a strategy designed to increase professional confidence.
"This is one more way we produce graduates who are effective and ready to practice in the real world," said Hare.
The 16,000-square-foot rooftop addition, which will sit on top of The Ohio State Veterinary Medical Center, will also add new office space for faculty and staff.
The project received funding from the veterinary college, as well as through a $39-million donation from the Stanford Foundation in 2016.