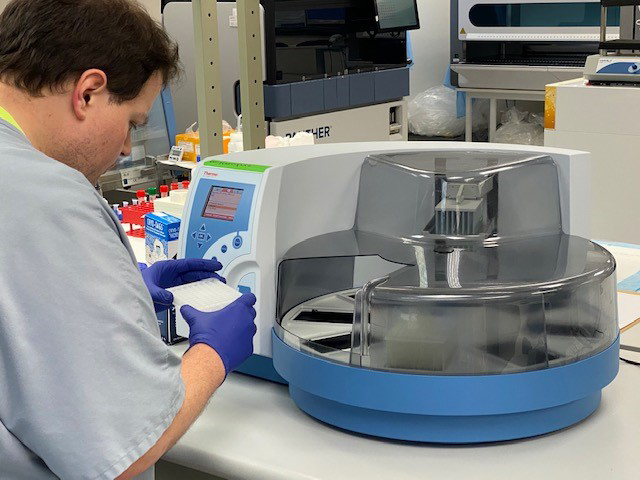 A partnership between an animal health company and a human pathology laboratory is set to streamline the processing of COVID-19 tests in the Kansas City area.
Ceva Animal Health has loaned its DNA sequencing equipment, which is typically used to ensure the health of poultry and swine, to human health laboratory, MAWD Pathology.
The agreement allows hundreds of people waiting on COVID-19 tests to receive same-day results, MAWD says, which is necessary to accommodate the region's rising number of suspected cases.
"When we first set up testing, our focus was on helping the local hospitals who were seeing far fewer patients with concerns for COVID-19," says Samuel Caughron, MD, of MAWD. "Reagents were available and our technologists had time, so we started with a manual nucleic acid extraction process.
"With the rapid rise in the number of patients at local hospitals needing to be tested, as well as strong interest from more facilities in the area and the need to test emergency personnel and other Priority 2 patients, we realized quickly we needed to increase our capacity."
Ceva says lending its equipment to MAWD for human use was "an easy decision."
"Ceva is solely focused on developing products for animal health; however, we know the health of humans and animals is interdependent," says John El-Attrache, the company's global director of scientific and innovation direction. "Our One Health mindset means we always take an interdisciplinary approach to solving health problems. We are fortunate our current work load could be adjusted to free up these instruments for human testing during the pandemic."