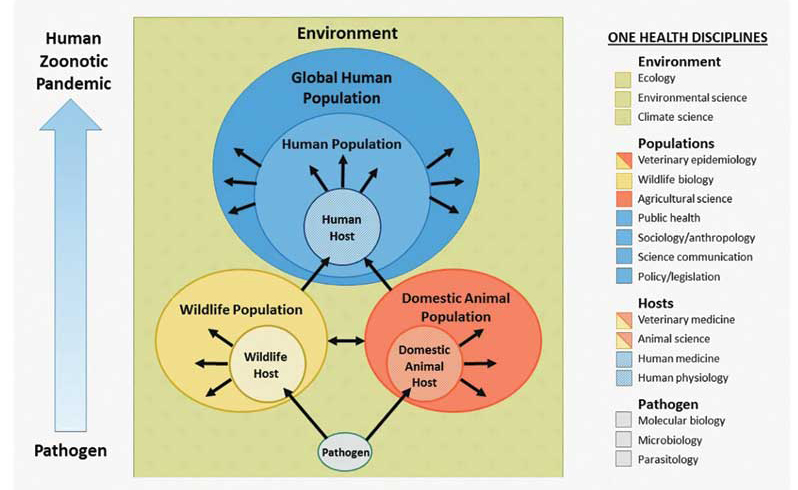 For many of us, daily news of worrisome health events—from climate change, pollution, to infectious diseases in frogs, bats, and people—have led to the conclusion that the health of our planet is not good. We are witness to a growing list of conservation and public health challenges. During this time, as members of veterinary teams, from front office to exam rooms, we have experienced changes to our lives. Most significant may be those experienced while working and living within a pandemic over the past three years.
COVID created challenges and changes on a global scale with impacts on environmental, animal, and human health. Although COVID is a newly emerging infectious disease for humans; zoonotic pathogens (those shared between human and non-human animals) is not a new concept to our profession. In fact, a great deal of our day (and night) jobs of providing health care for our animal patients (i.e. companion, food, laboratory, non-domestic, and wildlife) has direct preventive health benefits that protect people from zoonotic pathogens.
As a profession, veterinary medicine is founded on advancing the health for species within the One Health triad—animals, humans, and environments (Figure 1). We may, in fact, be the original One Health practitioners.
What is it?
One Health is based on the recognition of the interconnections and interdependence of the health of humans, animals, plants, and the ecosystems on which all life depends. The term One Health first came into use in the 2000s. An early definition stated One Health is a collaborative effort of multiple disciplines– working locally, nationally, and globally–to attain optimal health for people, animals, and the environment.
The One Health idea was founded on prior movements such as One Medicine from the 1960s and Conservation Medicine from the 1990s, and has been closely followed by the term Planetary Health, coined in the 2010s.
The driving principle behind One Health (and similar movements) is the understanding that the health of plants, animals, humans, and our shared environments is interconnected. This approach is much more than simply realizing the challenges threatening an organism's health; whether a tree, a dog, a turtle, or a human, is tied to the health of other organisms. One Health asks us to take a transdisciplinary approach so we may more effectively find the solutions to the wildlife conservation, environmental sustainability, and public health issues of today.
Although One Health first appeared in the scientific literature over 15 years ago, its evolution continues to unfold. In December 2021, major international organizations including the, World Health Organization (WHO), Food and Agriculture Organization (FAO), United Nations Environment Programme (UNEP), and the World Organisation for Animal Health (WOAH), came up with an agreed-upon definition of One Health that highlights the interconnectivity central to the concept. They state: "One Health is an integrated, unifying approach that aims to sustainably balance and optimize the health of people, animals, and ecosystems. It recognizes the health of humans, domestic and wild animals, plants, and the wider environment (including ecosystems) are closely linked and interdependent. The approach mobilizes multiple sectors, disciplines, and communities at varying levels of society to work together to foster well-being and tackle threats to health and ecosystems while addressing the collective need for clean water, energy, and air; safe and nutritious food; acting on climate change and contributing to sustainable development."
So why has One Health taken hold now?
Why do we need it?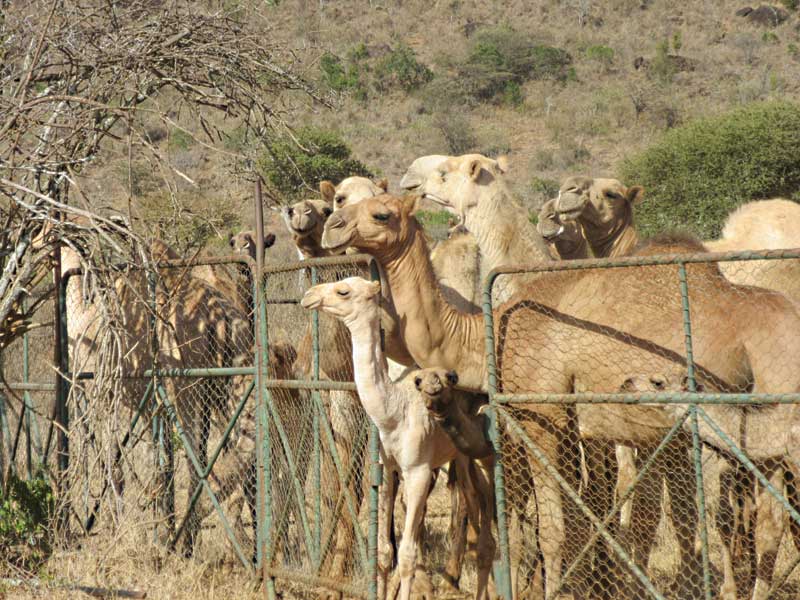 We find ourselves living during the Geologic Epoch many have suggested be renamed from the Holocene to the Anthropocene. We humans, anthro, are driving the changes on Earth today. The human footprint is responsible for creating some of our greatest shared health threats, ranging from emerging infectious diseases (EID) of plants, animals, and humans; the loss of biodiversity, pollution, habitat degradation, impacts from food production for just one species—Homo sapiens, among other threats that place health burdens on our animal patients, human communities, and even ecosystems (Figure 2).
In 2023, the global community is even more appreciative of three considerations:
1) How an EID may cause economic and livelihood chaos and lead to periods of global shutdowns, such as the anthropause of 2020;
2) Biodiversity loss may impact forest health and food security such as we see with the loss of pollinators; and
3) That pollution and contaminants impact not just human health, but other species as well.
Further, we are better prepared to consider we may need to modify our business-as-usual thinking into a more health-promoting, preventive One Health approach. This requires transdisciplinary teams of veterinarians, human doctors, sociologists, economists, politicians, anthropologists, science communicators, and many more. All these disciplines are needed if we are to confront the planetary health threats of today.
If we view our challenges through a One Health lens and take a collaborative approach, we can best ensure human public health, wildlife conservation, domestic animal health and welfare, and environmental resilience.
The role of vet med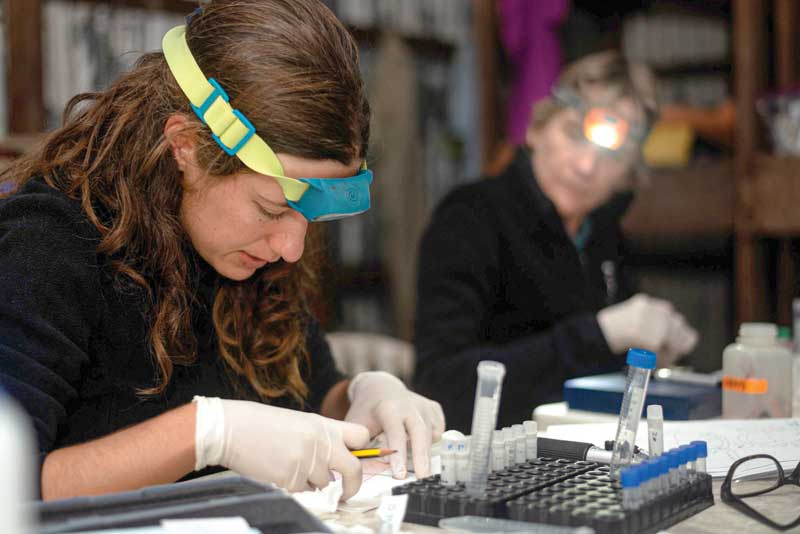 Again, our profession may be one of the original disciplines with a foundation in One Health thinking. Our veterinary oath states: "I solemnly swear to use my scientific knowledge and skills for the benefit of society through the protection of animal health and welfare, the prevention and relief of animal suffering, the conservation of animal resources, the promotion of public health, and the advancement of medical knowledge." This sure sounds like One Health to me.
Our animal patients are at the nexus of the One Health triad as they may serve as nutrition or companions for humans, or they may provide ecosystem services (i.e. pollination, seed dispersal, water purification, pest control, and many others) necessary to ensure healthy environments.
Also, our roles as animal health care providers have only gotten larger. Consider 10,000 years ago when humans first began domesticating animals, the terrestrial vertebrate biomass was roughly four percent humans and their few domesticated animals and 96 percent wildlife species. Today, humans and our billions of domesticated animals make up 96 percent of this biomass, and only four percent are non-domestic animal species. With all these domestic animals, veterinarians and their teams are even more important today for keeping healthy ecosystems, humans, and animals. Our veterinary roles in food animal production, laboratory animal, companion animal, and non-domestic animal species health and welfare all point to the growing importance of our profession as part of any One Health transdisciplinary team. Our training allows us to bring unique and important skills to the One Health team (Figure 3). We may also further our training to gain other core competencies important for One Health success today, such as management, leadership, communication, collaboration, and systems thinking skills.
As members of the veterinary profession, we know how important it is to have healthy environments where our patients live, whether they live in a house, field, forest, ocean, or zoo, and how important the health of our patients is for the health of humankind. Our profession is based on this understanding. Now, as we move further into the 21st century, we also see how the veterinary profession has so much to bring to the growing One Health movement. We are instrumental for ensuring the animal part of the One Health triad is considered while we solve the pressing conservation and public health challenges of today. I hope you, your practice, your full veterinary team is ready to take on this responsibility. Maybe start by picking your "favorite" conservation or public health challenge—climate change, plastic pollution, emerging infectious diseases, loss of biodiversity—and then by implementing practices that support a healthier world.
Sharon L. Deem, DVM, PhD, Dipl. ACZM, is the director of the Saint Louis Zoo Institute for Conservation Medicine, instructor of the One Health semester-long course at Washington University in St. Louis, and currently serves as president elect of the American Association of Zoo Veterinarians. A graduate of the VMCVM (DVM) and the University of Florida (PhD and Residency in Zoo and Wildlife Medicine), Dr. Deem has decades of experience working on companion animal, livestock, and wildlife health and conservation projects. Her work takes a One Health approach that supports wildlife conservation, environmental sustainability, and human public health. 
References
Crutzen, P.J. Geology of mankind. Nature 415: 23, 2002.
Deem, S.L. 2015. Conservation Medicine to One Health: The Role of Zoologic Veterinarians. In: Miller, R.E. and M.E. Fowler (eds.), Fowler's Zoo and Wild Animal Medicine: Volume 8. Saunders Elsevier, Saint Louis, Missouri.  Pp. 698-703.
Deem, S.L., Lane-deGraaf, K., and Rayhel, E. 2019. Introduction to One Health: An Interdisciplinary Approach to Planetary Health. Wiley-Blackwell. Hoboken, NJ. Pp. 296.
Deem, S.L., and Brenn- White, M. 2020. One Health – the Key to Preventing COVID-19 from Becoming the New Normal. Molecular Frontiers Journal. https://www.worldscientific.com/doi/pdf/10.1142/S2529732520400039.
Enserik, M. Initiative aims to benefit animal and human health science to benefit both. Science. 316: 1553.
Frankson, R., Hueston, W., Christian, K., Olson, D., Lee, M., et al. (2016) One Health core competency domains. Frontiers in Public Health, 4, 192. doi: 10.3389/fpubh.2016.0019. https://www.ncbi.nlm.nih.gov/pmc/articles/PMC5020065/
Gibbs, E.P.J.2014. The evolution of One Health: a decade of progress and challenges for the future. Veterinary Record. 174: 85-91. https://pubmed.ncbi.nlm.nih.gov/24464377/
Kiran, D., Sander, W.E., and Duncan, C. 2022. Empowering Veterinarians to Be Planetary Health Stewards Through Policy and Practice. Frontiers in Veterinary Science. 9:775411. doi: 10.3389/fvets.2022.775411. https://www.frontiersin.org/articles/10.3389/fvets.2022.775411/full
One Health High-Level Expert Panel (OHHLEP), Adisasmito, W.B., Almuhairi, S., Behravesh, C.B., Bilivogui, P., Bukachi, S.A., et al. 2022. One Health: A new definition for a sustainable and healthy future. PLoS Pathogens, 18(6), e1010537. DOI: 10.1371/journal. ppat.1010537. https://www.ncbi.nlm.nih.gov/pmc/articles/PMC9223325
Pimm, S.L., Russell, G., Gittleman, J.L., and Brooks, T.M. 1995. The future of biodiversity. Science. 269: 347-350.