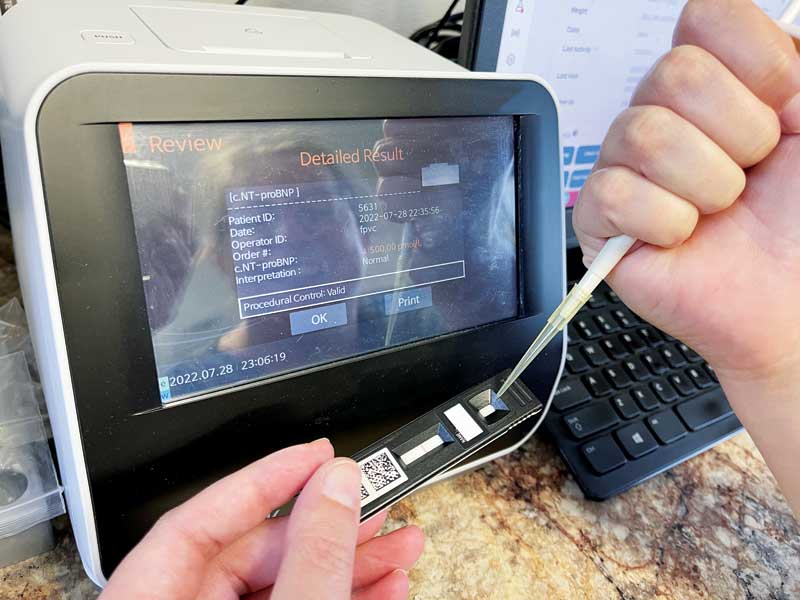 Diagnostic testing continues to be a great tool to procure as much information as possible about a patient's health—even mitigating serious risk in certain situations. Testing prior to dental procedures can be particularly important, as oral health evaluation and treatment require use of anesthesia.
The risk of death from anesthesia is a constant possibility, mainly with undetected heart conditions and other health problems elevating the danger. Checking for elevated cardiac biomarkers, such as NT-proBN, along with biomarkers that can indicate problems in other important organs, allows
for alteration of anesthetic plans to better mitigate risks and provide information about underlying issues that may impact treatment and the animal's health in the future.
Pre-procedure testing considerations
A 2017 study by PubMed found dogs had a 0.05 percent chance of dying due to anesthesia, while cats were over twice as likely (0.11 percent risk) to die.  When an animal dies after an anesthetic procedure, an undetected health condition can be one of the reasons. Testing for these conditions, when possible, can restore some confidence that anesthesia can be administered with decreased risk.
With dental disease being the most common and underdiagnosed disease in dogs and cats, quantitative testing—especially of the heart—is crucial before conducting any dental procedure that requires anesthesia. Time and cost can discourage veterinary professionals from running tests, but quick and cost-efficient testing is possible with an in-clinic, quantitative biomarker analyzer. This type of analyzer gives quantitative levels of biomarkers such as canine NT-proBNP, feline NT-proBNP, cPl, fPL, cortisol, T4, and cTSH in minutes. Jennifer Mathis, DVM, CVPP, uses such a device to complete testing before a dental procedure in her clinic, Animal Dentistry Referral Services, in Norwalk, Iowa.
According to Dr. Mathis, "Dogs and cats are five times more likely to have periodontal disease—measured by bone loss around the teeth–than humans, and an association that has repeatedly shown the relationship between the inflammatory processes of the mouth to other diseases within the body."
"Our clinic also conducts CBC, chemistry, and electrolyte screenings," adds Mathis. "Occasionally, we will also screen for FeLV/FIV in cats, as well as bile acid tests for liver function, when necessary. This is all supported by a physical exam and objective monitoring of fear, anxiety, and pain levels."
It is essential to note testing efforts are no substitute for more in-depth monitoring and treatment, such as a cardiac ultrasound. However, NT-proBNP testing is an economical screening tool that may indicate if a cardiac ultrasound is needed before a dental procedure.
Significance of pre-testing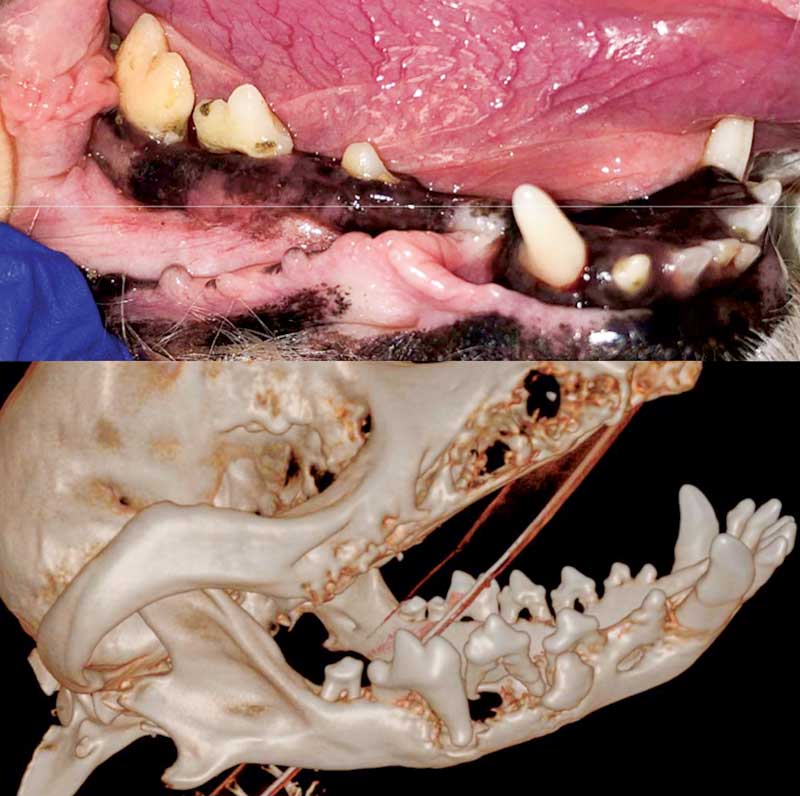 Mathis firmly believes proper dentistry requires anesthesia, so a true, full exam can be performed, including intraoral radiographs and subsequent appropriate treatment. According to the American Veterinary Medical Association's (AVMA) position statement, "When procedures such as periodontal probing, intraoral radiography, dental scaling and dental extractions are justified by the oral examination, they should be performed under anesthesia."
While all practices will have a slightly different testing procedure, the patients at Mathis' clinic start the anesthesia process 45 to 60 minutes after admission. In that time, before anesthesia is administered, IV and catheter are placed and patients are tested (CBC, chem, electrolytes, NT-proBNP at minimum) to determine the best choices for premedication and induction drugs. Due to the risk of undetected heart disease, Mathis recommends all patients that undergo anesthesia have a quantitative NT-proBNP test prior to the procedure.
Mathis uses an in-clinic quantitative analyzer that provides a definitive numerical result in about 15 minutes. With this type of testing, the risk of sample degradation is also low due to the quick turnaround, allowing plenty of time to adjust anesthesia drug choice, doses, and possible fluid rate to better suit individual patient health (based on results). It also gives Mathis the opportunity to inform clients of any increased risk before the procedure, or even cancel the procedure if needed.
The interpretation of test results is an extremely important step. Veterinarians must understand the biomarker test ranges. In dogs, NT-proBNP levels correlate with mitral valve disease (MMVD) but determining what stage of disease the dog is in depends on many factors and requires a cardiac ultrasound and other diagnostics. Some breeds vary in NT-proBNP ranges, but most fall in the suspected range of 900-1800, with any result above 1800 considered abnormal.
Dogs with murmurs that have not seen a cardiologist, as well as breeds predisposed to heart conditions (Cavalier King Charles spaniels, Doberman pinschers), are at elevated risk and should be looked at more closely. Factors including size, age, breed, and even a grain-free diet, should be considered when interpreting test results with the goal of formulating an anesthetic plan.
According to the American Animal Hospital Association (AAHA), canine toy breeds are at increased risk for anesthetic complications because they are more prone to hypothermia, may be more difficult to intubate and monitor, and are more easily overdosed. 2 AAHA guidelines also say senior dogs or puppies are also at increased risk, and greyhounds can experience slow recovery from anesthesia. Breeds such as bulldogs, pugs and Boston terriers have a higher potential for airway-related complications.
"While screening for these predisposed patients is generally more important than with other dogs, testing all patients can pick up on potential issues you did not know about," says Mathis. "I had a canine patient presenting with periodontal disease and a fragile mandible that had a murmur, which neither my technician nor I initially detected. The referring DVM records had no mention of a murmur in prior physical exams. After seeing the canine NT-proBNP results, we were able to diagnose the soft murmur and adjust our anesthesia plan and treatment accordingly."
Understanding the NT-proBNP range is imperative in detecting heart conditions, but elevated NT-proBNP can be indicative of other issues that would need to be ruled out before using the intel to design an informed anesthesia plan. Patients with renal insufficiency will have decreased excretion of NT-proBNP, so elevated renal values can give a falsely high BNP level that would need to be considered. Pathologic hypertension can also have elevated NT-proBNP, whereas white coat syndrome will not cause elevation of BNP.
Mathis even had a canine patient that had been diagnosed with primary hypertension and the NT-proBNP was not elevated in the test results, likely due to a combination of the moderate hypertension and the fact the patient had been on medications that were controlling the BNP. The test results are crucial to determining conditions, but they never tell the entire story.
Convenience, speed, and economics
Being thorough and having the most complete picture as possible of a patient's health status is the best way to ensure all aspects of treatment are suited to them. There are several ways to go about finding this information, but Mathis has found quantitative in-clinic testing immediately preceding treatment is the easiest way to ensure testing compliance.
Timing is the most obvious benefit of in-clinic testing. Waiting on a lab for results can take days and requires you to schedule an additional appointment in advance of the procedure, which can be a logistics hassle. Testing in-clinic on the same day not only cuts the wait time from several days to a few minutes, it also indicates biomarker levels as close to the procedure as possible. While it is unlikely levels will spike in a couple of days, extreme changes can happen. That is why testing immediately before the procedure is so important to providing the most accurate information on an animal's health.
"In addition to the time savings, with the supplier I work with, I save on cost per test," Mathis adds. "Sending a test to a lab can cost up to $200, but with my in-clinic analyzer, my costs are around $15 per test. With costs rising across the veterinary industry, I'm always looking for ways to save money without compromising the quality of the treatment I provide, and in-clinic testing is an easy way to do that."
Getting an in-clinic diagnostic analyzer can be complementary to a clinic's existing lab suite and a great step for many veterinary practices, but not all analyzers are created equal. While many in-clinic options indicate only whether biomarker levels are abnormal enough to cause concern, they do not go deeper than that. Others have reported in early cases of hypertrophic cardiomyopathy (HCM), the color change tests have a high chance of showing false negative results.
"I elected for an analyzer that delivers exact, quantitative results. Having a number instead of a color change provides much more direction for me when I make decisions about the anesthesia plan," explains Mathis. "I had a feline patient that had a feline NT-proBNP level of 1271, more than 12 times the normal amount. With my quantitative analyzer, I was able to redirect the patient to a cardiologist before administering treatment. Other testers would have indicated there was a problem, but quantitative analysis helps me inform owners about risk for an issue in which they see no symptoms.
EQUAL OPPORTUNITY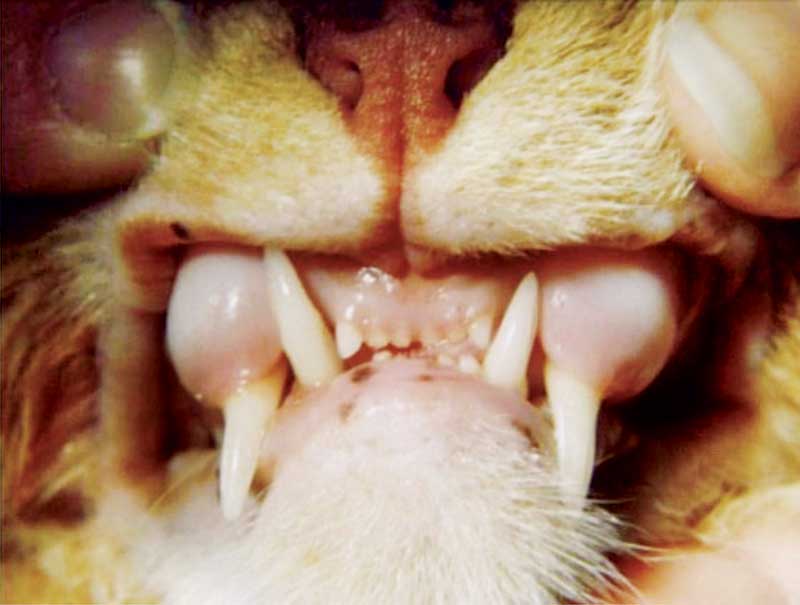 The risk for heart conditions is not limited to one species. A leading cause of feline death related to anesthesia is undiagnosed HCM. For instance, one in six cats has heart disease, but over 70 percent of those would not be caught with a stethoscope.4 Additionally, 21 to 44 percent of apparently healthy cats have murmurs, while only 25 to 53 percent of the cats with murmurs have heart disease.4
Jennifer Mathis, DVM, CVPP, says in her experience, all elevations in cats, which normally have a feline NT-proBNP level of 100 or less with no known breed variations, are significant and due to this, makes screening all feline patients a required part of the pre-anesthetic workup. The high BNP levels indicate greater stretch with the myocardium, and, therefore, greater disease.
Randy Knick, MBA, is president of Bionote USA, a medical diagnostics research and development company. With more than 30 years of market experience, Knick leads Bionote USA utilizing his professional experience in the U.S., Latin America, Australia, Canada, and the Caribbean, along with an extensive history in government sales.
References
Factors associated with anesthetic-related death in dogs and cats in primary care veterinary hospitals – PubMed (nih.gov)
American Animal Hospital Association
Prevalence of echocardiographic evidence of cardiac disease in apparently healthy cats with murmurs