Suggested Veterinary Products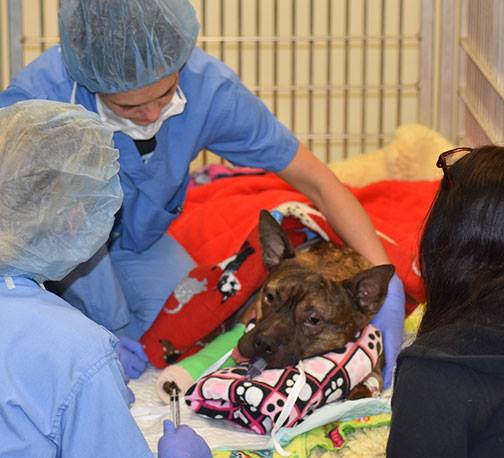 When people come together, great things can happen. Like when a newspaper readership and dog lovers from around the world came together to help a dog get the surgery he needed to fix one of his two deformed front legs at Oregon State University's College of Veterinary Medicine's small-animal hospital.
Tigger, a 2-year-old Staffordshire terrier mix, was born with a defect known as ectrodactyly in both of his front legs. This left him unable to walk on all four legs; instead, he hopped around much like a rabbit. Savin' Juice Medical Dog Rescue group in Brooks, Ore., took Tigger in, where foster parents, Eve Good and her partner, Troy Riggs, soon brought him to their home. Good and Riggs decided to get Tigger help, and started looking for a surgeon while also working to raise the funds needed for the surgery. They estimated that the surgery would cost $15,000.
The funds came together quickly. When the Salem, Ore.-based Statesman Journal broke the story about Tigger, donations poured in from the readership. When the story was picked up by larger news organizations, the rest of the world chipped in. In less than a month, Tigger had his funds ready to go.
The next step was to find a surgeon, who turned out to be Jennifer Warnock, DVM, a veterinary orthopedic surgeon and associate professor of Small Animal Surgery at Oregon State. Then it was time for surgery. Tigger could be treated one leg at a time, so this is the first of at least two surgeries.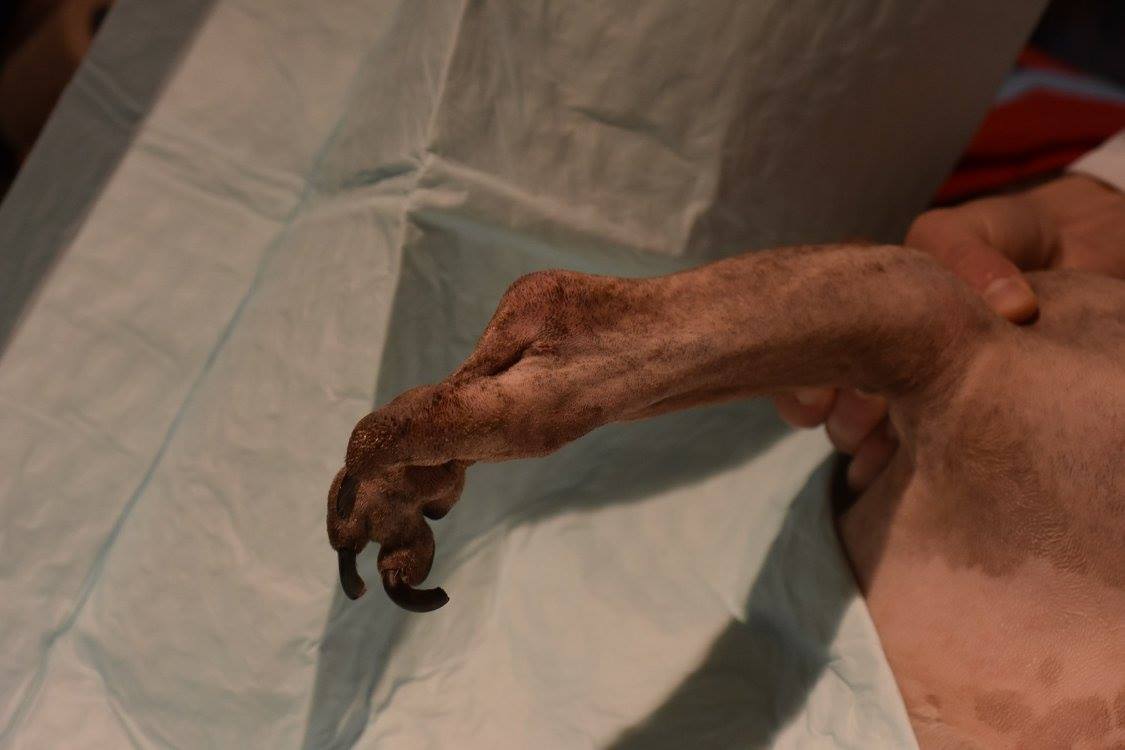 According to the Statesman Journal, the surgery took six hours. They reported:
"Dr. Warnock and a veterinary medical team that included three anesthesia students, a board certified anesthesiologist, three anesthesia nurses, two veterinary students, two surgery residents, and three surgery nurses took care to reposition half of Tigger's foot and also stabilize it with two human-grade plates.
A team at Synthes Vet (part of Johnson & Johnson) helped the team with specialized human-ankle fusion plates, provided at significant discount.
Warnock said once they made one incision in Tigger, they found that the tendons that help move the toes (extensor tendons) were congenitally trapped between the dog's radius and ulna, so delicate surgery was required to place them in their rightful position."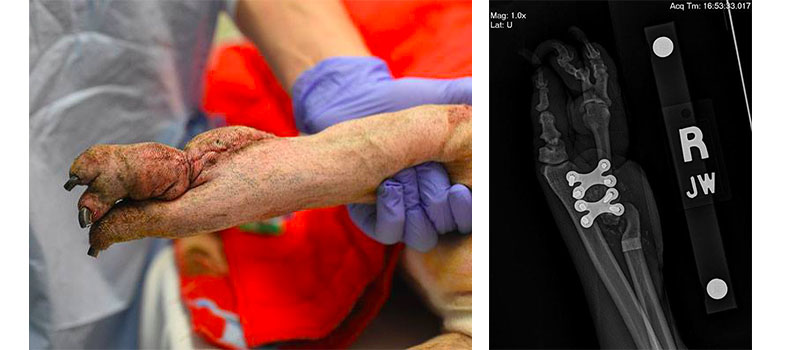 After a week of post-op, Tigger was given a temporary orthotic, and he took his first steps on one front leg. And, as the Statesman reported, dog and foster parent were united. It was a special moment, the paper wrote.
"Wearing an orange Beavers bandanna and orange lead, when released, he limped like crazy over to [Good] and gave her more 'kisses' than one human could imagine. With his tail thumping frantically like a turbine on a windy day, he crawled into her arms and just stayed there, licking her face with no regard for anyone else in the hospital's lobby."
Tigger needs to be on crate rest for a while until his leg is healed some and he goes through rehabilitation. Once that's done, his veterinary team will then look into surgery on his other leg. His hind legs may need surgery too, as they have developed issues over the many years he walked solely on them.
But until then, Tigger is home, and on his way to a great life.