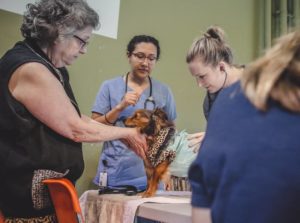 Veterinary students at the Ohio State University (OSU) are set to receive more comprehensive hands-on training, thanks to the introduction of a new 35,000-sf clinic.
The Frank Stanton Veterinary Spectrum of Care (SOC) Clinic will train students to manage patients across the entire range of care, including alternative diagnostic and treatment techniques. Students will also become familiar with various clinical procedures and post-visit care protocols, as well as fine-tune their practice and business management skills. The clinic will also offer a realistic private practice environment to enhance the clinical training of students in all four years of OSU's veterinary program.
"This [new facility] will extend our goal to provide students with valuable, hands-on medical and surgical experience and corresponding professional skills refinement needed to become more competent and confident veterinary practitioners upon graduation, successful entrepreneurs, and even more highly sought after by employers," says Rustin Moore, DVM, PhD, dean of OSU's College of Veterinary Medicine and the Ruth Stanton chair in veterinary medicine.
OSU says new veterinarians who train at the Frank Stanton Veterinary SOC clinic will have knowledge and mastery of a wider range of diagnostic, therapeutic, business, and communication skills.
The two-story facility will feature exam rooms, treatment stations, small animal wards, dentistry, surgery, and an exterior dog run.
Since the College of Veterinary Medicine's founding, more than 9,100 veterinarians have graduated from the program. Its alumni practice in 50 states and 40 countries.
Currently, the OSU veterinary health system provides care for more than 72,000 canine, feline, equine, and farm animal patients each year through its four hospitals and a large animal practice.
Construction is expected to begin next year with a planned opening in spring 2021.