Suggested Veterinary Products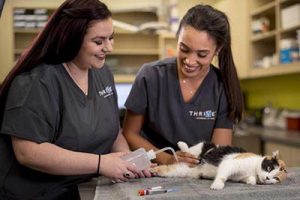 Veterinary management group Pathway Vet Alliance announced new partnerships with 14 veterinary hospitals across the U.S., including three in Colorado, two in Arkansas, two in New Mexico, and one each in Arizona, California, and Washington. The newly acquired practices will retain their veterinary teams, but will receive support, educational opportunities, and additional resources from Pathway.
"In just the first quarter of this year, our company has accomplished several major milestones, including bringing on new partners and fully adopting our new brand identity," said Stephen Hadley, DVM, CEO of Pathway. "We are thrilled at what we have accomplished so far and excited to build on this success."
The current expansion is reflective of Pathway's steady growth, achieved primarily through acquisition. In 2017, the company added nearly 100 hospitals for a total of more than 125 locations throughout the U.S. Additionally, Pathway added more than 800 employees, growing to more than 2,500 employees in total.
To accommodate its new partnerships and additional acquisitions anticipated later this year, the group is expanding staff at its headquarters in Austin, Texas, as well as other locations across the U.S.