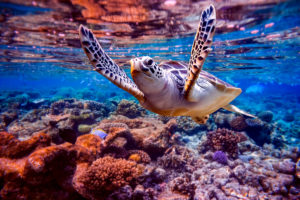 Patterson Veterinary Supply and the Texas Sealife Center are working together to rescue and release endangered sea turtles one software sale at a time.
Patterson will donate $35 to the center for every purchase of its cloud practice-management software, NaVetor. The goal is to raise $10,000 by Dec. 31.
"NaVetor provides guidance for our customers to better run their businesses," says Doug Jones, president of Patterson Animal Health's Companion Animal Group. "In fact, the NaVetor logo is a sea turtle, because sea turtles are the navigators of the ocean. Similarly, NaVetor provides guidance for our customers to help them navigate their businesses."
Sea turtles are poached for their eggs, meat, skin, and shells. Some are also accidentally injured by fishing gear and pollution, and coastal development is affecting their natural habitats.
"For us, it's not just about providing great products; it's about making a difference," says NaVetor chief executive officer, Ali Hashmat. "We're proud to partner with nonprofit organizations that protect endangered sea turtles and their natural environment."