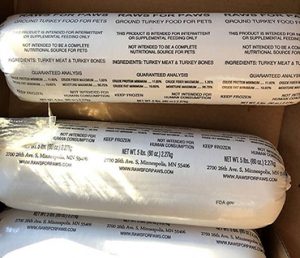 Smokehouse Pet Products has issued a recall for limited lots of Beefy Munchies due to possible Salmonella contamination. The product is sold in 4-ounce bags with UPC number 78565857957, lot number 449294, and a best used by date of 10/25/19 stamped on the back of packaging. Beefy Munchies were sold in Washington, Michigan, North Carolina, and Colorado through distributors selling to various retailers. Routine sampling by the Colorado Department of Agriculture revealed the presence of the pathogenic bacteria in two packages of the product. No illnesses have been reported to date with this recall.
Raws for Paws Ground Turkey Pet Food in Minnesota is recalling about 4,000 pounds of 1-pound and 5-pound chubs due to Salmonella contamination. The product was distributed through Minnesota, Wisconsin, and Iowa directly to consumers and through online mail order.
They are packaged into regular Turkey Pet Food cases and Pet Food Combo Pack cases, which contain a variety of pet foods. The recalled products have case codes of 9900008, 9900009, 9900014, and 9900015. The manufacture date of Turkey Pet Food cases is 10/12/2017, and the manufacture dates of Combo Pack cases are between 10/12/2017 and 2/2/2018.
Two children in Minnesota were sickened with Salmonella after pets in their home were fed Raws for Paws Ground Turkey Pet Food. One child developed osteomyelitis and was hospitalized. Production of the product has been suspended while an investigation is conducted.