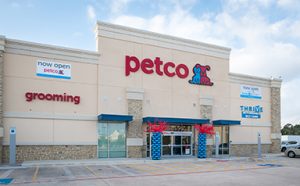 Petco has an answer to PetSmart's Banfield Pet Hospitals: Thrive Affordable Vet Care clinics.
The company's first Thrive opened inside a brand-new Petco in Aldine, Texas, last week.
Thrive offers $10 exams and "a full suite of in-store veterinary care and wellness services," according to the company.
Twelve more Thrive veterinary hospitals will open within newly remodeled Petco stores in Texas, California, and Colorado through the end of 2017.
"While pet health and wellness are increasingly important to pet parents, navigating veterinary services in particular can be confusing and overwhelming," said Brad Weston, Petco CEO. "Understanding what pets need at each stage of life, what constitutes routine care, urgent or specialty care, and when to seek veterinary expertise are common challenges pet parents face.
"By expanding our in-store veterinary services, Petco's veterinary professionals can help pet parents through every step of their pets' health and wellness needs, all in one convenient location," he added. "Our Aldine location is the first of our new in-store hospital design, and we are excited about bringing more of these locations to the Houston market in the next few months."
In addition to new in-store veterinary hospitals operated by Thrive and other independent veterinarians, Petco stores offer on-site vaccination and wellness clinics operated by Vetco, and digital pet health advice through PetCoach.
The 12 locations that will open Thrive clinics through January are in Austin, Dallas, Highland Village, Houston (3), Humble, and Sunset Valley, Texas; Highlands Ranch, Colo.; and Escondido, Menifee, and Redlands, Calif.