Petplan and the National Police Dog Foundation (NPDF) announced the winners of the inaugural K-9 Health Insurance Grant, a joint effort between the Newtown Square, Pa., pet insurer and the Foundation, awards one year of pet insurance to five currently active police dogs throughout the U.S.
The winning grant recipients are:
Reximus, a 3-year-old German shepherd dog with the Nome Police Department in Alaska.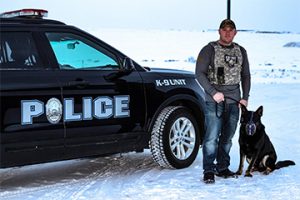 ' handler, started the K-9 program at the Nome Police Department after many years without a K-9 unit. Reximus specializes in narcotics detection and is the only four-legged officer in all of Western Alaska.
"I've been paying for Reximus' veterinary care, including airfare for emergency transport, with the understanding it may not be reimbursed," Timm said on his grant application. With his new Petplan policy, 90 percent of Reximus' unexpected veterinary expenses will be covered.
Rudy, a 2-year-old German shepherd dog/Belgian malinois mix with the Upland Police Department in California
Rudy's K-9 team is funded primarily through donations from the public (the city covers vehicle upkeep and the handlers' salaries only). The Petplan/NPDF grant will allow the Upland PD to maximize existing funds and put future donations toward the training and equipment needs of the K-9 unit.
"People don't see it, but these aren't normal dogs: They are the elite athletes of the canine world," said Rudy's handler, Quinn Handley. "And just like professional athletes, on a daily basis they can be subject to injury. Having an insurance grant allows us to maximize our budget on other necessary items like training, equipment, and dog food."
Coale, a 1-year-old German shepherd dog with the Amory Police Department in Mississippi.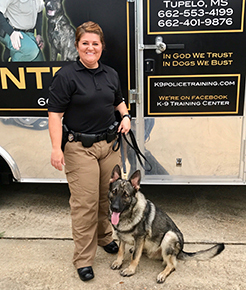 Coale has just begun a five-week program training for narcotic alert, search and rescue, and patrol duties. He is the first K-9 to join the unit since 2012; the department has lacked funding for canine officers for the past five years. His pet insurance grant will help keep costs down and keep the K-9 program thriving in Amory.
"Our department knows first hand how quick things can change," said handler Dawn McClendon. "Roughly eight years ago we lost our K-9 partner to cancer. The peace of mind to have insurance that helps guarantee the best care no matter the a budget is a must!"
Tracker, a 2-year-old Belgian malinois with the Silver Spring Township Police Department in Mechanicsburg, Pa.
Tracker is a multifaceted K-9 who handles patrol and narcotics work. He's also is trained in tracking, article searches, apprehension, and handler protection. While veterinary care is paid from the department budget, Tracker's handler knows how quickly that can become a burden.
"Tracker's K-9 partner developed cancer a few years ago and thankfully  though very generous donations from the public he received the treatment he needed," said Tracker's handler, David Frascella. "Having [Petplan] will allow the department to focus on Tracker having the knowledge that he is covered."
Charlie, a 3-year-old Labrador retriever with the Holbrook Police Department in Massachusetts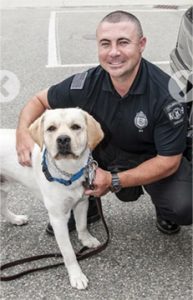 Charlie has quickly become known as a "rock star" in drug detection, with several impressive seizures under his belt. The Holbrook PD pays for food, supplies, and medical treatment for its K-9 unit (which includes another officer named Bo) solely through donations from their community.
"If something happens to [Charlie] the costs could be astronomical," said Chief of Police William Smith. "If we can't pay for it then we have to take the dog out of service. It's peace of mind he'll be covered."
The NPDF K-9 Health Insurance Fund is funded entirely by public donations and the sponsorship support of Petplan. As donations to the fund grow, more grants will be made available to K-9 handlers, according to the company.
"It's hard to put into words the pride we feel in supporting police K-9s and the work they do to keep their communities safe," said Natasha Ashton, co-founder and co-CEO of Petplan. "We were excited to launch this grant program, but meeting the first round of K-9 officers and handlers who will benefit just makes the honor all the more heartfelt. This is a program we hope to continue in partnership with the National Police Dog Foundation for a very long time."
To make a direct donation to support grant funding, or to learn more about Petplan's sponsorship of the NPDF, visit https://nationalpolicedogfoundation.org/petplan/.