Suggested Veterinary Products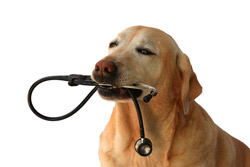 The American Veterinary Medical Assn. Group Health and Life Insurance Trust, AVMA GHLIT, and Pets Best Insurance of Boise, Id., today announced an exclusive relationship to educate veterinarians and consumers about pet insurance. As part of the new partnership, Aetna's general insurance subsidiary, AICC, will be the new underwriter for the Pets Best Insurance plan.
The companies see the partnership as a way to benefit veterinary patients, clients and clinics and help direct the growth of the pet insurance industry in this country, while ensuring that veterinarians retain the freedom to practice as they see fit.
"We know today that the veterinary profession must be a leading component of providing information and education to our clients about pet insurance," said Gary R. Holfinger, DVM, chairman of the board of trustees of AVMA GHLIT. "Working exclusively with Pets Best Insurance and Aetna, we feel certain to deliver a trusted pet insurance product for pet owners and our members."
The announcement was made during a luncheon at AVMA's annual convention in New Orleans.
"The leadership shown today to make pet insurance a central component of the veterinarian-client relationship is very gratifying," said Jack Stephens, DVM, president and founder of Pets Best Insurance and founder of pet insurance in the U.S. "For over 30 years, we have been building an industry to reduce pet euthanasia and provide peace of mind for pet owners. This partnership will be the milestone that makes pet insurance a priority for the majority of pet owners in the United States. And it will also have positive benefits for the veterinary profession."
Pets Best Insurance is currently underwritten by North Pointe Insurance of Michigan. North Pointe will work to transition current policy holders to Aenta Insurance Company of Connecticut.
"We are pleased to join with Pets Best and AVMA GHLIT to offer access to trusted, affordable insurance for pet owners," said Dan Fishbine of Aetna, which provides AVMA GHLIT human insurance offerings.