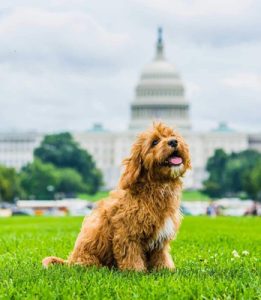 The Human Animal Bond Research Institute (HABRI) and the Pet Leadership Council (PLC) met with members of Congress for Pet Night on Capitol Hill to highlight the importance of pets to human health and well-being.
During the event, leaders from the pet care community demonstrated their unity and commitment to increasing awareness of the health benefits of responsible pet ownership and displayed programs and legislative initiatives, including the Pet Care Trust, Pets Add Life, and the Pet and Women Safety Act Coalition to the public. More than 400 guests were given the chance to interact with registered Pet Partners therapy animals.
"More than 85 million American households have at least one pet and a growing field of science demonstrates that life with a healthy pet is beneficial to all," said Bob Vetere, PLC and HABRI chairman. "Momentum is building toward a more pet-friendly society with 98 percent of Americans considering their pet to be an important part of the family."
The pet care community supports bipartisan legislation that increases accessibility to pets, including measures to provide service dogs to veterans with post-traumatic stress, and that helps survivors of domestic violence find safe shelter with their pets.
The PLC and HABRI also honored more than a dozen members of Congress with the Pets' Best Friend award for their support for pet-friendly legislation. The Cutest Pets on Capitol Hill were honored by the Animal Health Institute, recognizing congressional companions from both sides of the aisle.