Suggested Veterinary Products
Originally published in the October 2015 issue of Veterinary Practice News. Enjoyed this article? Then subscribe today!
While current treatments for congestive heart failure (CHF) in dogs vary based on a practitioner's personal experiences, there are some strong favorites in the field, cardiology specialists say.
Most veterinary cardiologists use furosemide; an angiotensin-converting enzyme inhibitor like enalapril, benazepril or lisinopril; and pimobendan for management of the most common forms of congestive heart failure, said John Rush, DVM, MS, Dipl. ACVECC, Dipl. ACVIM. Dr. Rush is a professor at the Cummings School of Veterinary Medicine at Tufts University.
For the most common form of heart disease, dilated cardiomyopathy — a degenerative mitral valve disease that causes mitral regurgitation — some veterinary cardiologists also routinely use an aldosterone receptor antagonist, such as spironolactone, Rush said.
Others, he said, might add in the drug once signs of congestive heart failure, such as cough, rapid or labored breathing and evidence of pulmonary infiltrates on radiographs, become refractory to these three therapies, Rush said.
"Once these drugs are no longer working well, then additional drugs that might get added into the regimen include sildenafil, amlodipine, torsemide or escalation of the doses of the previously prescribed drugs," he said.
Additionally, many cardiologists also recommend exercise restriction, moderation of dietary sodium intake and close attention to caloric intake to combat the weight loss that can attend advanced heart disease, Rush said.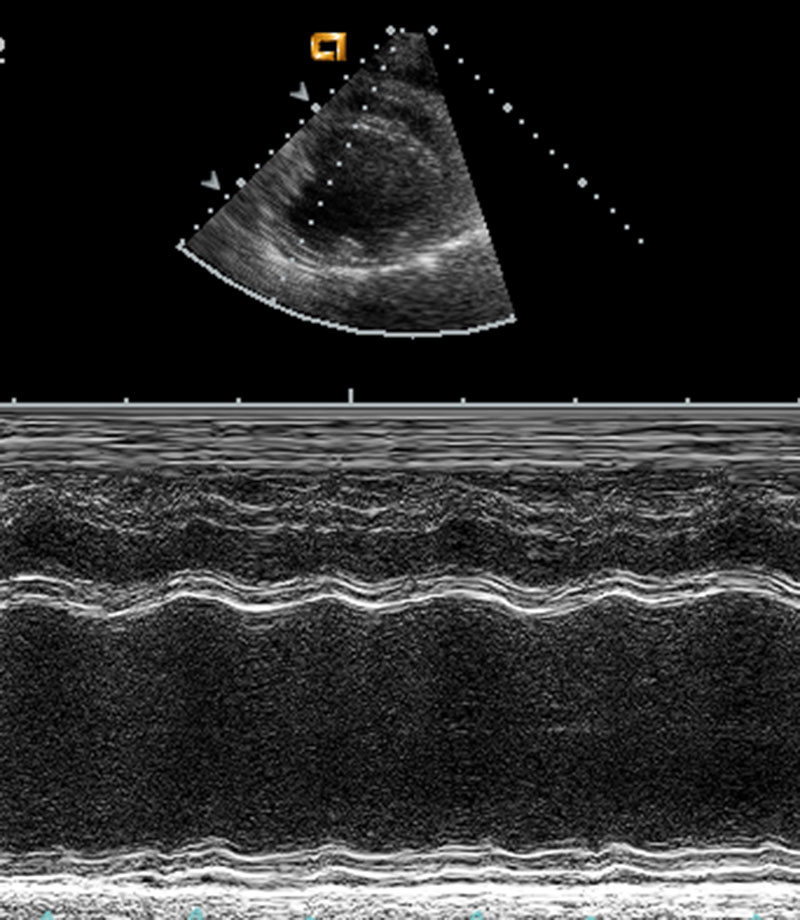 Courtesy Teresa Defrancesco/North Carolina State University
Bolt is a Doberman with dilated cardiomyopathy. M-mode echo image showing poor left ventricle systolic dysfunction
Pimobendan for CHF
In Rush's experience, most veterinary cardiologists view pimobendan as "a mainstay of therapy" for management of diseases like cardiogenic pulmonary edema, pleural effusion or ascites once congestive heart failure is present.
Teresa DeFrancesco, DVM, Dipl. ACVIM, Dipl. ACVECC, a professor of cardiology and ICU critical care at North Carolina State's College of Veterinary Medicine, also sees the field embracing pimobendan.
She is also encouraged by emerging reports that pimobendan may be helpful in preventing heart failure.
"I think some interesting new information, which some general practitioners might not know, is that pimobendan is being studied in dogs prior to heart failure," Dr. DeFrancesco said.
In what's most commonly known as the Protect Study, published in 2012, 76 Doberman pinschers in the U.S. and U.K. not yet in heart failure were treated with pimobendan.
The median time to the primary endpoint — the onset of CHF or sudden death – was 718 days compared with 441 for the group of dogs on a placebo, according to the study.
One ongoing study, Evaluating Pimobendan In Cardiomegaly — or EPIC — is evaluating the effectiveness of pimobendan in delaying the onset of clinical signs of congestive heart failure in dogs.

Courtesy Teresa Defrancesco/North Carolina State University
Jasmine is an older, small mixed-breed dog with MV disease. The 2D echo images show severe left atrial enlargement thickened MV's with severe mitral valve insufficiency (with and without color flow doppler).
The study is showing early signs of a promising outcome.
The clinical phase began in 2012 and is set to end this year. Its authors earlier this year released an interim analysis that showed evidence of benefits of pimobendan in prolonging the time to the primary endpoint, preclinical mitral valve disease.
That prospect has DeFrancesco and other experts excited.
"It's possible that pimobendan could potentially help dogs with advanced mitral valve disease," she said.
Joshua Stern, DVM, Ph.D., Dipl. ACVIM (cardiology), assistant professor and chief of service in cardiology at the University of California, Davis, said treatments for heart disease in dogs vary broadly by disorder.
"The best treatment for the most common heart disorders would be quite different depending on the disorder that you choose," Dr. Stern said. "For example, the most common heart disease in dogs, mitral valve degeneration, hasn't evolved much over the years but there are some pretty exciting options on the horizon."
Currently there are limited therapeutic options prior to the onset of CHF, and those options typically include the use of an ACE-inhibitor drug like enalapril or benazapril once heart enlargement is observed, Stern said.
"After the onset of congestive heart failure, a whole host of medications become standard of care for dogs with this condition," he said. "At UC Davis we routinely use furosemide, pimobendan, spironolactone and enalapril/benazapril as our baseline CHF therapy, which is tailored to include other therapies as each needed for each case."
Other Drugs
Rush said one drug being used more by some veterinary cardiologists is sildenafil, specifically in dogs with CHF that have pulmonary hypertension documented on echocardiography.
"There remains a great deal of controversy on which drugs should be employed before congestive heart failure is diagnosed," Rush said. "Digoxin used to be a backbone drug for management of CHF, and while some veterinary cardiologists still routinely prescribe the drug, others reserve it for animals with CHF and concurrent atrial fibrillation, or recommend it in small breed dogs with CHF and syncope."
One drug regimen that was en vogue in 1990s was beta blockers. However, they have since fallen out of favor with an increasing number of experts, NC State's DeFrancesco said.
She explained that in human medicine beta blockers can be helpful, because a common cause of heart disease is coronary artery disease, in which the heart muscle becomes starved of blood flow due to clogged arteries. A beta blocker slows heart rate and decreases the workload on the heart and helps improve blood supply.
But coronary artery disease is not much of a problem for dogs.
"The blood supply to heart muscle is fine in dogs," DeFrancesco said.
General Advice for Treating CHF
Rush emphasizes establishing a diagnosis of CHF and planning out treatment strategies for individual dogs. Diagnostics he recommends include echocardiography, thoracic radiography and blood tests to check kidney values, electrolytes and natriuretic peptides (NT-proBNP or C-BNP).
"Once diuretics and/or ACE inhibitors are started, then periodic checks of kidney function and electrolytes are advised," Rush said. "Cardiac arrhythmias may develop, requiring antiarrhythmic therapy. Blood pressure monitoring is helpful, especially in animals that are weak, on medications and/or need multiple medications to control CHF."
Good diagnostics are key, said DeFrancesco.
"I think an accurate diagnosis is most important," she said. "I think often dogs with murmurs get over-diagnosed with heart failure."
An inaccurate diagnosis could result in giving a dog a drug like Lasix before it is needed, which could be more harmful than helpful, DeFrancesco said.
Continuing education and considering consults are Stern's prescriptions for general practitioners who want to be prepared when they get a patient with heart disease.
"General practitioners should keep a close eye on the upcoming literature and CE conferences that are offered by their local cardiologists," Stern said. "As these changes start to shape our practice standards, this will be an easy way to hear about them and stay current."
Stern also recommends that family veterinarians find and stay in contact with a local cardiologist, and to seek a consult on challenging cardiac cases.
"Here at UC Davis, we maintain a referring veterinarian hotline where we are happy to consult on cases, review diagnostic test results and help craft a cardiology treatment plan," Stern said. "Sometimes referral to a cardiologist can really offer a whole host of therapies that aren't available in family practice – and sometimes it does not. Working collaboratively with cardiologists is the best way to find out which option is best for their patient."