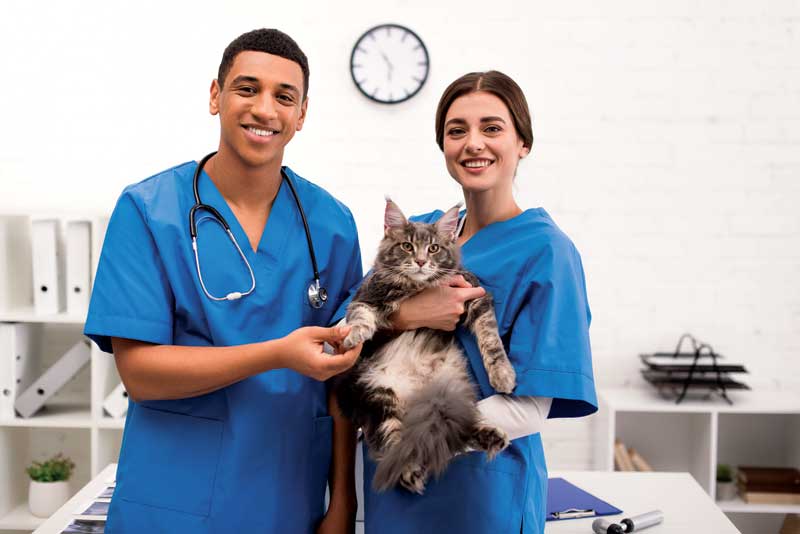 When I was in veterinary school, there were already concerns a veterinarian shortage could be on the horizon. I remember the school specifically recruiting for students interested in agricultural, equine, or mixed-animal practices. Companion animal practices were not really feeling the urgency at the time, yet here we are in crisis mode.
Some elements of the talent shortage were visible to us. Veterinary hospitals have always had high turnover in my 12 years of practice, and I can honestly say I have worked in more short-staffed hospitals than fully staffed ones. We carefully and thoughtfully reviewed all candidates for open positions, which sometimes took a long time to fill. We just accepted this was part of doing business.
The issue at hand
COVID really put the industry's feet to the fire. Before 2020, we were hanging in there and making it work. Everyone was doing what they could. Relief veterinarians and technicians were often brought in to fill the gaps. When the pandemic hit, our safety net was torn away without warning.
Today, it is clear when team members leave, there are precious few who can fill open positions. Demand for veterinary talent soared to all-time, historic highs while consumer demand for veterinary services accelerated with the "pandemic puppy" boom. In fact, according to the American Veterinary Medical Association (AVMA), there were as many as 18 positions open for every one veterinarian looking for a job between January 2019 and May 2021.
As conversation progressed about this critical issue, it became clear the talent shortage is not the only topic that required action. Yes, there is a shortage, but there are also root causes across the industry contributing to it that need immediate and committed attention. It is critical to continue championing initiatives to reinvigorate the future of veterinary health by fostering an internal culture of support, investing in future generations of veterinary professionals, and anchoring within our communities—and I commend organizations making these commitments.
Connecting internally
Ensuring equity, inclusion, and diversity efforts are prioritized is essential to connecting within an organization and fostering a positive work environment for veterinary employees. Dedicating a role specific to leading such efforts is important for accountability and intentional resourcing focused on continual progress and open communication.
Establishing equity, inclusion, and diversity councils and committees are a way to bring team members into the conversation, with the ultimate goal of supporting a vibrant and diverse veterinary workforce. Further, with a specific department in place, members will have an opportunity to engage with a wide variety of life experiences, perspectives, and learnings to instill a stronger sense of workplace belonging for those who might not have felt seen, or heard in the past.
Investing in the next generation
This is one of the most obvious solutions, and for good reason. As an industry, we need to proactively encourage young people interested in veterinary medicine. This is an impactful career, and we can do our part to support our industry by supporting youth in cultivating their interest in animal care.
Veterinary organizations can partner with various programs to help provide and expand access to information, share real-life examples with kids of what it is like to work in a veterinary practice, and give them opportunities to meet veterinary role models.
Local high schools are a great place to start, For example, VCA partnered with Monty Tech High School to launch a veterinary service program. Through high school coursework, Monty Tech students can rotate through a real-life veterinary hospital. They can learn about the rhythms and routines of the role, gain direct experience, and network with trained veterinary professionals. This is a flagship program, with the hope to expand across the nation to open doors to students considering veterinary careers.
Data shows veterinarians decide on their career path when they are between 10 and 13 years old. (I told my parents I wanted to be a veterinarian when I was only seven or eight!) Unfortunately, there are not many connective experiences available to educate and engage younger students seeking a future in veterinary medicine. Without cultivation and support, many young animal lovers, and would-be veterinary professionals, sway into other career paths.
Another youth partnership opportunity is Vet Set Go, an organization dedicated to helping aspiring veterinary professionals in elementary school, middle school, and high school. The program's goal is simple: help future veterinary professionals explore their dream today through scholarships to veterinary camps and provides free educational content and games to hundreds of thousands of future veterinarians around the globe. There are various ways to engage, such as supporting scholarship opportunities for students to attend events like Junior Vet Camp, which is hosted at Auburn University and gives middle schoolers an opportunity to learn about veterinary medicine through a unique mix of classroom and hands-on activities.
These hands-on learning opportunities can take place at hospitals and clinics as well through shadowing programs.
Addressing mental health and well-being
Veterinary professionals, by nature, tend to be an empathetic, caring group, and sometimes we can take too much onto our shoulders and hearts. We want to give it all—and we do!
We give support to our clients, patients, and teams, but we too often neglect ourselves, which can have ripple effects throughout the industry with burnout and other mental health struggles. Consider proactively dedicating a health and well-being team who provides practices with comprehensive support and resources. Another solution is providing hospital teams and clients the support of professional social workers, who help manage difficult conversations and take a huge emotional burden off the practice team working to provide patient care. Expanding on programs to help support veterinary staff, as well as staying aware of the intersection between diversity, inclusion, equity, and well-being is critical to our industry's future success.
Anchoring in our communities
Making connections within communities and partnering with organizations such as the Humane Society to build strong foundations on the local level can have an outward ripple effect on the broader veterinary community. Larger veterinary organizations can support local animal rescue groups by opening clinics that provide assistance to pet owners who are experiencing financial hardship, especially focusing on helping the most vulnerable pets in underserved communities. In addition to financial support, providing veterinary talent (including externship programs) to staff clinics like these is another way to bolster local rescue initiatives and build trust within the community. Expanding access to affordable veterinary care is another important component to supporting the future of veterinary medicine by making long lasting connections within communities.
I see all of this as only the beginning. Now is the time to reinvigorate efforts across industry practices and organizations to protect the future of veterinary medicine and commit to delivering real world change. This effort is a marathon, not a sprint–and it's an effort we must make together. This is a monumental and meaningful journey, and I am thankful to my peers across the industry who commit to that journey each day!
Timbrala Marshall, DVM, BS, graduated in 2010 from Michigan State University College of Veterinary Medicine, and she holds a BS in Animal and Poultry Sciences from Tuskegee University. While at MSU, she chartered the college's chapter of "VOICE"—Veterinarians as One Inclusive Community for Empowerment. Prior to her appointment to director, Equity, Inclusion & Diversity Programs, Dr. Marshall served as the medical director for VCA Terrell Mill Animal Hospital in Marietta, Ga.