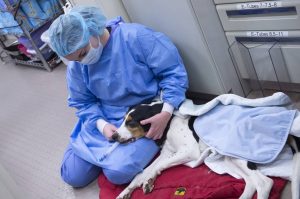 A traveling surgery unit partly run by veterinary medicine students is helping dozens of animal shelters perform spay and neuter procedures.
Since its inception in 2012, Purdue University's College of Veterinary Medicine's Priority 4 Paws (P4P) program has helped nearly 14,000 shelter animals receive surgical care. In 2018, the mobile unit reached more than 160,934 km (100,000 mi) traveled.
"I think making it to that many miles shows us this is a program that is needed," said Lynetta Freeman, DVM, MS, MBA, professor of small-animal surgery at the college, who spearheaded P4P.
"When the program first started, animals would stay for a really long time in shelters. That led to behavioral problems and other issues, making them harder to adopt."
The program incorporates an elective course allowing fourth-year veterinary students to travel to Indiana animal shelters within driving distance and perform spay and neuter operations in the mobile unit.
According to Dr. Freeman, P4P has helped address the issues of overcrowding and high euthanasia rates. She says shelter populations have decreased and save rates—the percentage of animals adopted, reclaimed, or transferred—are around 90 percent.
"I think we are part of a big picture," Freeman said.
"That picture is trying to reduce the time animals spend in shelters and decrease the amount of animals presented to shelters. Having students play a role in that makes it all the more meaningful."