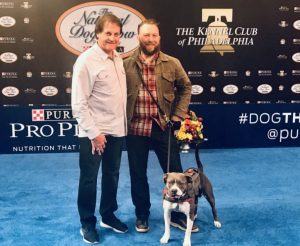 A program supporting veterans living with post-traumatic stress disorder (PTSD) and other brain injuries through rescue dog adoption has received a significant donation.
As a result of Purina's fourth-annual #DogThanking campaign, Tony La Russa's Animal Rescue Foundation (ARF) was given $25,000 to continue helping U.S. military veterans and shelter-to-service animals through its Pets and Vets program.
The campaign encouraged pet owners to share over social media the reason they are thankful for their pets. In November, every time a pet owner posted using the hashtag #DogThanking and tagged Purina, the company donated one dollar to ARF.
"The #DogThanking campaign was an engaging way for pet lovers to thank the pets who make our lives so special while making a difference in the lives of many veterans and shelter dogs," said Tony La Russa, ARF cofounder.
"We are grateful to Purina for selecting us as its partner to raise awareness and funds for this unique program. This donation helps us rescue more dogs and serve more veterans living with PTSD, traumatic brain injuries, and other challenges. It truly helps save lives at both ends of the leash."
The program finds homes for deserving shelter pets by matching them with veterans.