Travis Fiedler is a foodie of sorts.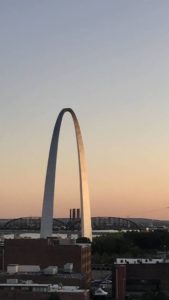 In fact, he's honed his sense of smell so much over the years that he can note variations in aroma from dozens of recipes. As Purina PetCare's director of quality assurance, it's his job to do just that, and to ensure his team is equally adept at spotting inconsistencies in the pet food the company produces. To that end, team members are evaluated on their ability to identify aromas before they are allowed to participate in sensory testing.
"This one has a very nice casserole type of aroma," he says, turning over a container of wet dog food—a chunks and gravy to be exact—and emptying the  contents onto the table in front of him. Spreading across the surface like a pancake on a grill, the braised chicken entrée formula is much softer than the loaf forms Fiedler has shown members of the media gathered at the company's headquarters in St. Louis, Mo., for its Behind the Bowl Symposium. The invitation-only event also included insight into some of the company's discoveries in brain health and allergens; how it adheres to responsible sourcing of its ingredients; and a tour of its pilot plant.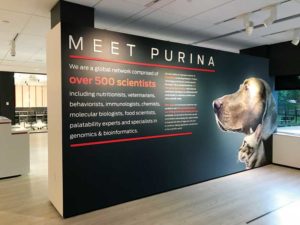 Fiedler is thorough in his presentation, illustrating the sensory reviews Purina's quality assurance teams across the country perform tens of thousands of times a day in a typical 24-hour production period. Reference photos of what the finished product should look like are provided to the company's 21 manufacturing facilities in the U.S. Accurate to size and color, the photos ensure the food is visually consistent across factories that produce the same products, helping to maintain both consumer confidence and palatability for the dog or cat eating it.
Elevating nutrition's importance
The Purina Institute and the 50-acre campus on which it sits is located a couple of blocks from where William H. Danforth founded Ralston-Purina 125 years ago. Over the years, the company has grown to include 500 scientists on staff worldwide, operate in 70 countries, and employ more than 19,500 people. In 2001, it was acquired by Swiss food-giant Nestlé's Friskies division, becoming Nestlé Purina PetCare in the process.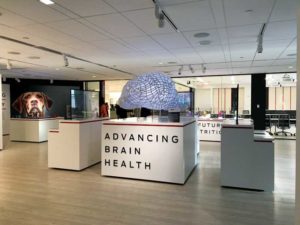 Last year, the company established the Purina Institute to elevate the topic of pet nutrition with veterinarians to help drive conversations with clients about its role in a pet's overall health. Featuring interactive exhibits that look to be straight out of a sci-fi film (think swiping left or right in mid-air to scroll through a display), the Purina Institute "gives a voice to our science," says RuthAnn Lobos, DVM, CCRT, its manager of scientific programs.
"Years ago, nutrition may not have been an industry known for rapid change, but now with new ingredients hitting the market and new demands, there is a different focus on it. With the melamine pet food recall of 2007, people started taking a look at what was really going into their pet's food and who was making it."
The interest is not one-sided. A Purina poll of veterinarians conducted globally found they believe nutrition is critical to pet health. "But when it comes to actually having conversations about nutrition, less than one in four are doing that in the exam room," Dr. Lobos adds.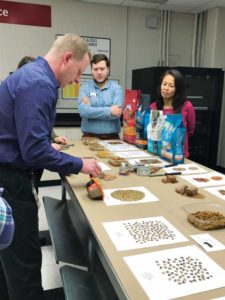 The reasons are multifactorial. "Time, like everything, is what limits them the most, and yet they know it's really important. Oftentimes during that 20-minute appointment, nutrition becomes less important because the pet has an ear infection or a new lump. But we know pet owners still really trust us, even with Dr. Google. They seek the veterinarian as the expert when it comes to nutrition."
Lobos says veterinary colleges now place greater importance on providing nutrition courses, offering graduates a stronger foundation so they can have well-rounded conversations with clients about their pet's nutritional needs.
"Over the last 15 years since I graduated, there has been a shift not only in the amount of education students get, but a prioritization of nutritional education within their veterinary schooling. For those veterinarians who graduated before I did, one of the keys [for veterinary health companies] is to use the power of social media, the internet, and access to information to be able to give veterinarians the tools and the talking points they need to have those conversations."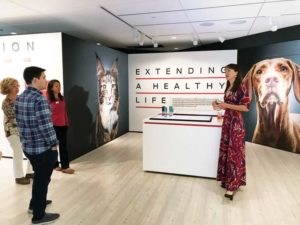 With pet owners' dietary beliefs and fads spilling over into the veterinary realm more and more, there is a growing need to ensure nutritional conversations are taking place in practices.
"Owners are coming in with a lot of food ideologies, so it can be a very emotional conversation," Lobos says. "We've found that having someone in the clinic who is the nutrition advocate and who takes on the responsibility of keeping up with the science helps to take a little bit of the load off the veterinarian when they are in the exam room. In clinic cultures where nutrition is a very high priority, it really helps having an advocate, whether it's to put together a weight-loss program or to manage a senior patient with arthritis."